Jeep Owner's Bible: Tune-Up, Maintenance, Repair - All Models up to 2004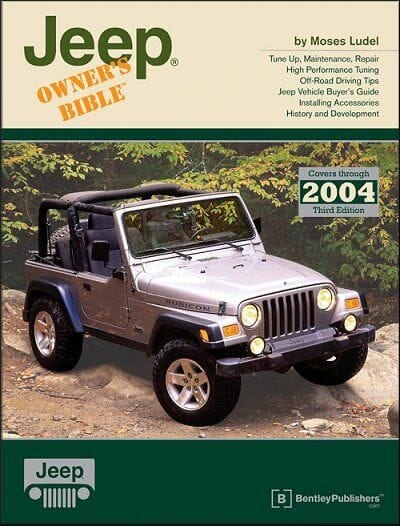 Why Buy From Us?
Free Shipping
Veteran Owned
Secure Shopping
Satisfaction Guaranteed
Item Description
Bentley's Jeep Owner's Bible has been a best-selling book at The Motor Bookstore for many years, and this updated 3rd edition features coverage for Jeep models up to 2004, including:
Jeep MB
Jeep Pickups
Jeepster
Jeep Wagoneer
Jeep J-Trucks
Jeep CJ Models
Jeep Scrambler
Jeep Wrangler
Jeep Cherokee
Jeep Grand Cherokee
Jeep Liberty
Author Moses Ludel digs deep into his 40-year-plus experience bag and shares his vast knowledge of Jeep history, off-road driving, performance upgrades and mods, how to choose the best aftermarket accessories for specific needs, as well as step-by-step technical procedures accompanied by sharp, close-up photos.
The Jeep Owner's Bible will help you maintain your Jeep in top condition, plus, the service chapters will help you accurately diagnose and understand mechanical problems.
Hands-on topics include:
Oil and oil filter change
Lubrication
Water pump replacement
Clutch replacement
Routine emission control service
Spark plug replacement
Valve adjustment
Brake service
Overhauling the starter motor
Choosing the right traction differential
From original military prototypes through ground-breaking new models, the
Jeep Owner's Bible
is a celebration of an American icon, and the most complete guide of its kind for Jeep vehicles available anywhere.

Book Excerpt: Jeep Owner's Bible: Tune-Up, Maintenance, Repair - All Models up to 2004
CLUTCH AND TRANSMISSION SERVICE
TRANSMISSION ADJUSTMENTS

On Jeep manual transmissions, linkage adjustments are limited to three-speed column shift models. Other gearboxes feature removable levers and control housing assemblies considered part of the transmission assembly. Rarely does a control housing require overhaul, although this service is often possible without removing the entire transmission unit.

Jeep column shift linkage will wear, stretch and fatigue. This requires periodic adjustment. Worn parts require replacement. Periodic cleaning of parts and thorough lubrication are also important. (See the lubrication service chapter.)

Unknown to many Jeep buffs, the earliest CJ-2A had a column shift mechanism. To serial No. 38221, the CJ-2A had a column shifter and linkage. Apparently, Willys wanted civilians to enjoy column shift, which was popular on U.S. automobiles and a few postwar pickups.

Some early Jeep Pickups, Station Wagons and the Forward Control models also had column shift linkage, while most Jeep trucks and CJ models use a cane floor shifter that rises from the transmission. The first Jeep trucks to use column shift linkage in larger numbers were the three-speed equipped J-trucks of the early '60s.

Column shift linkage adjustment follows a basic procedure. Two rods reach form the transmission control levers to pivoting arms at the steering column. The column shifter moves fore and aft in a neutral gate, aligning the shifter with one pivoting arm or the other. One rod links to the first/reverse control lever, while the other attaches to the second/high gear control lever.

Adjustment consists of aligning the two pivoting arms so that the shifter moves smoothly from the first/reverse gear path, through the neutral gate and into the second/high gear shift path. You will find specific adjustment procedures in a Jeep factory or service manual.
Subject: Jeep Owner's Bible. Moses Ludel. History, service, repair information. ISBN-10: 0837611172 | ISBN-13: 9780837611174 | Bentley part no. GJE3
Specifications
Publisher: Bentley Publishers
Author: Moses Ludel
Pages: 504 - 920 b&w photos and illustrations
Binding: Paperback - 8.5 x 11 inches
ISBN: 978-0-8376-1117-4
Years: 1945 - 2004
Table of Contents
TABLE of CONTENTS:
Jeep Building a Legend
Buying a Jeep
Operating Your Jeep
Working on Your Jeep
Jeep Maintenance and Preservation
Troubleshooting
Engine Tune-Up
Emission Control Standards
Cooling System Repairs
Clutch and Transmission
Transfer Case, Driveshafts, Axles and Hubs
Suspension and Steering
Brakes and Wheel Bearings
Body and Detailing
Electrical System Basics
Accessories
Engine Performance and Modifications
Geartrain Modifications
Suspension Upgrades
Questions & Answers about Jeep Owner's Bible: Tune-Up, Maintenance, Repair - All Models up to 2004
Questions & Answers about Jeep Owner's Bible: Tune-Up, Maintenance, Repair - All Models up to 2004
Ask a question about Jeep Owner's Bible: Tune-Up, Maintenance, Repair - All Models up to 2004.
Customer Reviews
REVIEWS
Al Martz
August 10, 2019
Jeep Owner's Bible: Tune-Up, Maintenance, Repair - All Models up to 2004
Description

Specifications

Table of Contents

Questions & Answers

Customer Reviews