1978 Chevrolet Service Manual - Licensed OEM Reproduction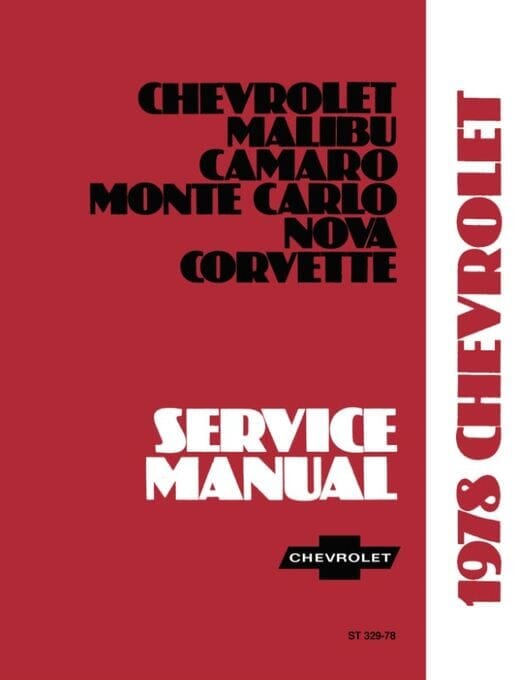 Why Buy From Us?
Free Shipping
Veteran Owned
Secure Shopping
Satisfaction Guaranteed
Item Description
This 1978 Chevrolet Service Manual is a high quality, PRINT, reproduction of the shop manual which was written and first published by the experts at the original equipment manufacturer (OEM), Chevrolet Motor Division, for use by their dealership mechanics.
Weighing in with close to 1,000 pages, this is the definitive guide for service and repairs on 1978 Chevrolet cars. It includes the procedures for diagnosis, maintenance and adjustments. You'll find instructions for minor service operations, as well as the removal and installation of components. Body information for the Corvette has also been included in this guide.
NOTE: This is the SERVICE Manual. For information regarding OVERHAUL procedures, please see our 1978 Passenger Car & Light Duty Truck unit repair manual (overhaul), which can be found by clicking here…1978 Chevrolet Car Truck Unit Repair Manual.
Please take a moment and check out the Table of Contents section on this page in order to see the extensive coverage off these vehicles offered in this hefty book. You'll love how they have paired the well-written text instructions with a huge number and variety of helpful visual aids to be sure you have an excellent look at what is required for the tasks on your classic Chevy.
While Grease may have been "the word that you heard" at the movie theater in 1978, it's not what you want messing up the pages of your repair manual. It's a good thing this one is a freshly-printed and packaged version. This book retains all of the content of the original source, but is clean and new. Let's just say that we're here to help make sure your summer nights will be hopelessly devoted to your 1978 Chevy. Once you see how handy this manual can be to getting and keeping your car in factory specified condition, we think you'll be inclined to say, "You're the one that I want!"
MODELS COVERED:

1978 Chevrolet Camaro
1978 Chevrolet Camaro LT
1978 Chevrolet Camaro LT Rally Sport
1978 Chevrolet Camaro Rally Sport
1978 Chevrolet Camaro Z28
1978 Chevrolet Caprice Classic
1978 Chevrolet Caprice Classic Estate
1978 Chevrolet Caprice Classic Landau
1978 Chevrolet Corvette
1978 Chevrolet Corvette Indianapolis 500 Pace
1978 Chevrolet Corvette Silver Anniversary Edition
1978 Chevrolet El Camino Truck
1978 Chevrolet El Camino Conquista Truck
1978 Chevrolet El Camino SS Truck
1978 Chevrolet Impala
1978 Chevrolet Impala Landau
1978 Chevrolet Malibu
1978 Chevrolet Malibu Classic
1978 Chevrolet Malibu Classic Estate
1978 Chevrolet Malibu Classic Landau
1978 Chevrolet Monte Carlo Landau
1978 Chevrolet Monte Carlo Sport
1978 Chevrolet Nova
1978 Chevrolet Nova Custom
1978 Chevrolet Nova Police
1978 Chevrolet Nova Rally
There was a lot to celebrate in '78 when it came to the Corvette. It marked the silver anniversary of the beloved American sports car. Not only was the car available with 25th anniversary editions, but it also paced the Indy 500! The new fastback-look increased luggage space, improved driver visibility and updated the styling profile. If you need to get after repairs to your classic 'Vette, this is the guide to make it happen.
Not to be outdone, the Camaro received a nice makeover in 1978. After years of big aluminum bumpers, this year rolled-out all new urethane front and rear fascia featuring body color. These cars looked good when new and still look good today. Be sure to keep yours in top shop by using the factory specs and instructions in this great guide.
Whichever sweet car you have from the huge list above, this is the best guide to have for service and repair.
Do you want to relive those sweet days of cranking up the radio in your 1978 Chevrolet to the revolutionary sounds of the hot new bands, like Van Halen? Well, just tune to the Accessories section of this manual and it will tell you what you need to know.
This factory written shop manual is perfect for service, repairs, restoration, and rebuild projects. Clear illustrations and photos show exploded views, as well as component details, plus specifications one engine, data, engine torque, carburetion and more.
Subject:
1978 Chevrolet Service Manual - Includes Detailed Procedures and Instructions.
| OEM Part Number: ST 329-78
Specifications
Publisher: Chevrolet Motor Division
Pages: 994 - Hundreds of b&w illustrations
Binding: Paperback - 8.5 x 11 inches
Years: 1978
Table of Contents
Table of Contents
General information
Lubrication
Heater
Manual Air Conditioning
Automatic Air Conditioning
Frame
Bumpers
Sheet Metal
Body
Front Alignment
Steering
Front Suspension
Rear Suspension
Wheels and Tires
Propshaft
Drive Axle
Brakes
Engine Mechanical
Engine Cooling
Fuel System
Engine Electrical
Emission Controls
Engine Exhaust
Automatic Transmission
Manual Transmission
Clutch
Chassis Electrical
Accessories
Sample Page:
Below:1978 Chevrolet Service Manual Sample Page 1 - Fuel System
Sample Page:
Below:1978 Chevrolet Service Manual Sample Page 2 - Transmission
Questions & Answers about 1978 Chevrolet Service Manual
Questions & Answers about 1978 Chevrolet Service Manual
Ask a question about 1978 Chevrolet Service Manual.
1978 Chevrolet Service Manual - Licensed OEM Reproduction
Description

Specifications

Table of Contents

Questions & Answers

Customer Reviews