1978 Chevy Corvette (C3) Factory Assembly Manual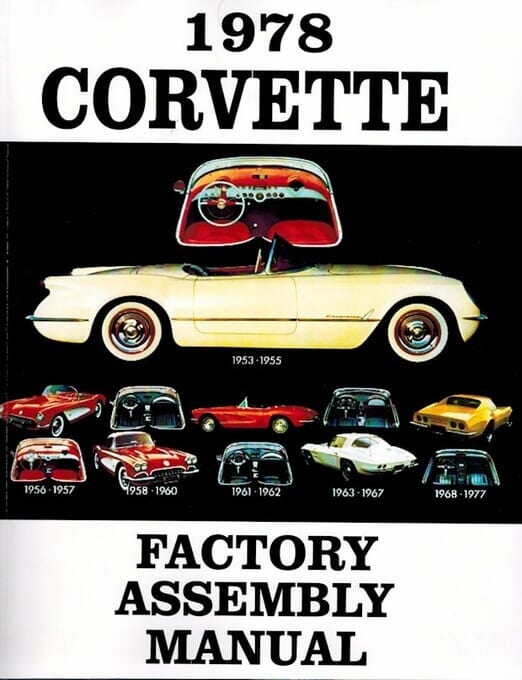 Why Buy From Us?
Free Shipping
Veteran Owned
Secure Shopping
Satisfaction Guaranteed
Item Description
The1978 Corvette Factory Assembly Manual is a reprint of the original assembly manual which was published by The Chevrolet Motor Division.
With this detailed 1978 Corvette Factory Assembly Manual, you will have all the tools needed to restore your vehicle. From easy to read illustrations and sectional photos covering every area of the vehicle, to all the Gm part numbers included, this well put together manual will make it easy for the restorer and the beginner.
The first page of the manual covers every section from the body, frame, transmission, engine, etc. with valuable charts, instruction drawings and general information. It has 15 separate sections, laid out in detail.
Here are a few facts about the 1978 Corvette, according to Wikipedia: The 1978 is the Silver Anniversary Edition Corvette, which had a 350 cubic inch small block V8 Chevrolet engine, with power ranging from 185 horsepower to 220 horsepower. Optional T-tops and a new fastback rear window, made this not only a collector's edition, but a must have for the Corvette lover!!!! 46,776 vehicles were produced at a base price of $9750.00.
The Factory Assembly manual is ideal for any mechanic or restorer, but was originally published for the assembly workers at the manufacturing plant, and is a great go to guide for anyone today!!!!
Refer to the Specifications Tab to view another sample page of this manual.
Specifications
Publisher: Chevrolet Motor Division
Pages: 564 - Hundreds of b&w illustrations
Binding: Paperback - 8.5 x 11 inches
Years: 1978



Below: 1978 Corvette Factory Assembly Manual Sample Page - Paint and Trim-Exterior Ornamentation. Copyright General Motors Corporation.
Table of Contents
TABLE OF CONTENTS
General information
UPC 1 Body
UPC 2 Frame
UPC 3 Front Suspension
UPC 4 Rear Axle and Rear Suspension
UPC 5 Brakes
UPC 6 Engine
UPC 7 Transmission
UPC 8 Fuel Tank and Exhaust
UPC 9 Steering Mechanism
UPC 10 Wheels and Tires
UPC 11 Chassis Sheet Metal
UPC 12 Electrical-Chassis and Body
UPC 13 Radiator and Grille
UPC 15 Bumpers and Miscellaneous
UPC 16 Miscellaneous Paint and Water Test
Questions & Answers about 1978 Chevy Corvette Factory Assembly Manual
Questions & Answers about 1978 Chevy Corvette Factory Assembly Manual
Ask a question about 1978 Chevy Corvette Factory Assembly Manual.
1978 Chevy Corvette (C3) Factory Assembly Manual
Description

Specifications

Table of Contents

Questions & Answers

Customer Reviews