1973 Buick Chassis Service Manual - Includes 11x17 Color Wiring Diagrams (Printed / New)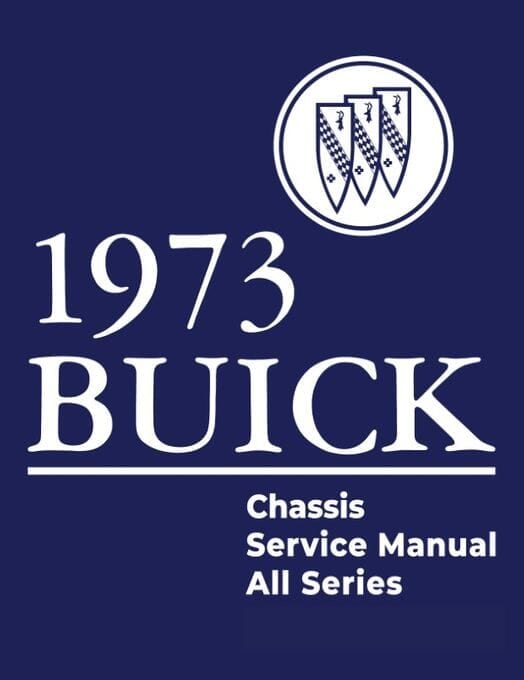 Why Buy From Us?
Free Shipping
Veteran Owned
Secure Shopping
Satisfaction Guaranteed
Item Description
This 1973 Buick Chassis Service Manual is a high-quality, licensed, PRINT reproduction of the shop manual written and first published by the experts at the original equipment manufacturer (OEM), General Motors Corporation, for use by their dealership mechanics. Keep your classic Buick alive and thriving with this professional resource. This comprehensive maintenance and repair guide is just shy of 1,500 pages!
NOTE: The Motor Bookstore is proud to offer this shop manual which features COLOR, 11" x 17" fold-out wiring diagrams. Not many (if any) competitors offer fold-out material, much less in color. That should make your decision as plain as black and white.
Not only has the publisher, Detroit Iron, included the immensely helpful wiring diagrams, but these manuals have been upgraded with thicker, better-quality paper. Don't worry about the increase in size. For convenience, they have been divided into two volumes, yet retain ALL of the content from the original source. Due to their industry-leading technology, this Detroit Iron manual set delivers dark text on clean backgrounds and features a large number of sharp, outstanding visual aids.
In fact, we've included two beautiful sample pages below to show you the excellent quality, as well as how effectively this layout works. Please scroll down to see the wonderful cut-away illustrations and the helpful black and white photographs, including one of the exploded-views.
Factory-written books, such as this 1973 Buick Chassis Service Manual, contain the correct procedures and specifications to get the jobs done, but they are only part of the picture. Be sure to also check out the detailed body information found in the 1973 Fisher Body Service Manual. While you're gathering the top-notch materials for your vintage Buick, don't forget to add the 1961 - 1973 Buick Master Chassis & Body Parts & Illustrations Catalog Set (Text & Illustrations) Owning the combination of these great materials will deliver you a superior level of clarity for getting the jobs done, especially if you're restoring a classic which is starting with some issues...and missing pieces!
MODELS COVERED:

1973 Buick Apollo
1973 Buick Centurion
1973 Buick Century
1973 Buick Century Luxus
1973 Buick Electra 225
1973 Buick Electra 225 Custom
1973 Buick Electra
1973 Buick Estate Wagon
1973 Buick LeSabre
1973 Buick LeSabre Custom
1973 Buick Regal
1973 Buick Riviera
In 1973, the carefree days of cheap oil came to an end when the Arab members of the Organization for Petroleum Exporting Countries (OPEC) shut-off the tap. By the next year, the United States maximum speed limits would be set at 55 miles per hour. American automobiles the size of dinosaurs, with mega-sized engines which guzzled fossil fuels (made from dinosaurs) were going to die-off like...well, like dinosaurs. Fortunately, you can still buy cars from this great era of Americana. When it's time for your beloved old Buick to run like a Velociraptor, be sure to use the best materials available to get and keep it that way. It can transform Tyrannosaurus Wrecks. Make yours roar again. It all starts with a simple click on the "ADD TO CART".
This factory-written shop manual is perfect for service, repairs, restoration, and rebuild projects. Clear illustrations and photos show exploded views, as well as component details, plus specifications, engine repair details, fuel systems and more.
Subject:
1973 Buick Chassis Service Manual - Includes Detailed Procedures and Instructions.
| ISBN-10: 01791411770 | ISBN-13: 9781791411770 | OEM Part Number: 73BUICKSM
Specifications
Publisher: Detroit Iron Publishing
Author: General Motors Corporation
Pages: 1448 - Hundreds of b&w illustrations
Binding: Paperback - 8.5 x 11 x 2.75 inches
ISBN: 978-1-7914-1177-0
Years: 1973
Sample Page:
Below:1973 Buick Chassis Service Manual - Sample Page - Lubrication
Sample Page:
Below:1973 Buick Chassis Service Manual - Sample Page - Transmission
Questions & Answers about 1973 Buick Chassis Service Manual
Questions & Answers about 1973 Buick Chassis Service Manual
Ask a question about 1973 Buick Chassis Service Manual.
1973 Buick Chassis Service Manual - Includes 11x17 Color Wiring Diagrams (Printed / New)
Description

Specifications

Table of Contents

Questions & Answers

Customer Reviews