1973 Fisher Body Service Manual (For All Body Styles) - Licensed OEM Reproduction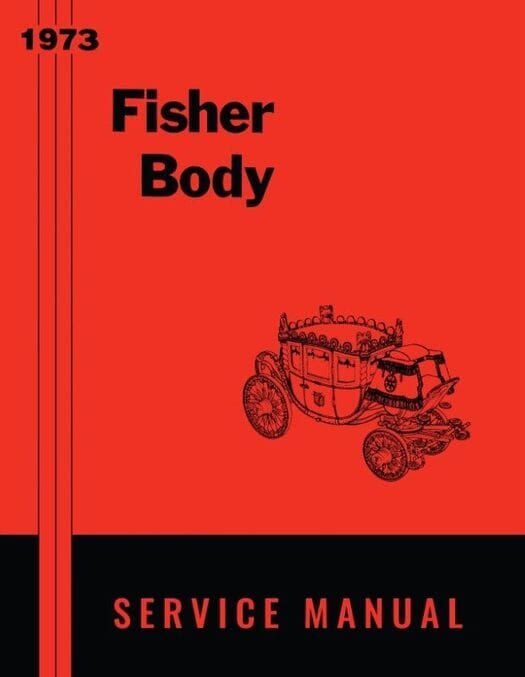 Why Buy From Us?
Free Shipping
Veteran Owned
Secure Shopping
Satisfaction Guaranteed
Item Description
This 1973 Fisher Body Service Manual is a high-quality reproduction of the original equipment manufacturer (OEM) shop manual which was first written and published by Fisher Body Division. At close to 700 pages, you'll find that this reproduction manual is comprehensive. We all know how beneficial a good CHASSIS shop manual can be for mechanical repairs (and we have many of those available, too!), but don't forget about the body. For that information, you're going to need a body manual. Fortunately we have one right here. Not just any one, either. This is a reprint of the Fisher Body Service Manual. That's right. It contains the detailed content written by the experts back when these stylish cars first hit the streets.
Please scroll down to the Table of Contents section on this page and click it open to view a list of all of the areas covered in this helpful guide. You'll be blown away by the tremendous number (and variety) of visual aids employed throughout the pages of this book. It will give you the knowledge (which will help to give you the confidence) to take on the projects that you have planned for the body areas of your classic General Motors vehicle.
GM MODELS COVERED:

1973 Buick Apollo
1973 Buick Centurion
1973 Buick Century
1973 Buick Electra
1973 Buick Estate Wagon
1973 Buick LeSabre
1973 Buick Regal
1973 Buick Riviera
1973 Cadillac Calais
1973 Cadillac Commercial Chassis
1973 Cadillac DeVille
1973 Cadillac Eldorado
1973 Cadillac Fleetwood
1973 Chevrolet Bel Air
1973 Chevrolet Camaro
1973 Chevrolet Caprice
1973 Chevrolet Chevelle
1973 Chevrolet El Camino Truck
1973 Chevrolet Impala
1973 Chevrolet Laguna
1973 Chevrolet Malibu
1973 Chevrolet Monte Carlo
1973 Chevrolet Nova
1973 Chevrolet Vega
1973 GMC Sprint Truck
1973 Oldsmobile 98
1973 Oldsmobile Custom Cruiser
1973 Oldsmobile Cutlass
1973 Oldsmobile Cutlass Supreme
1973 Oldsmobile Delta 88
1973 Oldsmobile Omega
1973 Oldsmobile Toronado
1973 Oldsmobile Vista Cruiser
1973 Pontiac Bonneville
1973 Pontiac Catalina
1973 Pontiac Firebird
1973 Pontiac Grand Am
1973 Pontiac Grand Prix
1973 Pontiac Grand Safari
1973 Pontiac Grandville
1973 Pontiac GTO
1973 Pontiac LeMans
1973 Pontiac Ventura
This reproduction, factory-written shop manual is perfect for service, repairs, restoration, and rebuild projects. Clear illustrations and photos show exploded views, as well as component details, and more.
Subject:
1973 Fisher Body Service Manual - Includes Detailed Procedures and Instructions.
| OEM Part Number: 8704407
Specifications
Publisher: Fisher Body Division
Pages: 678 - Hundreds of b&w illustrations
Binding: Paperback - 8.5 x 11 inches
Years: 1973
Sample Page:
Below: 1973 Fisher Body Shop Manual Sample Page - Windshield Wiper System
Questions & Answers about 1973 Fisher Body Service Manual
Questions & Answers about 1973 Fisher Body Service Manual
Ask a question about 1973 Fisher Body Service Manual.
Customer Reviews
REVIEWS
Alejandro Jimenez
verified customer
June 3, 2021
Charles Parrott
verified customer
December 20, 2020
1973 Fisher Body Service Manual (For All Body Styles) - Licensed OEM Reproduction
Description

Specifications

Table of Contents

Questions & Answers

Customer Reviews