Chevrolet By The Numbers 1970-1975: Chevy V8 Drivetrain Casting Part Numbers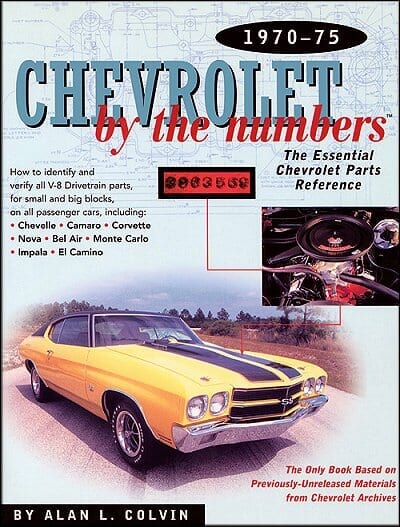 Why Buy From Us?
Free Shipping
Veteran Owned
Secure Shopping
Satisfaction Guaranteed
Item Description
Chevrolet by the Numbers: 1970-1975, published by Bentley (1994), is the authoritative reference for identifying and verifying the correct and exact Chevrolet V8 drivetrain parts, by casting number, for your vehicle.
This book covers all 1970-1975 passenger cars, including:
Chevy Chevelle
Chevy Camaro
Chevy Corvette
Chevy Nova
Chevy Bel Air
Chevy Monte Carlo
Chevy Impala
Chevy El Camino
Engines covered include the 262, 307, 350, 400, 402, and 454 c.i.
Find the drivetrain casting numbers that correspond to your car's Vehicle Identification Number, and get the right parts.
Casting numbers will help you ascertain whether or not the car has been authentically restored, and if purchasing it will make a good investment.
Know which parts to look for at swap meets, why they are special, and which engines those parts will fit.
Book Excerpt: Chevrolet By The Numbers 1970-1975: Chevy V8 Drivetrain Casting Part Numbers
INTRODUCTION
MATCHING NUMBERS

One of the most misused and misunderstood phrase in the restoration hobby is "numbers matching." Everyone, from those who have large collections of cars to people who have only a vague interest in the hobby, has their own interpretation of what constitutes a numbers matching car. Many hobbyists use the term loosely with no clue to what it actually means.

"Numbers matching" simply means a car which not only appears in original factory condition, but in which all pertinent identification numbers, as well as all casting numbers and dates, are correct for that specific model and pre-date the final assembly date of the car.

(The term probably originated in the Corvette restoration hobby. It seems these cars were the first to be restored back to true originality. ) It is important to also make the distinction that a car is only original once, period.

There are more and more "manufactured" cars turning up in collectors' hands, cleverly documented to be original numbers matching vehicles. What I mean by "manufactured" is that the car has been rebuilt with correct casting numbers to appear original and to match the documentation to be included in the sale of the car.

To say that this situation is creating a major problem in the hobby is a vast understatement. Thousands of dollars are being invested into many matching number cars which in fact are complete forgeries, built for the primary purpose of selling an incorrect car as a documented original.

Many enthusiasts are unsure as to what composes a correct car. Much of the information that has been published to date in this area has been incorrect in several aspects.
TRANSMISSION IDENTIFICATION
INTRODUCTION

This chapter covers all transmissions from 1970 through 1975. This introduction gives a brief overview of the transmissions, while the rest of the chapter is structured by model year to allow you to quickly and easily determine transmission applications. Under each year heading there is a quick-access section, transmission specifications with parts casting numbers, and stamping number decoding.

At the end of this chapter are specific transmission casting number charts, which will allow you to access individual casting numbers without hunting through the entire chapter.


CASTING DATE CODES

Casting date codes can be found on almost all maincases, extension housings, and sidecovers. Most casting dates are in alpha-numeric style, and usually follow the same pattern as blocks and cylinder heads. Many casting dates are difficult to read.

The first digit of a casting code is usually a letter, to designate the month. The second digit will be a letter, designating the month. The third digit designates the day of the month, while the fourth (or last) digit designates the calendar year.
If you absolutely want to know the original parts for your Chevrolet - not what interchanges or fits, but the correct part that came with your car when it was assembled -
Chevrolet by the Numbers
has the answer.
Subject: 1970, 1971, 1972, 1973, 1974, 1975 Chevy Drivetrain Part Casting Numbers Reference Guide. ISBN-10: 0837609275 | ISBN-13: 9780837609270 | Bentley Part No. GC75 | GM Part No. 24502564
Specifications
Publisher: Bentley Publishers
Author: Alan L. Colvin
Pages: 312 - 220 b&w photos and illustrations
Binding: Paperback - 8.5 x 11 inches
ISBN: 978-0-8376-0927-0
Years: 1970 - 1975
Table of Contents
TABLE of CONTENTS:
INTRODUCTION: Chevrolet Parts System | Matching Numbers | Checking a Car | Using this Book
VEHICLE IDENTIFICATION: Vehicle Identification Numbers (VIN) | Trim Tags | Model I.D. | Interior/Exterior Trim Combinations
ENGINE CODE: Engine Development | Engine Suffix Code Charts
ENGINE BLOCK: Decoding Stamping Numbers | Block Casting Numbers
CRANKSHAFT: Small Block Crankshafts | W-Block Crankshafts
CYLINDER HEADS: Identifying Features | Casting Numbers
CONNECTING RODS: Small Block Rods | Big Block Rods | W-Block Rods
PISTONS: Identification | Applications
CARBURETOR: Holley | Rochester
INTAKE MANIFOLD: Decoding Numbers | Casting Numbers
EXHAUST MANIFOLDS: Decoding Numbers | Casting Numbers
WATER PUMP: Small Block Pumps | Big Block Pumps
DISTRIBUTOR: Decoding Numbers | Applications | Vacuum Units
CAMSHAFT: Identifying Features | Identification Charts
ALTERNATOR: Date Coding | Application Charts
TRANSMISSION: Date Coding | Saginaw | Muncie | Borg-Warner | Powerglide | Turbohydramatic | Application Charts
REAR AXLE/DIFFERENTIAL: Rear Axle Applications | Specifications | Axle Codes
WHEELS: Wheel Stampings | Applications
Questions & Answers about Chevy By The Numbers 1970-1975: Chevy V8 Drivetrain Casting Part Numbers
Questions & Answers about Chevy By The Numbers 1970-1975: Chevy V8 Drivetrain Casting Part Numbers
Ask a question about Chevy By The Numbers 1970-1975: Chevy V8 Drivetrain Casting Part Numbers.
Customer Reviews
REVIEWS
Thomas Novellino
verified customer
March 31, 2020
My "Boss" 1970 Chevelle SS.
This book was Incredible, part no# that I was looking for my Chevelle parts numbers certainly showed in your book. Many of the car numbers matched the book. My Chevelle was built in the General Motors plant in Oshawa Ontario, Canada. Many of my Chevelle numbers were in along with Canadian documentation. Thank you for a wonderful book. That bring out great parts numbers. These Legends, are still drawing crowds at Car Shows! Because of there thrill to see them once more. My statement has always been "What Once Was" Much thanks for this incredible book, of "History of General Motors Parts, and Numbers". Thank you .
Chevrolet By The Numbers 1970-1975: Chevy V8 Drivetrain Casting Part Numbers
Description

Specifications

Table of Contents

Questions & Answers

Customer Reviews