Chevrolet By The Numbers 1965-1969: Chevy V8 Drivetrain Casting Part Numbers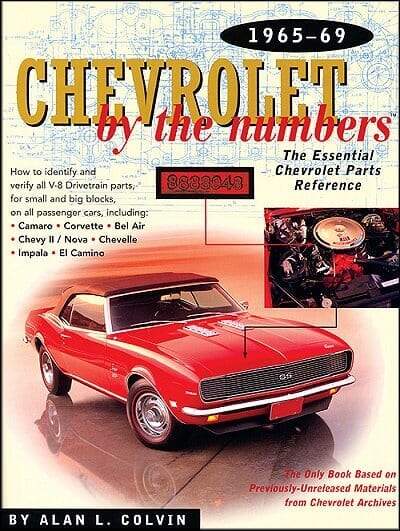 Why Buy From Us?
Free Shipping
Veteran Owned
Secure Shopping
Satisfaction Guaranteed
Item Description
So what do you do if you are trying to restore a 1965-1969 classic Chevy car and would like to use the exact and correct drivetrain parts? Finding interchange parts that will work is not a problem, but interchangeable parts is not the aim of Chevrolet By The Numbers: 1965-1969.
The purpose of this guide, plain and simple, is to help you avoid buying the wrong drivetrain parts, whether you have a Small- or Big-Block V8 Chevy passenger car.
If you are restoring your Chevy back to original factory specs, you will require parts with casting numbers that correspond to your car's Vehicle Identification Number (VIN), so the resulting product will be a "matching numbers" car.
Chevrolet By The Numbers: 1965-1969 gives you all drivetrain casting part numbers, as well as their application. All this information was gathered from original documents from Chevrolet's archives, making this guide the most authoritative book of its kind.
This book covers all 1965-1969 passenger cars, including:
Chevy Chevelle
Chevy Camaro
Chevy Corvette
Chevy II
Chevy Nova
Chevy Bel Air
Chevy Impala
Chevy El Camino
Engines covered include the 283, 302, 307, 327, 350, 396, 409, and 427 c.i.

Book Excerpt: Chevrolet By The Numbers 1965-1969: Chevy V8 Drivetrain Casting Part Numbers...
INTRODUCTION
CASTING NUMBER CHARTS

This book is arranged for two primary purposes. The first is to be able to quickly find a specific casting number or application, whichever is applicable to a reader's needs at the time. All casting number information is in numerical order so you can quickly find a casting number is you only have the part.

The casting number is critical because it does not change across model applications. (If there are deviations in the casting number usage, they are noted in the book). For example, the same engine or transmission used in 1955 on a Corvette and a Passenger car in many cases has the same casting number. Part numbers will only help if the part you are looking for is in the original box.

Any part can but put into a box with a rare part number on it, but the casting number will always be on the part. You won't find many 30 year old drivetrain parts still in the original box. The casting number is always the number you want to refer to when checking parts at a swap meet or on a car you intend to buy.

The second purpose is to allow you to quickly find a model year application heading and efficiently find whatever model year and car type you have, while cross referencing back to the casting number lists. Included in the back of this book is a page on which you can fill in all pertinent information about your car so you can turn to that one page for quick reference while searching for parts.
ENGINE BLOCK IDENTIFICATION
INTRODUCTION

There are at least 30 different engine blocks installed in cars from 1965 through 1969. At the same time, there were only 8 basic engine displacements, so in many cases there are a number of blocks that may at first appear correct for a specific engine application.

There are a number of ways to identify an engine block. The main ones are the block casting number, the block casting date, and the engine code stamping. On big blocks, the crankshaft main bearing cap bolt pattern (2- or 4- bolt) can be determined by checking the oil filter mounting area.

All original blocks have a special grain which was machined into the surface of the block deck. The grain pattern is a series of very fine straight lines, called "broach" marks, running from front to back along the top of the block.

The original equipment that left these marks is no longer in use, although there are rumors that the service can be bought in certain engine circles. Most modern milling machines use a rotary cutter which leaves a swirl broach pattern.
If you absolutely want to know the original part numbers for your Chevrolet drivetrain - not just what interchanges, or fits - but the correct part that came with your car when it rolled off the assembly line -
Chevrolet by the Numbers: 1965-1969
has the answers.
Subject: 1965, 1966, 1967, 1968, 1969 Chevy Drivetrain Part Casting Numbers Reference Guide. ISBN-10: 0837609569 | ISBN-13: 9780837609560 | Bentley Part No. GC69 | GM Part No. 24502563
Specifications
Publisher: Bentley Publishers
Author: Alan L. Colvin
Pages: 352 - 360 b&w photos and illustrations
Binding: Paperback - 8.5 x 11 inches
ISBN: 978-0-8376-0956-0
Years: 1965 - 1969
Table of Contents
TABLE of CONTENTS:
INTRODUCTION: Chevrolet Parts System | Matching Numbers | Checking a Car | Using this Book
VEHICLE IDENTIFICATION: Vehicle Identification Numbers (VIN) | Trim Tags | Model I.D. | Interior/Exterior Trim Combinations
ENGINE CODE: Engine Development | Engine Suffix Code Charts
ENGINE BLOCK: Decoding Stamping Numbers | Block Casting Numbers
CRANKSHAFT: Small Block Crankshafts | W-Block Crankshafts
CYLINDER HEADS: Identifying Features | Casting Numbers
CONNECTING RODS: Small Block Rods | W-Block Rods
PISTONS: Identification | Applications
CARBURETOR: Carter | Rochester
INTAKE MANIFOLD: Decoding Numbers | Casting Numbers
EXHAUST MANIFOLDS: Decoding Numbers | Casting Numbers
WATER PUMP: Small Block Pumps | W-Block Pumps
DISTRIBUTOR: Decoding Numbers | Applications | Vacuum Units
CAMSHAFT: Identifying Features | Identification Charts
ALTERNATOR: Date Coding | Application Charts
TRANSMISSION: Date Coding | Saginaw | Muncie | Borg-Warner | Powerglide | Turbohydramatic | Application Charts
REAR AXLE/DIFFERENTIAL: Rear Axle Applications | Specifications | Axle Codes
WHEELS: Wheel Stampings | Applications
ROCHESTER FUEL INJECTION: History | Identification | Casting Numbers
APPENDIX 1: The 1965 M22 Transmission | APPENDIX 2: Unique Chevrolet Parts
Questions & Answers about Chevy By The Numbers 1965-1969: Chevy V8 Drivetrain Casting Part Numbers
Questions & Answers about Chevy By The Numbers 1965-1969: Chevy V8 Drivetrain Casting Part Numbers
Ask a question about Chevy By The Numbers 1965-1969: Chevy V8 Drivetrain Casting Part Numbers.
Customer Reviews
REVIEWS
Allen
verified customer
May 14, 2020
Chevrolet By The Numbers 1965-1969: Chevy V8 Drivetrain Casting Part Numbers
Description

Specifications

Table of Contents

Questions & Answers

Customer Reviews