1969 Chevrolet Chassis Service Manual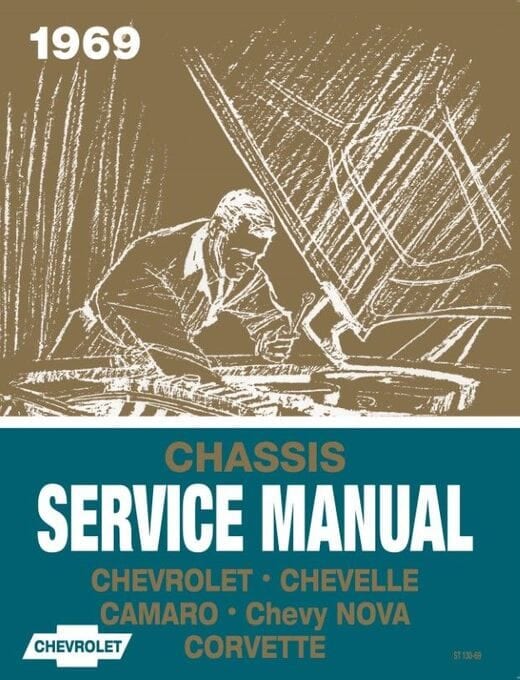 Why Buy From Us?
Free Shipping
Veteran Owned
Secure Shopping
Satisfaction Guaranteed
Item Description
Are you servicing a vintage 1969 Chevy, Chevelle, Nova, Corvette or Camaro? Knowledge is king when you're working on an older model vehicle and quality specifications aren't as readily available. This 1969 Chevrolet Chassis Service Manual covers 1969 Chevy automobiles, and it's an exact reprint of the original Chevy-licensed factory service manual, issued for the mechanics at their dealerships. It includes detailed instructions, clear and plentiful illustrations and specifications. Coming in at over 600 pages, it is filled with detailed instructions and visual aids to give you the information and confidence necessary to take on the list of projects for your classic Chevy.
Chevrolet closed out the wild 1960s decade by, once again, rolling out a stylish and powerful lineup of vehicles. Many consider 1969 to be the high-water mark for the Camaro model. It as the last year of the first generation, had good looks and the muscle to back it up. If that wasn't enough for you, the Corvette took things even further. In the days of big displacement, high-compression power plants, the Corvette was not about to be left behind. Of course the Chevelle was no slouch, and if you needed a truck bed behind your "muscle car", look no further than the El Camino. Whichever model suited your wants and desires, sooner or later it will need service and repair. When that time comes, be sure to use this shop manual.
This Chevy-licensed factory chassis service manual reprint, covers 1969 Chevy automobiles.
MODELS COVERED:

1969 Chevrolet Bel Air
1969 Chevrolet Biscayne
1969 Chevrolet Camaro
1969 Chevrolet Camaro RS
1969 Chevrolet Camaro SS
1969 Chevrolet Camaro Z28
1969 Chevrolet Caprice
1969 Chevrolet Chevelle 300 Deluxe
1969 Chevrolet Chevelle Concours
1969 Chevrolet Chevelle Concours Estate
1969 Chevrolet Chevelle Greenbrier
1969 Chevrolet Chevelle Malibu
1969 Chevrolet Chevelle Nomad
1969 Chevrolet Chevelle SS
1969 Chevrolet Corvette
1969 Chevrolet El Camino Truck
1969 Chevrolet El Camino Custom Truck
1969 Chevrolet El Camino SS Truck
1969 Chevrolet Impala
1969 Chevrolet Nova
NOTE: This 1969 Chevrolet chassis service manual covers the servicing of mechanical operations and not the body. For body information, please see the 1969 Fisher Body Service Manual, which can be found by clicking here...1969 Fisher Body Service Manual.
NOTE: There is also a 1969 Chevrolet chassis OVERHAUL manual which covers disassembly and assembly of major components. For details regarding the 1969 Chevrolet Chassis Overhaul Manual, please click here...1969 Chevrolet Chassis Overhaul Manual.
This chassis service manual covers adjustment and maintenance procedures, minor service operations, component installation and a collection of servicing techniques recommended and approved by General Motors for their vehicles.
Subject: Transportation: Automotive: 1969 Chevy chassis factory service manual. OEM part number: ST 130-69
Specifications
Publisher: Chevrolet Motor Division
Pages: 636 - Hundreds of b&w illustrations
Binding: Paperback - 8.5 x 11 inches
Years: 1969
Table of Contents
TABLE of CONTENTS:
General information
Lubrication
Heater and air conditioning
Corvette body
Frame
Front suspension
Rear suspension
Brakes
Engine
Engine cooling
Fuel system
Air injection reactor system
Clutch and transmission
Fuel tank and exhaust system
Steering
Wheels and tires
Chassis sheet metal
Electrical — Body and chassis
Radiator, Grille
Bumpers
Accessories
Specifications
Sample Page:
Below: 1969 Chevrolet Car Shop Manual Sample Page - Engine Fuel
Questions & Answers about 1969 Chevrolet Chassis Service Manual
Questions & Answers about 1969 Chevrolet Chassis Service Manual
Ask a question about 1969 Chevrolet Chassis Service Manual.
Customer Reviews
REVIEWS
Eric Crum
verified customer
November 20, 2019
1969 Chevrolet Chassis Service Manual
Description

Specifications

Table of Contents

Questions & Answers

Customer Reviews