1969 Cadillac OEM Factory Shop Manual (Licensed Quality Reproduction) - By Cadillac Motor Car Division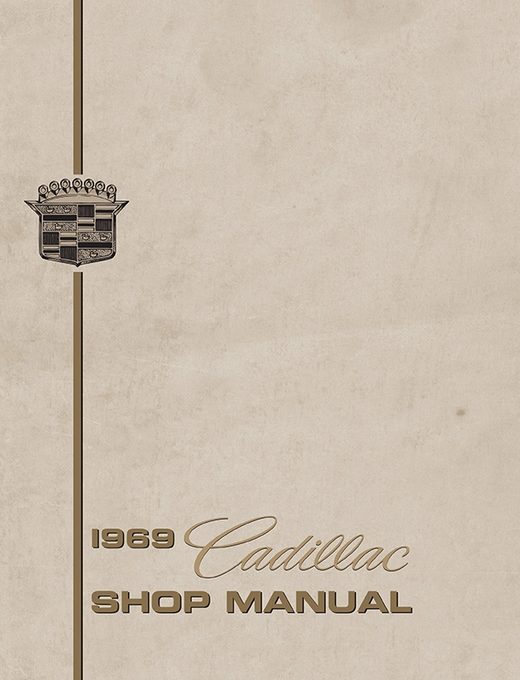 Why Buy From Us?
Free Shipping
Veteran Owned
Secure Shopping
Satisfaction Guaranteed
Item Description
This 1969 Cadillac OEM Shop Manual is a high-quality, licensed reprint, containing all of the original content, which was written by the Cadillac Motor Division back when these luxurious cars were brand new. It was first published by GM for their mechanics working in the Cadillac dealer's service centers. Now, Detroit Iron has reproduced a high-quality NEW print version using the latest scan technology and 60 pound paper. This is not like one of the cheap after market manuals you will find printed on cheap Asian newspaper. This manual will hold up well in your shop or garage.
The 1969 Cadillac OEM Factory Shop Manual is the most authoritative reference for all of the mechanical service and repair tasks to be performed on your 1969 Cadillac. We are talking about 800 pages of detailed procedures, diagrams and specifications for engine, transmission, electrical, body, fuel / exhaust systems, suspension, brakes and much more. With this comprehensive service manual in your toolbox, your restoration project will surely succeed.
You'll find that this OEM Cadillac service manual reproduction is perfect for average to professional mechanics. Any restorer, or builder working on a 1969 Cadillac, will love the detailed black-and-white, highly detailed illustrations alongside the scoop on Cadillacís brawny and mammoth V-8 engines and their beefy, but smooth transmissions, too. We believe even the seasoned hand is going to love having this all-inclusive 1969 Cadillac shop manual at the ready.
This 1969 OEM Cadillac shop manual covers the following makes/models:
1969 Cadillac Calais
1969 Cadillac DeVille
1969 Cadillac Commercial Chassis
1969 Cadillac Eldorado
1969 Cadillac Fleetwood
1969 Cadillac Fleetwood 60 Special
1969 Cadillac Fleetwood 75
The following engines and transmissions are covered by this 1969 Cadillac Shop Manual:
472 cubic inch V-8 with 375 horsepower
Turbo Hydra-matic Automatic Transmisison
NOTE: This 1969 Cadillac shop manual covers the servicing of mechanical operations, but NOT the body. For body information, please see the 1969 Fisher Body Service Manual, which can be found by clicking here...1969 Fisher Body Service Manual.
Subject:
1969 Cadillac OEM Service / Repair Manual
| OEM Part Number: 109 9340
Specifications
Publisher: Cadillac Motor Car Division
Pages: 800 - Thousands of b&w illustrations
Binding: Paperback - 8.5 x 11 inches
Years: 1969
Table of Contents
TABLE of CONTENTS - 1969 Cadillac OEM Factory Shop Manual:
General Information
Heating and Air Conditioning
Frame and Body Mountings
Front Suspension
Rear Suspension - Propeller Shaft, Rear Axle, Differential
Brakes
Engine, Cooling, Electrical, Fuel, Mechanical
Transmission
Fuel Tank and Exhaust
Steering
Wheels and Tires
Chassis Sheet Metal
Chassis Electrical - Lighting System, Electrical Instruments, Windshield Wiper and Washer, Instrumental Panel
Radiator and Grille
Bumpers
Accessories - Radio and Antenna, Cruise Control, Guide-Matic, Twilight Sentinel, Rear Window De-Fogger, Seat Warmer
Appendix
Index
Sample Page:
Below: 1969 Cadillac Shop Manual Sample Page - Instrument Panel
Questions & Answers about 1969 Cadillac OEM Factory Shop Manual
Questions & Answers about 1969 Cadillac OEM Factory Shop Manual
Ask a question about 1969 Cadillac OEM Factory Shop Manual.
Customer Reviews
REVIEWS
Sam Lassiter
verified customer
July 6, 2019
David r nelson
verified customer
December 16, 2018
1969 Cadillac OEM Factory Shop Manual (Licensed Quality Reproduction) - By Cadillac Motor Car Division
Description

Specifications

Table of Contents

Questions & Answers

Customer Reviews