1964 - 1969 Cadillac Master Parts List Catalog - (2-Vol Set) - Licensed OEM Reproduction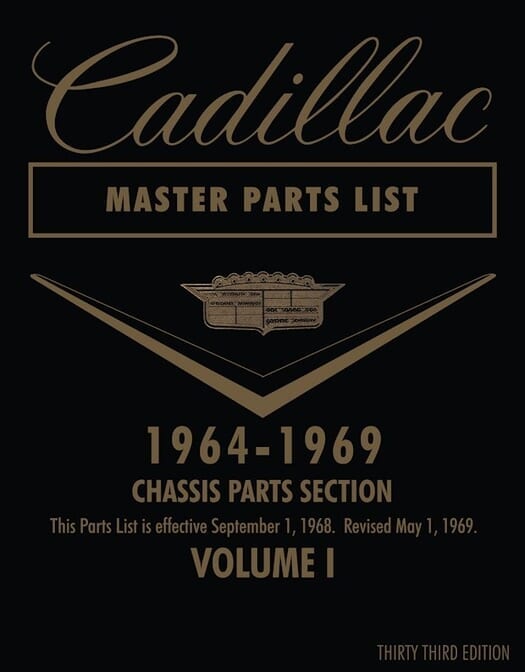 Why Buy From Us?
Free Shipping
Veteran Owned
Secure Shopping
Satisfaction Guaranteed
Item Description
This OEM 1964 - 1969 Cadillac Master Parts List is a high quality authorized licensed reproduction of the original shop manual published by Cadillac Motor Car Division. If you need parts information for your 1964 - 1969 Caddy, this Cadillac parts book is the ultimate resource. It contains 1,352 pages of details. Due to its colossal size, we've conveniently divided it into a two volume set. Inside the volumes, the contents have been efficiently sectioned into "Groups". Before getting into the various groups, this book begins with general information and paint charts. You'll also find such helpful information as: a list of abbreviations, a chart for engine or vehicle identification numbers, a chart for body styles, a chart for tire sizes, a chart of capacities, a chart of color combinations and lacquer numbers and more.
There is an alphabetical index for the parts, so you can flip to the appropriate page and look up, for example, "Tube, air cond. evaporator case drain" to find the referenced number is 9.211. That tells you to page over to group 9 (AIR COND. - BODY MOUNTS - INSTR CLUSTER -MISC.). Once you've located that, a quick check of 9.211 shows you the application of the part by model year, the part number, how many were equipped for each vehicle and specifications (helpful notes). Following that alphabetical index is an illustration index. You merely find the item or system you wish to view, such as "HOOD", and it lists the available drawings by description, series, year, etc. along with the page numbers for each of the various diagrams which apply. Flip to the page you need and take a look at the illustration to get the information. You'll love these illustrations, and your projects will be easier, thanks to the multitude of quality diagrams included in this book. These wonderfully detailed, and beautifully drawn, exploded views display all of the parts and fasteners (with their part numbers next to arrows which point to their respective locations). These diagrams are exceptionally useful, because, in addition to providing the part numbers, they also show how everything is supposed to fit together.
Perhaps you've inherited a restoration project with loads of parts in boxes and bags. This guide will help you to determine if they are correct for your application, what they are and how the puzzle should be assembled. If that project is missing parts, it serves as a valuable resource at the salvage yards and swap meets, too.
CADILLAC MODELS COVERED:

1965 - 1969 Cadillac Calais
1964 - 1969 Cadillac Commercial Chassis
1964 - 1969 Cadillac DeVille
1964 - 1969 Cadillac Eldorado
1964 Cadillac Eldorado Biarritz
1965 - 1969 Cadillac Fleetwood 60 Special
1965 - 1969 Cadillac Fleetwood 75
1966 - 1969 Cadillac Fleetwood
1968 - 1969 Cadillac Fleetwood Brougham
1964 Cadillac Series 60 Fleetwood
1964 Cadillac Series 62
1964 Cadillac Series 75 Fleetwood
This 1964 - 1969 Cadillac Master Parts List is perfect for the restorer or anyone working on one of these vehicles. Clear illustrations show exploded views as well as component details and more. Check it out and you're certain to agree that this hefty Cadillac parts book is a wealth of helpful information to identify the parts for your classic Caddy. Be sure to use this freshly-printed and packaged version of the same manual which was prepared by the original manufacturer for use by their Parts Department.
Subject:
OEM Cadillac Master Parts List - 1964, 1965, 1966, 1967, 1968, 1969 - Includes OEM Part Numbers, Diagrams and Interchange Info.
| OEM Part Number:
Specifications
Publisher: Cadillac Motor Car Division
Pages: 1352 - Hundreds of b&w illustrations
Binding: Paperback - 8.5 x 11 inches
Years: 1964 - 1969
Questions & Answers about 1964 - 1969 Cadillac Master Parts List (2-Vol Set)
Questions & Answers about 1964 - 1969 Cadillac Master Parts List (2-Vol Set)
Ask a question about 1964 - 1969 Cadillac Master Parts List (2-Vol Set).
Customer Reviews
REVIEWS
Anthony Salazar
verified customer
October 5, 2020
1964 - 1969 Cadillac Master Parts List Catalog - (2-Vol Set) - Licensed OEM Reproduction
Description

Specifications

Table of Contents

Questions & Answers

Customer Reviews