Honda TRX450 Foreman Repair Manual 1998-2004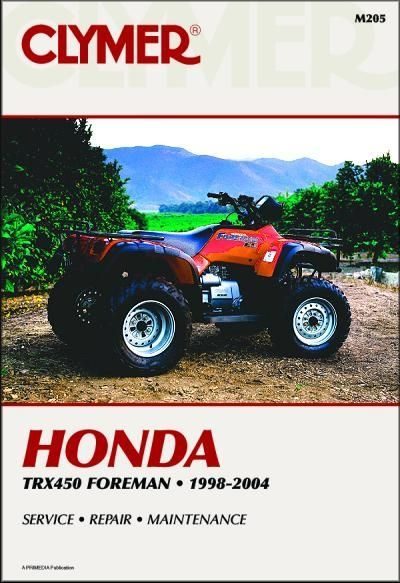 Why Buy From Us?
Free Shipping
Veteran Owned
Secure Shopping
Satisfaction Guaranteed
Item Description
The 1998-2004 Honda TRX450 Foreman ATV repair manual by Clymer covers:

Honda TRX450 ES, 1998-2001
Honda TRX450S, 1998-2001
Honda TRX450FE, 2002-2004
Honda TRX450FM, 2002-2004
This 418-page Clymer manual includes hundreds of illustrations and photos to help aid motorcycle do-it-yourselfers in maintenance and repair. Whether you need to know the ins and outs of piston sidewall clearance; lubrication and tune-up; clutch and external gearshift linkage; wheels tires and drive chain; front and rear suspension; or any other intricacy of repairing or modifying a Honda TRX450, you'll find it here. Hear a small ping when accelerating TRX 450? Find out how to address the problem, and what it means. The Motor Bookstore will provide free shipping of the
1998-2004 Honda Foreman Manual
to the lower 48 United States.
Book Excerpt: 1998-2004 Honda TRX450 Foreman Repair Manual
TROUBLESHOOTING
MECHANICAL TROUBLESHOOTING

The selector drive clutch is available only as a unit assembly, except for the final drive pinion shaft and bearing contained in the clutch body.

If the drive clutch is faulty, check for possible damage to the final drive as well. Refer to Chapter Eleven.


DRIVETRAIN

An unusual noise is usually the first indication of a drivetrain problem. It is not always easy to diagnose the trouble by determining the source of the noise and the operating conditions that produce it.

Some clues to the cause may be gained by noting whether the noise is a hum, growl or knock; whether it is produced when the vehicle is accelerating under load or coasting; and whether it is heard when the vehicle is going straight or making a turn.

Drivetrain service procedures are covered in Chapter Eleven (front) and Chapter Twelve (rear).
ENGINE NOISES
Knocking or pinging during acceleration can be caused by using a lower octane fuel than recommended or a poor quality of fuel. Incorrect carburetor jetting or a spark plug that is too hot can also cause pinging.

Refer to Correct Spark Plug Heat Range in Chapter Three. Check also for excessive carbon buildup in the combustion chamber or a faulty ICM unit.

Slapping or rattling noises at low speed or during acceleration can be caused by excessive piston-to-cylinder wall clearance. Check also for a bent connecting rod or worn piston pin and/or piston pin holes in the piston.
Knocking or rapping while decelerating is usually caused by excessive rod bearing clearance.
Persistent knocking and vibration or other noise is usually caused by worn main bearings. If the main bearings are good, consider the following:

Loose engine mounts.
Cracked frame
Leaking cylinder head gasket
Exhaust pipe leakage at cylinder head
Stuck piston ring
Broken piston ring
partial engine seizure
Excessive connecting rod small end bearing clearance.
Excessive connecting rod big end side clearance.
Excessive crankshaft run out.
Worn or damaged primary drive gear



A rapid on-off squeal may indicate a compression leak around the cylinder head gasket or spark plug.
Subject: 1998, 1999, 2000, 2001, 2002, 2003, 2004 Honda TRX450 Foreman service, maintenance, repair. ISBN-10: 0892878967 ISBN-13: 9780892878963 | Clymer M205
Specifications
Publisher: Clymer Manuals
Pages: 418 - Hundreds of b&w photos and illustrations
Binding: Paperback - 7 x 10 inches
ISBN: 978-0-89287-896-3
Years: 1998 - 2004
Table of Contents
TABLE of CONTENTS:
General Information
Troubleshooting
Lubrication, Maintenance and Tune-up
Engine
Clutch and External Gearshift Linkage
Transmission and Internal Shift Mechanism
Fuel and Emission Systems
Exhaust System
Electrical System
Wheels, Tires and Drive Chain
Front Suspension and Steering
Rear Suspension
Brakes
Body and Frame
Wiring Diagrams
Questions & Answers about Honda TRX450 Foreman Repair Manual 1998-2004
Questions & Answers about Honda TRX450 Foreman Repair Manual 1998-2004
Honda 450estrx will not shift below 2nd gear electic or manyal.

This manual does cover troubleshooting. Thank you.
Ask a question about Honda TRX450 Foreman Repair Manual 1998-2004.
Honda TRX450 Foreman Repair Manual 1998-2004
Description

Specifications

Table of Contents

Questions & Answers

Customer Reviews