Honda TRX500 Foreman ATV Repair Manual 2005-2011 by Clymer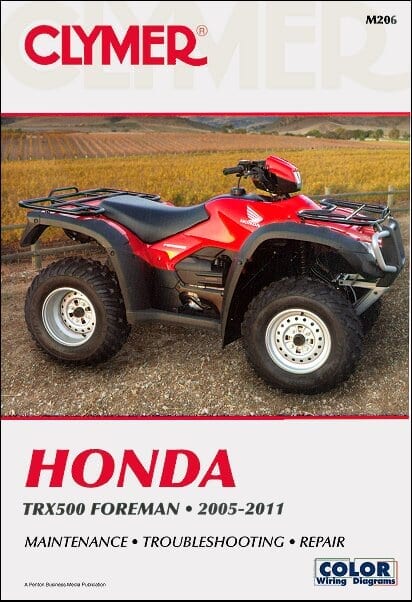 Why Buy From Us?
Free Shipping
Veteran Owned
Secure Shopping
Satisfaction Guaranteed
Item Description
The Honda TRX500 Foreman do-it-yourself ATV repair manual by Clymer, covers the following models:
Honda TRX500FE, 2005-2011
Honda TRX500FM, 2005-2011
Honda TRX500TM, 2005-2006
Honda TRX500FPE, 2007-2011
Honda TRX500FPM, 2008
Book Excerpt
CLUTCH, PRIMARY DRIVE GEAR AND ESP GEARS
CHANGE CLUTCH

The change clutch (B, Figure 21) can be removed with the engine installed in the frame.

Refer to Figure 46 when servicing the change clutch assembly.

TOOLS

Before removing the clutch locknut, note the following;

The clutch locknut is staked to a notch in the mainshaft. Purchase a new locknut for reassembly.
When loosening and tightening the clutch locknut, some means of holding the change clutch will be required. The following list suggests methods for the home mechanic:

A clutch center holder tool (Honda part No. 07JMB-MN50301 Figure 47), or an equivalent, is needed to hold the clutch when loosening the tightening the clutch locknut.
An air impact wrench and air compressor. This tool setup can be used to loosen the clutch locknut. However, when tightening the locknut during clutch assembly, a separate tool is required to hold the clutch so that the clutch locknut can be tightened with a torque wrench.
When tightening the clutch locknut, use a tool such as a used gear, or its equivalent, to lock the clutch outer gear to the primary drive gear. A gear segment tool (Honda part No. 07724-0010100 (Figure 48) is also available.
CYLINDER HEAD STUDS
The cylinder head and cylinder are secured by studs located in the crankcase and cylinder. The front and rear studs (Figure 30) are located in the cylinder. The remaining studs are located in the crankcase. To service the cylinder retaining studs, refer to Cylinder Studs in this chapter.
Detailed easy-to-follow instructions, accompanied by sharp photos and illustrations, guide you through every procedure, from basic maintenance and troubleshooting, all the way to teardown and rebuild.
Subject: 2005, 2006, 2007, 2008, 2009, 2010, 2011 Honda TRX500 Foreman ATV service, maintenance, repair. ISBN-10: 1599694107 | ISBN-13: 9781599694108 | Clymer M206
Specifications
Publisher: Clymer Series / Haynes Manuals
Pages: 392 - Hundreds of b&w photos and illustrations
Binding: Paperback - 7 x 10 inches
ISBN: 978-1-59969-410-8
Years: 2005 - 2011
Table of Contents
TABLE of CONTENTS:
General Information
Troubleshooting
Lubrication, Maintenance and Tune-up
Engine
Clutch, Primary Drive Gear and ESP Gears
Transmission and Shift Mechanism
Fuel System
Electrical System
Wheels, Tires and Drivetrain
Front Suspension and Steering
Front Drive Mechanism
Rear Axle, Suspension and Final Drive
Brakes
Oil Cooler and Cooling Fan
Body
Color Wiring Diagrams
Questions & Answers about Honda TRX500 Foreman ATV Repair Manual 2005-2011
Questions & Answers about Honda TRX500 Foreman ATV Repair Manual 2005-2011
Ask a question about Honda TRX500 Foreman ATV Repair Manual 2005-2011.
Honda TRX500 Foreman ATV Repair Manual 2005-2011 by Clymer
Description

Specifications

Table of Contents

Questions & Answers

Customer Reviews