Street Turbocharging: Design, Fabrication, Installation and Tuning of High-Performance Systems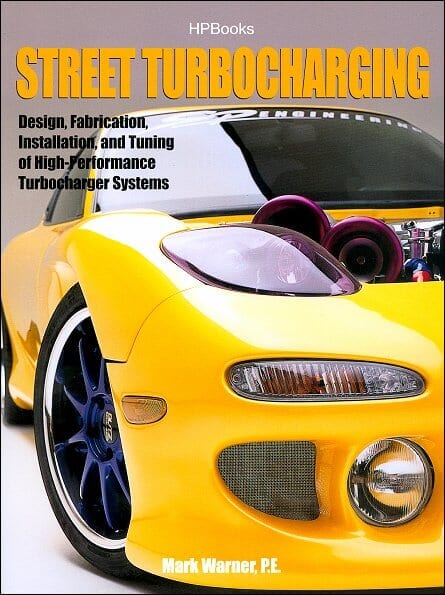 Why Buy From Us?
Free Shipping
Veteran Owned
Secure Shopping
Satisfaction Guaranteed
Item Description
You've probably heard that a forced induction system is one way to get more power and performance out of your engine. And that is correct.
But where do you begin?
The Street Turbocharging: Design, Installation, Tuning book is the answer to all your forced induction and/or turbocharger related questions, whether you're a pro or just an enthusiast.
And part of the answer is that you can design, build, then install, test and tune a turbocharged vehicle, for street or racing.
This DIY guide will show you how, step-by-step.
Street Turbocharging offers both theory and practical hands-on advice, with detailed steps and techniques explained in easy-to-understand language. Add to that close to 500 detailed photos and illustrations, and you get a clear picture of what's involved.
This how-to book includes,
Fundamentals of power production
Theory behind turbocharger systems: How they work in the real world
Advice on equipment selection, sizing, purchase, and installation
In-depth coverage of every major component in a turbo system, including compressors, turbines, bearings and lubrication, exhaust, boost control, intercoolers, water injection, fuel injection, ignition, and electronic control systems
Guidance on engine building, dyno testing, and modern tuning methods
How-to advice and detailed instructions for fabricating turbo equipment, including the construction of exhaust manifolds and intercoolers
Project vehicles that show in detail what can be achieved with the proper application of forced induction
And more!
So, if you want to build the turbocharged vehicle of your dreams, get a copy of
Street Turbocharging
and get busy!

Subject: Learn how to design, build, install and tune automotive turbo systems for high-performance applications. ISBN-10: 1557884889 | ISBN-13: 9781557884886 | HPBooks 1488
Specifications
Publisher: HP Books
Author: Mark Werner, P.E.
Pages: 202 - Nearly 500 b&w photos and illustrations
Binding: Paperback - 8.5 x 11 inches
ISBN: 978-1-55788-488-6
Table of Contents
TABLE of CONTENTS:
PART I: POWER BASICS Internal Combustion Basics
How Power is Created | The Engine as Air Pump | The Four Ways to Increase Airflow Forced Induction Basics
Superchargers | Turbochargers | Asking Hard Questions | Kits vs. Custom Systems Pressure, Temperature, and Airflow
Measuring Pressure | Pressure Ratios and Boost | Temperature | Density Ratios | Engine Displacement | Volumetric Flow Rates | Air Density and Mass Flow Rates | Horsepower PART II: TURBOCHARGER COMPONENTS Compressors
Compressor Basics | Compressor Efficiencies | Compressor Maps | Sizing a Compressor | Plotting Map Points | Compressor Summary Turbines
Turbine Basics | Turbine Housings | Wheels, Trims, and Clips | Divided-Entry Turbines Center Housing and Rotating Assemblies
Oil Journal Bearings | Ball Bearings | Oil Supply Systems | Turbo Timers The Exhaust System
Exhaust Basics | Turbo Exhaust Manifolds | Materials | Downstream Exhaust Boost Control
Turbine-Side Boost Control | Compressor-Side Boost Control Basics Intercoolers
Intercooler Basics | Intercooler Math | Air-to-Water Intercoolers | Intercooler Performance and Efficiencies Water Injection
Water Injection Basics | Injection Systems Fuel Injection
Injector Basics | Sizing Fuel Injection Systems | Intake Manifolds | Plenums and Throttle Bodies | Injector Placement, Fuel Rails, and Fittings Control Systems
Fuel Control Basics | Determining Airflow Rates | Injector Timing | Ignition Control Systems | Megasquirt Engine Components
Engine Blocks | Crankshaft & Connecting Rods | Pistons & Coatings | Compression Ratios | Cylinder Heads & Gaskets | Camshafts & Valves | Engine Cooling | Putting it all Together | Turbocharger Gauges Dyno Testing and Tuning
Dyno Basics | Testing on a Dynamometer PART III: TURBOCHARGED PROJECT VEHICLES Toyota MR2 | Datsun 510 | Datsun 510 Rotary | Honda Civic DX | Ford Mustang GT | Chevy Camaro | Toyota Supra Turbo | Dodge Dakota Diesel | Suzuki Hayabusa | RV6A Airplane PART IV: APPENDICES Fabricating an Exhaust Manifold | Fabricating an Intercooler | Single vs. Twin Turbochargers | Remote-Mount Turbochargers | Carburetors and Turbochargers | Glossary | Suppliers & Sources
Questions & Answers about Street Turbocharging: Design, Installation, Tuning
Questions & Answers about Street Turbocharging: Design, Installation, Tuning
Ask a question about Street Turbocharging: Design, Installation, Tuning.
Street Turbocharging: Design, Fabrication, Installation and Tuning of High-Performance Systems
Description

Specifications

Table of Contents

Questions & Answers

Customer Reviews