Sport Compact Nitrous Injection: Installing Nitrous Systems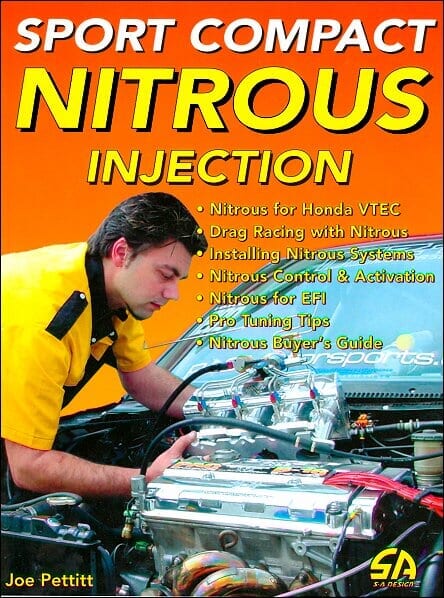 Why Buy From Us?
Free Shipping
Veteran Owned
Secure Shopping
Satisfaction Guaranteed
Item Description
With the right knowledge, anyone can install a Nitrous Oxide system for their engine. Nitrous makes more oxygen available for the engine and more oxygen will burn more fuel, which results in more power.
But a Nitrous system needs to be carefully managed and properly monitored to ensure that you the maximum amount of power your engine can deliver, without nuking it, and this book insures that.
So there you have both the good and the bad about a Nitrous Oxide system:
Use it correctly and it will give any engine a boost in horsepower at the touch of a button.
Use it incorrectly and you will probably end up with a busted engine and a pile of worthless parts.
The book starts by explaining how Nitrous works, the components that make a NOS system, installation and wiring of a Nitrous system and Nitrous injection.
Packed with more than 250 photos, charts, and illustrations, this is the book to have when it comes to DIY Nitrous system installations.

Book Excerpt: Sport Compact Nitrous Injection: Installing Nitrous Systems
BECOME AN EXPERT NITROUS TUNER
The goal in tuning a nitrous system is to control the burn rate of the fuel in order to avoid detonation and time peak cylinder pressure.

There are four basic factors that influence that process: the compression ratio of the engine, the octane rating and chemistry of the fuel you choose, the amount and ratio of oxygen to fuel present in the combustion chamber, and ignition timing.

You can't really tune the compression ratio of the engine. Instead, it is a combination choice having more to do with the RPM range at which you want the engine to make power.

An engine's compression influences tuning choices of ignition timing, cam specs, and fuel octane requirements.

Fuel choice is another factor that influences the tune of your engine. You don't necessarily tune with fuel, but it does have a substantial impact on the tuning calibration of air, fuel, and nitrous ratios.
HOW TO WIRE IT
ROUTING POWER CABLES

Routing power cable correctly is one of the secrets that keeps your system trouble free. Routing along the perimeter of the body or along the transmission tunnel is also acceptable.

Occasionally, it is necessary to route the cable underneath the vehicle. Be sure to provide adequate protection for the cable.

One method is to use split loom covering and route the cable above the frame or sub frame members.

Another form of protection is to use a grommet whenever a cable is run through a wall or bulkhead to protect the cable from being cut and grounding out.

In addition, be aware of potential snags or other obstacles in the path of the cable that could cut through the insulation forcing a short circuit.
Subject: Installing Nitrous Oxide Systems (NOS). ISBN-10: 1884089747 | ISBN-13: 9781884089749 | SA73
Specifications
Publisher: CarTech Books
Author: Joe Pettitt
Pages: 128 - Over 250 b&w photos, charts and illustrations
Binding: Paperback - 8.5 x 11 inches
ISBN: 978-1-884089-74-9
Table of Contents
TABLE of CONTENTS:
Preface and Acknowledgments
What is Nitrous Oxide?
Pushing the Limits
Nitrous Systems for Every Need
The Fuel System
The Nitrous Circuit
Activating and Controlling Nitrous
Become an Expert Nitrous Tuner
Operating Nitrous Oxide Systems
Installation Tech Guide
Nitrous Engine Building Tech
How to Wire It
Engine Tuning Reference
Nitrous Tuning Reference
Nitrous-Legal Racing Classes Rules
Nitrous Source Guide
Questions & Answers about Sport Compact Nitrous Injection: Installing Nitrous Systems
Questions & Answers about Sport Compact Nitrous Injection: Installing Nitrous Systems
Ask a question about Sport Compact Nitrous Injection: Installing Nitrous Systems.
Sport Compact Nitrous Injection: Installing Nitrous Systems
Description

Specifications

Table of Contents

Questions & Answers

Customer Reviews