Jeep Wrangler Repair Manual 1987-2017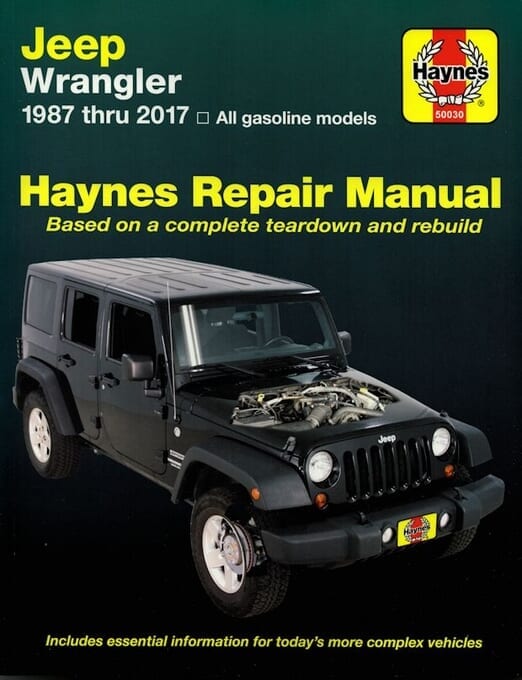 Why Buy From Us?
Free Shipping
Veteran Owned
Secure Shopping
Satisfaction Guaranteed
Item Description
This repair manual covers 1987-2017 Jeep Wrangler models, with gasoline engines, including 2.4L and 2.5L inline four-cylinder, 4.0L and 4.2L inline six-cylinder, and 3.8L V6 engines.
Note: This manual does not provide diesel engine information.

Book Excerpt: 1987-2017 Jeep Wrangler Repair Manual
MAIN AND CONNECTING ROD BEARINGS: INSPECTION
Refer to illustration 19.1
Even though the main and connecting rod bearings should be replaced with new ones during the engine overhaul, the old bearings should be retained for close examination, as they may reveal valuable information about the condition of the engine (see illustration).
Bearing failure occurs because of lack of lubrication, the presence of dirt or other foreign particles, overloading the engine and corrosion. Regardless of the cause of bearing failure, it must be corrected before the engine is reassembled to prevent it from happening again.
When examining the bearings, remove them from the engine block, the main bearing caps, the connecting rods and the rod caps and lay them out on a clean surface in the same general position as their location in the engine. This will enable you to match any bearing problems with the corresponding crankshaft journal.
Subject: 1987, 1988, 1989, 1990, 1991, 1992, 1993, 1994, 1995, 1996, 1997, 1998, 1999, 2000, 2001, 2002, 2003, 2004, 2005, 2006, 2007, 2008, 2009, 2010, 2011, 2012, 2013, 2014, 2015, 2016, 2017
Specifications
Publisher: Haynes Manuals
Pages: 464 - Hundreds of b&w photos and illustrations
Binding: Paperback - 8.25 x 10.75 inches
ISBN: 978-1-62092-284-2
Years: 1987 - 2017
Table of Contents
TABLE of CONTENTS:
Introductory pages
About this manual | Introduction to the Jeep Wrangler | Vehicle identification numbers | Buying parts | Maintenance techniques, tools and working facilities | Jacking and towing | Booster battery (jump) starting | Automotive chemicals and lubricants | Conversion factors | Fraction/decimal/millimeter equivalents | Safety first! | Troubleshooting
Tune-up and routine maintenance
2.4L four-cylinder engines
2.5L four-cylinder engines
4.0L and 4.2L six-cylinder engines
3.8L V6 engine
3.6L V6 engine
General engine overhaul procedures
Cooling heating and air conditioning systems
Fuel and exhaust systems
Engine electrical systems
Emissions control systems
Manual transmission
Automatic transmission
Transfer case
Clutch and drivetrain
Brakes, ABS
Suspension and steering systems
Body
Chassis electrical system
Wiring diagrams
Above: Cesar Rivera of Montebello, Calif., enjoys putting his 2008 Jeep Wrangler X between a rock and a hard place more often than not. Here's the Jeep off-roading at Johnson Valley OHV, in Lucern Valley, CA.
Questions & Answers about Jeep Wrangler Repair Manual 1987-2017
Questions & Answers about Jeep Wrangler Repair Manual 1987-2017
Ask a question about Jeep Wrangler Repair Manual 1987-2017.
Customer Reviews
REVIEWS
Jo
verified customer
August 30, 2016
Not perfect but still a good deal
Since almost ten years I rely on Haynes repair manuals and I am happy with it. i am not a proffessional DIY-mechanics and rather lazy, so the manuals are more detailed than I usually need them. Other reviewers claim that it is not well matching for newer Wrangler models. That's really an issue with this book, but should consider that for most modern cars such manuals are simply not available. In so far it is still a good deal.
John Kareski
verified customer
March 4, 2015
Not as detailed as expected.
This is a very basic beginner repair manual. Does not include the detail I expected.
Hi John. A factory shop manual may be a better fit for you. The Haynes repair manuals are written for beginner or intermediate DIY mechanics. A factory shop manual is the literature provided to the Jeep dealer mechanics and will have every detail; however, factory shop manuals are written for professional mechanics - step-by-step procedures will be less emphasized. We offer a 30 day return policy if you would like to return or exchange this manual.
Jeep Wrangler Repair Manual 1987-2017
Description

Specifications

Table of Contents

Questions & Answers

Customer Reviews