Jeep Wrangler Repair Manual 1987-2017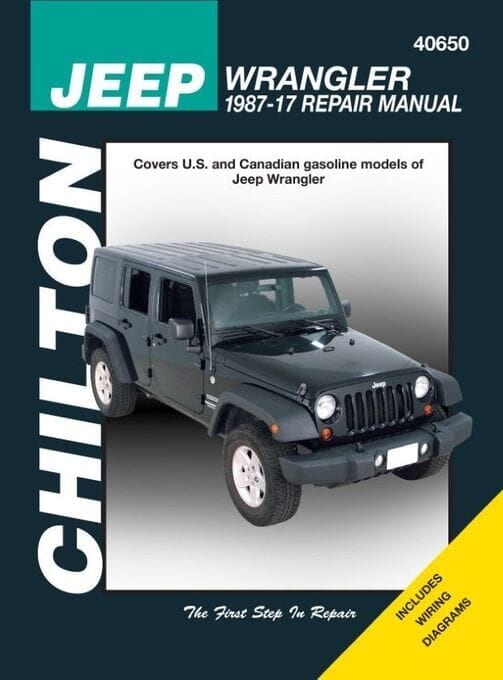 Why Buy From Us?
Free Shipping
Veteran Owned
Secure Shopping
Satisfaction Guaranteed
Item Description
This Jeep Wrangler Repair Manual by Chilton covers models made between 1987 and 2017. It includes both U.S. and Canadian versions of the vehicle. Models covered in this manual include those equipped with four and six-cylinder in-line, and V6 engines, with carburetor, or a fuel injection system.
Please note: This repair manual does NOT include information specific to diesel models.
Chilton manuals have long been a customer favorite because of their extensive coverage of vehicle systems and easy-to-follow instructions. Manuals are supplemented with hundreds of photographs, illustrations, exploded views and diagrams in order to give users a clear understanding of the repair process and what it entails. Manuals also include a helpful troubleshooting and maintenance section to help diagnose and prevent problems. Other topics covered include the braking system, chassis, fuel-injection system and the cooling system. The Jeep Wrangler manual includes a helpful table of contents to quickly find the section pertaining to the job you are performing on these extremely popular vehicles.
Book Excerpt
ENGINE REMOVAL: METHODS AND PRECAUTIONS
If you've decided that an engine must be removed for overhaul or major repair work, several preliminary steps should be taken.

Locating a suitable place to work is extremely important. Adequate work space, along with storage space for the vehicle, will be needed.

If a shop or garage isn't available, at the very least a flat, level, clean work surface made of concrete or asphalt is required.

Cleaning the engine compartment and engine before beginning the removal procedure will help keep your tools and your hands clean.

An engine hoist or A-frame will also be necessary. Make sure the equipment is rated in excess of the combined weight of the engine and accessories.

Safety is of primary importance, considering the potential hazards involved in lifting the engine out of the vehicle.

If the engine is being removed by a novice, a helper should be available. Advice and aid from someone more experienced would also be helpful.

There are many instances when one person cannot simultaneously perform all of the operations required when lifting the engine out of the vehicle.

Plan the operation ahead of time. Arrange for or obtain all of the tools and equipment you'll need prior to beginning the job.

Some of the equipment necessary to perform engine removal and installation safely and with relative ease are (in addition to an engine hoist) a heavy duty floor jack, complete sets of wrenches and sockets as described in the front of this manual, wooden blocks and plenty of rags and cleaning solvent for mopping up spilled oil, coolant and gasoline.

If the hoist must be rented, make sure that you arrange for it in advance and perform all of the operations possible without it beforehand. This will save you money and time.
Subject: 1987, 1988, 1989, 1990, 1991, 1992, 1993, 1994, 1995, 1996, 1997, 1998, 1999, 2000, 2001, 2002, 2003, 2004, 2005, 2006, 2007, 2008, 2009, 2010, 2011, 2012, 2013, 2014, 2015, 2016, 2017 Jeep Wrangler service, maintenance, repair. ISBN-10: 1620923084 | ISBN-13: 9781620923085 | Chilton 40650
Above: Tracy Pouch's 1987 Jeep YJ Wrangler drove itself into Tracy's swimming pool. I guess it can get really warm in Winnie, Texas. For the whole story,
visit The Motor Bookstore's blog
.
Specifications
Publisher: Chilton Manuals
Pages: 496 - Hundreds of b&w photos and illustrations
Binding: Paperback - 8.5 x 11 x 1 inches
ISBN: 978-1-62092-308-5
Years: 1987 - 2017
Table of Contents
TABLE of CONTENTS:
Introduction: About this manual | Introduction | Vehicle identification numbers | Maintenance techniques, tools and working facilities | Buying parts | Jacking and towing | Booster battery (jump) starting | Conversion factors | Automotive chemicals and lubricants | Safety first! | Troubleshooting

Tune-up and routine maintenance
2.4L four-cylinder engine
2.5L four-cylinder engine
4.0L six-cylinder engine
4.2L six-cylinder engine
3.8L V6 engine
General engine overhaul procedures
Cooling, heating and air-conditioning systems
Fuel and exhaust systems
Engine electrical systems
Emissions and engine control systems
4-speed manual transmission
5-speed manual transmission
6-speed manual transmission (2007 and later models)
3-speed automatic transmission
4-speed automatic transmission
Transfer case
Clutch and drivetrain
Brakes
Suspension and steering systems
Body
Chassis electrical system
Wiring diagrams
Questions & Answers about Jeep Wrangler Repair Manual 1987-2017
Questions & Answers about Jeep Wrangler Repair Manual 1987-2017
Ask a question about Jeep Wrangler Repair Manual 1987-2017.
Jeep Wrangler Repair Manual 1987-2017
Description

Specifications

Table of Contents

Questions & Answers

Customer Reviews