Corvette Fuel Injection and Electronic Engine Management: L83, L98, LT1, LT4, LS1, LS6, ZR1 1982-2001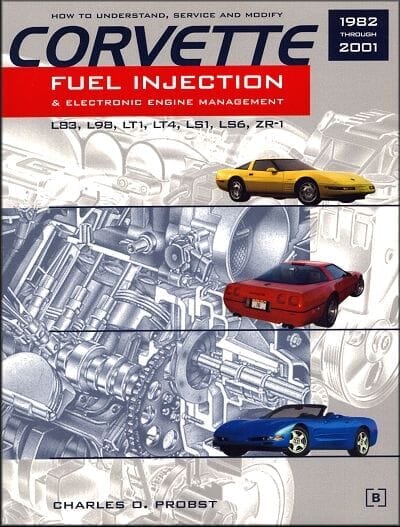 Why Buy From Us?
Free Shipping
Veteran Owned
Secure Shopping
Satisfaction Guaranteed
Item Description
How to Understand, Service and Modify Fuel Injection and Electronic Engine Management Systems
This comprehensive manual will give 1982-2001 Corvette enthusiasts, a complete and comprehensive analysis of theories behind fuel injection systems.
The engine's electronic management system is considered by most as being the heart of the Corvette engine, and Corvette Fuel Injection and Electronic Engine Management explains that system in detail.
Covering systems for engines from 1982 through 2001, including the L83, L98, LT1, LT4, LS1, LS6 and ZR1, this book is a must-have for any DIY mechanic working on one of these Chevy Corvette powerplants.

Book Excerpt: 1982-2001 Corvette Fuel Injection and Electronic Engine Management: L83, L98, LT1, LT4, LS1, LS6, ZR1
SERVICING
CHECK THE ENGINE-OFF FUEL PRESSURE

Attach a fuel pressure gauge as described above.

Build engine-off fuel pressure by turning the key on several times. Each Key-on runs the pump for about two seconds, to build pressure. Or you can simply run the engine for a minute, and then turn it off. Or you can command the pump to turn on with most scan tools. When the pump stops the last time, you may see the pressure vary slightly, then hold steady.
Check the engine-off fuel pressure according to the specifications. For GM recommended pressures, see Chap. 7 Fuel Systems.
Check residual pressure for about 1 minute. The system should hold at least the lowest recommended pressures.


CAUSES OF LOW ENGINE-OFF FUEL PRESSURE MAY BE:

A damaged fuel filter, though this rarely occurs in the in-tank filter
Leakage in the fuel-pressure regulator valve or valve seat
Low voltage in the pump relay and circuits
A malfunctioning fuel-pump check valve
Leaking injectors, check the spark plugs for saturation or soot-fouling

CAUSES OF HIGH ENGINE-OFF FUEL PRESSURE INCLUDE:

A clogged return line
A faulty fuel-pressure regulator
CUSTOMER REVIEW:
We purchased the Corvette Fuel injection manual. Our objective is to install an LS1 engine and complete control system into our 1989 S10 pickup.
As the truck will have to meet emissions standards, all of the equipment that comes with the engine needs to operate.
Reading through this manual has so far been invaluable in understanding how all of the components interact and make the control system work. It should improve the odds considerably of getting it to work well.
I know that I will have to re read some sections as it is a complicated system, but the chapters are relatively easy to read and understand.
I would recommend this book to anyone that wishes to understand how these things work.
andmdash;Denny and Ruth Allen
Rod Shots
Fort Collins, Colorado

FROM THE PUBLISHER:
Chuck Probst, author of the authoritative Bentley books on Bosch and Ford fuel injection systems, has worked with GM and aftermarket engineers, trainers, and technicians to bring the same sort of inside information to an authoritative understanding of Corvette engine controls.
The comprehensive troubleshooting tips and service procedures presented here are a great aid in mastering Corvette engine control systems.
The book begins with a survey of the different fuel injection systems used in these cars: Throttle Body Injection (TBI), Multiport Fuel Injection (MFI), and Sequential Fuel Injection (SFI).
Probst covers the reasons behind J1930 terminology (electrical/electronic systems diagnostic terms, definitions, abbreviations and acronyms) and the engine management concept of Open Loop and Closed Loop Operation.
In addition, oxygen sensor and heated oxygen sensor operation, traction control, Exhaust Gas Recirculation (EGR), Air Injection (AIR), catalytic converters, evaporative controls, octane and fuel volatility are among the many thoroughly covered topics.
Probst's treatment of On-Board Diagnostics (OBD and OBD II) involves topics such as misfire detection, crankshaft position sensor operation, Mass Air Flow (MAF) sensor design, Electronic Spark Control (ESC), and Central Processing Unit (CPU).
No other book comes close in providing this much detailed, proven information, with 380 pages including 112 pages of model-specific wiring diagrams, trouble codes, and test specifications along with hundreds of photos and illustrations. Get it and go faster!

Subject: 1982, 1983, 1984, 1985, 1986, 1987, 1988, 1989, 1990, 1991, 1992, 1993, 1994, 1995, 1996, 1997, 1998, 1999, 2000, 2001 Corvette Fuel Injection and Electronic Engine Management. ISBN-10: 0837608619 | ISBN-13: 9780837608617 | Bentley GFCV
Specifications
Publisher: Bentley Publishers
Author: Charles O. Probst, SAE
Pages: 398 - 193 b&w photos, 333 illustrations and diagrams
Binding: Paperback - 8.5 x 11 inches
ISBN: 978-0-8376-0861-7
Years: 1982 - 2001
Table of Contents
TABLE of CONTENTS:
Overview:
What's in this book | Basics of fuel injection/engine control | List of Corvette systems Engine Control Fundamentals:
Air/fuel mixtures | Controlling intake air | Pressure | Control systems Emissions and Fuels:
Emission control | Fuel economy | New fuels Sensors?The Nerves:
The "nerves" of the system tell the computer what's happening Control Module?The Brain:
Control modules | CPU | Memories | Power and grounds | Trouble codes Actuators?The Muscles:
Air-fuel ratio | Spark control | EGR | Information controls Fuel Delivery?The Circulatory System:
Fuel tank, pump, sender, electrical circuit, rail assembly, and EVAP systems Strategies:
The different ways the control module responds to driver commands Tuning:
Modifications for street and track Diagnosis:
Step-by-step guide for diagnosing fuel injection and ignition problems Servicing:
How to service electrical, fuel system, air flow, ignition, and idle problems Wiring Diagrams
Questions & Answers about Corvette Fuel Injection and Electronic Engine Management: L83, L98, LT1, LT4, LS1, LS6, ZR1 1982-2001
Questions & Answers about Corvette Fuel Injection and Electronic Engine Management: L83, L98, LT1, LT4, LS1, LS6, ZR1 1982-2001
Ask a question about Corvette Fuel Injection and Electronic Engine Management: L83, L98, LT1, LT4, LS1, LS6, ZR1 1982-2001.
Corvette Fuel Injection and Electronic Engine Management: L83, L98, LT1, LT4, LS1, LS6, ZR1 1982-2001
Description

Specifications

Table of Contents

Questions & Answers

Customer Reviews