2010-2015 Chevrolet Camaro Repair Manual by Haynes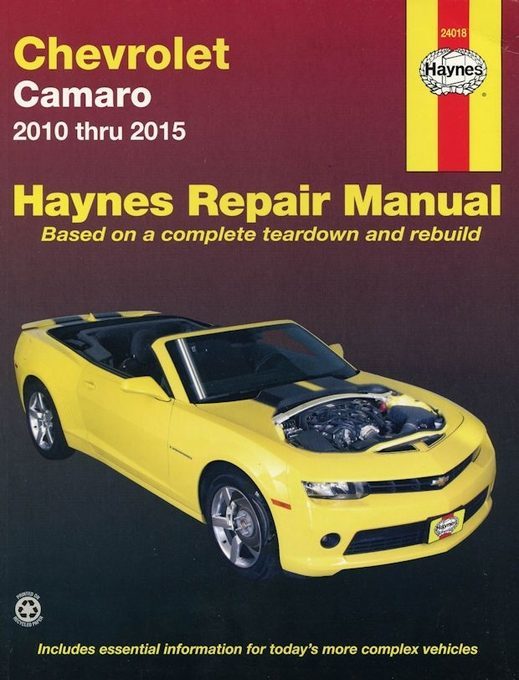 Why Buy From Us?
Free Shipping
Veteran Owned
Secure Shopping
Satisfaction Guaranteed
Item Description
This Chevrolet Camaro Repair Manual (2010-2015) - Haynes 24018 is published by Haynes Publishing Group to specifically help DIY'ers, both beginning and seasoned mechanics, be successful in their attempts to repair, service and maintain their 5th Generation Camaro.
NOTE: Does not include information specfic to Z28 models.
This Haynes Chevy Camaro repair manual is based on a complete teardown and rebuild. Photographers, writers and mechanics worked together to expertly create DIY steps and procedures for repairing the 2010-2015 Chevy Camaro. The steps, procedures and exploded views to complement the service instructions cover all components of your auto, including:
transmission maintenance
engine overhaul and repair steps
exhaust and fuel systems
emissions and engine control
suspension, steering and brake service
Additionally, the Haynes 24018 Chevrolet Camaro Service Manual covers the following engines: ENGINES
3.6 Liter V6 Engine, 217 cubic inches - 2011 and earlier (LLT)
3.6 Liter V6 Engine, 220 cubic inches - 2012 and later (LFX)
6.2 Liter V8 Engine, 376 cubic inches
In addition to providing excellent / expert DIY procedures for repair, you will also find torque specifications and wiring diagrams.
The Motor Bookstore has been servicing DIY mechanics like yourself since 1997. We stock all manuals we carry and our customer support is second to none. We ship the same day during business hours and the duration of our shipping is much faster than our competion. Pick up this Chevy Camaro Haynes Repair Manual today, so you can start saving tomorrow.
Subject:
Service, repair and maintenance instructions for Chevrolet Camaros 2010, 2011, 2012, 2013, 2014, 2015.
ISBN-10: 1620922002 | ISBN-13: 9781620922002 | Haynes 24018
Specifications
Publisher: Haynes Manuals
Pages: 336 - Hundreds of b&w photos and illustrations
Binding: Softcover - 8.5 x 11 inches
ISBN: 978-1-62092-200-2
Years: 2010 - 2015
Table of Contents
TABLE OF CONTENTS
Introduction to the Manual's structure
Tune-up and Routine Maintenance Procedures - petrol models and diesel models separately
V6 Engine Repair/Service Procedures
V8 Engine Repair/Service Procedures
General Engine Overhaul Procedures
Fuel and Exhaust Systems' Repair/Service Instructions
Heating and Air Conditioning Systems' Service/Repair Steps
Engine Electrical Systems
Emissions and Engine Control Systems
Manual Transmission
Automatic Transmission
Clutch & Driveline Repair/Service Procedures
Brakes Service & Repair
Steering and Suspension Repair Procedures
Body Repair/Service Procedures
Chassis Electrical System
Wiring Diagrams
Index
Questions & Answers about Chevy Camaro Repair Manual: 2010-2015
Questions & Answers about Chevy Camaro Repair Manual: 2010-2015
How much of this book covers,in detail, the 2015 Camaro Z/28? Gen 5 Z28

This is what the publisher stated about this manual: That's the one model that is excluded from the manual as its production numbers were so low - only 1,807 of them were made in 2014 and 2015. It was basically intended as a track-day car. While a large part of the manual would probably be applicable to the Z28, the 7.0L engine is not covered. So basically, anything specific to the Z28 won't be included. Thank you.
Ask a question about Chevy Camaro Repair Manual: 2010-2015.
2010-2015 Chevrolet Camaro Repair Manual by Haynes
Description

Specifications

Table of Contents

Questions & Answers

Customer Reviews