2010-2015 Chevrolet Camaro Service & Repair Manual by Chilton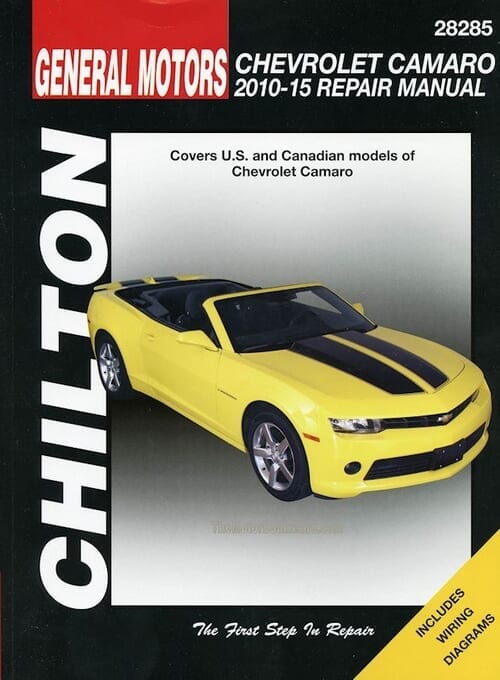 Why Buy From Us?
Free Shipping
Veteran Owned
Secure Shopping
Satisfaction Guaranteed
Item Description
The Chilton 28285 - Chevrolet Camaro Repair Manual (2010-2015) is published by Haynes Publishing Group. It covers the U.S. and Canadian models of the Chevy Camaro. The Chevy Camaro Chilton total care manual is based on a complete teardown and rebuild of the car. Photographers along with technicians work together to expertly capture service and repair steps, tips and strategies targeting the novice DIY mechanic.
You will find detailed step-by-step procedures, exploded views of the steps and many supporting black and white diagrams all geared to clearly convey service and repair steps so you can easily understand them.
The 2010-2015 Chevy Camaro Chilton manual will be the number one tool in your toolbox to ensure the success of your repair and service projects. Even if you decide to not get your hands dirty and instead hire a mechanic, this Camaro service manual will allow you to review the job so you can talk with your mechanic intelligently. Knowledge is power and when it comes to repairs and service on your late model Camaro, you are going to save money.
NOTE: The Chilton Total Care manual line was purchased by Haynes Publishing Group in 2000. All Chilton Total Care manuals published after 2000 are word for word and diagram for diagram the same as their Haynes counterpart. There are two major characteristic differences between the Haynes and Chilton manuals published for the same make/model:
A Chilton has two text columns per page instead of three like the Haynes. This results in more pages and larger font.
The Chilton includes a Master Index at the back of the manual and the Haynes does not.
The following Camaro engines are covered in this 2010-2015 Chevy Camaro service manual by Chilton:
3.6 Liter V6 Engine (217 ci)
3.6 Liter V6 Engine (220 ci)
6.2 Liter V8 Engine (376 ci)
Subject: Chevy Camaro DIY instructions for repair, service and maintenance tasks - 2010, 2011, 2012, 2013, 2014, 2015. ISBN-10: 1620922061 | ISBN-13: 9781620922064 | Chilton 28285
Specifications
Publisher: Chilton Manuals
Author: Jeff Killingsworth
Pages: 416 - Hundreds of b&w photos and illustrations
Binding: Paperback - 8.5 x 11 inches
ISBN: 978-1-62092-206-4
Years: 2010 - 2015
Table of Contents
TABLE of CONTENTS:
Introduction: About this manual | Introduction | Vehicle identification numbers | Maintenance techniques, tools and working facilities | Buying parts | Jacking and towing | Booster battery (jump) starting | Conversion factors | Automotive chemicals and lubricants | Safety first! | Troubleshooting

Tune-up and routine maintenance
V6 Engines
V8 Engines
General engine overhaul procedures
Cooling, heating and air-conditioning systems
Fuel and exhaust systems
Engine electrical systems
Emissions and engine control systems
Manual Transmission
Automatic Transmission
Clutch and Driveline
Brakes
Suspension and steering systems
Body
Chassis electrical system
Wiring diagrams
Glossary
Master Index
Questions & Answers about Chevrolet Camaro Repair Manual 2010-2015
Questions & Answers about Chevrolet Camaro Repair Manual 2010-2015
How much of this book covers,in detail, the 2015 Camaro Z/28? Gen 5 Z28

This is what the publisher stated about this manual: That's the one model that is excluded from the manual as its production numbers were so low - only 1,807 of them were made in 2014 and 2015. It was basically intended as a track-day car. While a large part of the manual would probably be applicable to the Z28, the 7.0L engine is not covered. So basically, anything specific to the Z28 won't be included. Thank you.
Ask a question about Chevrolet Camaro Repair Manual 2010-2015.
Customer Reviews
REVIEWS
David Caccamise
verified customer
May 25, 2017
2010-2015 Chevrolet Camaro Service & Repair Manual by Chilton
Description

Specifications

Table of Contents

Questions & Answers

Customer Reviews