Chevy Camaro, Pontiac Firebird Repair Manual 1993-2002 (All Models) - by Chilton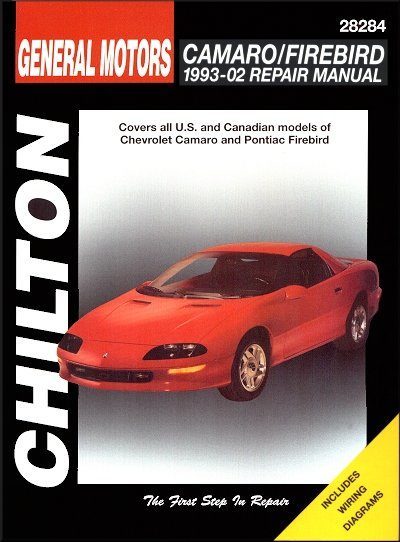 Why Buy From Us?
Free Shipping
Veteran Owned
Secure Shopping
Satisfaction Guaranteed
Item Description
If you own a 1993-2002 Chevrolet Camaro or Pontiac Firebird, you can boost your troubleshooting and repair skills with this highly comprehensive General Motors Camaro and Firebird repair manual from Chilton. It covers all models from these years and features easy step-by-step instructions, trouble codes, electronic engine controls, diagnostic charts, maintenance schedules, tune-up specifications, wiring diagrams and more. With it, you can completely maintain, service and repair your vehicle. If you're looking for a guide to remove 1998 Firebird motor, this is the book for you. Even if you end up using a mechanic for certain repairs, this valuable information will make you a better informed customer.

In this Firebird and Camaro repair manual, there are sections for the following:
Tune-Up and Routine Maintenance
Engines and Engine Overhaul Procedures
Cooling, Heating and AC Systems
Fuel and Exhaust Systems
Engine Electrical Systems
Emissions and Engine Control Systems
Manual and Automatic Transmissions
Clutch and Driveline
Brakes
Suspension and Steering Systems
Body
Chassis Electrical System and Wiring Diagrams
Glossary and Index
Although the Chilton repair manuals are designed for DIY mechanics, professionals will also find value in the tips and tricks and detailed information.

Subject: Chevy Camaro, Pontiac Firebird Repair Manual 1993-2002 (all Models) - by Chilton. 1993, 1994, 1995, 1996, 1997, 1998, 1999, 2000, 2001, 2002. ISBN 10: 1563925591 | ISBN 13: 9781563925597
Specifications
Publisher: Chilton Manuals
Pages: 358 - Hundreds of b&w photos and illustrations
Binding: Paperback - 8.5 x 11 inches
ISBN: 978-1-56392-559-7
Years: 1993 - 2002
Table of Contents
TABLE of CONTENTS:
Introduction: About this manual | Introduction | Vehicle identification numbers | Maintenance techniques, tools and working facilities | Buying parts | Jacking and towing | Anti-theft audio system | Booster battery (jump) starting | Conversion factors | Automotive chemicals and lubricants | Safety first! | Troubleshooting
Tune-up and routine maintenance
3.4L V6 engine
3800 V6 engine
5.7 V8 engine - 1997 and earlier models
5.7 V8 engine - 1998 and later models
General engine and overhaul procedures
Cooling, heating and air-conditioning systems
Fuel and exhaust systems
Engine electrical systems
Emissions and engine control systems
Manual transmission
Automatic transmission
Clutch and driveaxles
Brakes
Suspension and steering systems
Body
Chassis electrical system
Wiring diagrams
Above: Doug McFarland's 1999 Pontiac Trans Am. A 23k original mile Firebird that's never seen salt, ice or snow, but plenty of sun on warm and sunny days with the T-tops off. Carleton, MI.
Questions & Answers about Chevy Camaro, Pontiac Firebird Repair Manual 1993-2002
Questions & Answers about Chevy Camaro, Pontiac Firebird Repair Manual 1993-2002
Ask a question about Chevy Camaro, Pontiac Firebird Repair Manual 1993-2002.
Customer Reviews
REVIEWS
John
verified customer
August 8, 2015
Has this company changed?
Extremely disappointed in this Chilton repair manual. Have generally held the opinion that Chilton was a bit better than Haynes. My mistake. More than likely the last purchase I will make of any Chilton products. Very broad and general instructions and very few usable photos.
Chevy Camaro, Pontiac Firebird Repair Manual 1993-2002 (All Models) - by Chilton
Description

Specifications

Table of Contents

Questions & Answers

Customer Reviews