1983 Chevrolet Camaro Shop Manual (Includes 11x26 inch Wiring Diagrams) - Licensed OEM Reproduction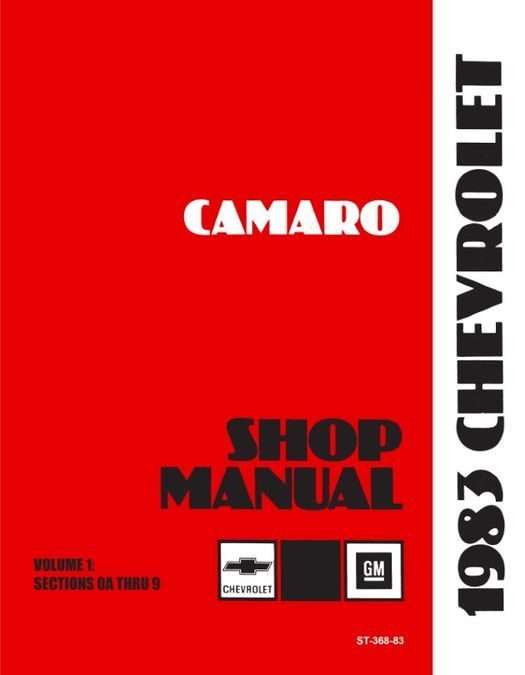 Why Buy From Us?
Free Shipping
Veteran Owned
Secure Shopping
Satisfaction Guaranteed
Item Description
This 1983 Chevrolet Camaro Shop Manual is a high-quality, PRINT reproduction of the shop manual which was written and first published by the experts at the original equipment manufacturer (OEM), Chevrolet Motor Division, for use by their dealership mechanics. When it's time for you to start turning some wrenches on your favorite classic Chevy, be sure to use this outstanding guide. It's loaded with all of the factory specifications and directions to be sure you have the knowledge to get the jobs done completely, accurately and efficiently!
NOTE: We're proud to offer this beautiful reproduction service manual complete with fold-out, 11" x 26" wiring diagrams. You won't find many (if ANY) other reprinted manuals complete with this handy feature. Our manuals also retain all of the information from the original source.
MODELS COVERED:

1983 Chevrolet Camaro Berlinetta
1983 Chevrolet Camaro Sport
1983 Chevrolet Camaro Z28
Loaded with a staggering 1,276 pages of detailed instructions, this manual has been conveniently divided into two volumes. It is the ultimate source for service and maintenance tasks for you 1983 Camaro. This shop manual contains the factory procedures for diagnosis, maintenance adjustments, minor service operations and replacement of components. That information comprises the SERVICE details of this great guide. Fortunately, it also contains the disassembly and assembly of major component instructions. That is what is known as Unit Repair, or, OVERHAUL details. As if having two manuals in one wasn't already a tremendous deal, this book also covers the BODY service. No wonder this set is so hefty.
In addition to the fine, text directions, you'll love the excellent illustrations and other visual aids which have been used throughout this helpful guide. Please scroll down and look at the sample pages to get an idea of just how well the pairing of well-written text and visual tools functions.
In 1983, the Camaro was only one year into its new body style (after over a decade of the previous design). The previous year Camaro model proved to be immensely popular and won accolades all around. That didn't stop Chevrolet from making it better. The new High Output (HO) Z28 was more than up to the task of stomping Ford's Mustang. These good-looking Camaros already had world class handling. Now, with better transmission options and more power, there was just that much more to like.
If your '83 Camaro has gone "carb-free", but your Cross-Fire Injection unit falls more into the "Cease-Fire" category, or (gulp!) "Catch-Fire", then you'll definitely want to have this book in hand in order to access the proper information to get (and keep) your beloved classic looking and running its best.
One of the cool things Chevrolet offered in 1983 was a five-speed (77mm) manual transmission. It's a fully synchronized unit with blocker ring synchronizers and a sliding mesh reverse gear. Do you know all the steps for disassembly? Well, you certainly would (and much more) if you had this superior guide. Not only does it give you step-by-step directions, but it can also help you learn lessons, WITHOUT having to learn them the hard way! For instance, when removing the extension housing to transmission case bolts, you need to remove the housing and offset lever as an assembly. This book alerts you to NOT attempt to remove the offset lever while the extension housing is still bolted in place. The lever has a positioning lug engaged in the housing detent plate which prevents moving the lever far enough for removal. It's just those kinds of details, tips and factory knowledge you'll find on all aspects of these cool cars that makes this 1983 Chevrolet Camaro shop manual such a great value. Order yours today!
This factory-written shop manual is perfect for service, repairs, restoration and rebuild projects. Clear illustrations and photos show exploded views, as well as component details, plus specifications on engine data, engine torque, carburetion and more.
Subject:
1983 Chevrolet Camaro Shop Manual - Includes Detailed Procedures and Instructions.
| OEM Part Number: ST 368-83
Specifications
Publisher: Chevrolet Motor Division
Pages: 1276 - Hundreds of b&w illustrations
Binding: Paperback - 8.5 x 11 inches
Years: 1983
Sample Page:
Below:1983 Chevrolet Camaro Shop Manual Sample Page - V8 Engine Crankshaft End Play
Sample Page:
Below:1983 Chevrolet Camaro Shop Manual Sample Page - Transmission Pressure Regulator
Questions & Answers about 1983 Chevrolet Camaro Shop Manual
Questions & Answers about 1983 Chevrolet Camaro Shop Manual
Ask a question about 1983 Chevrolet Camaro Shop Manual.
1983 Chevrolet Camaro Shop Manual (Includes 11x26 inch Wiring Diagrams) - Licensed OEM Reproduction
Description

Specifications

Table of Contents

Questions & Answers

Customer Reviews