Camaro and Firebird Performance Projects 1970-1981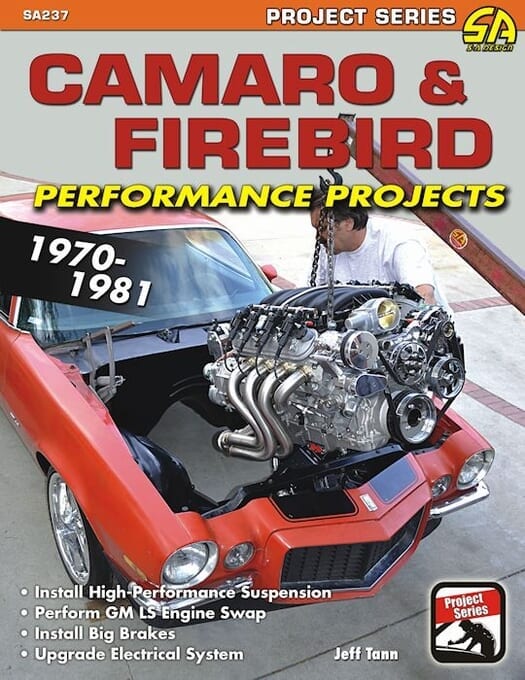 Why Buy From Us?
Free Shipping
Veteran Owned
Secure Shopping
Satisfaction Guaranteed
Item Description
This valuable step-by-step DIY manual is full of detailed instructions and photos to help you enhance the overall performance of your prize possession. The topics detailed in this book include: suspension, brakes, engine performance, camshaft installation, suspension, engine swaps (including the GM LS), electrical system upgrades, chassis upgrades, exhaust system, ignition system, weight saving measures, wheels, interior and cooling system enhancements.
NOTE: This manual is a print on demand (POD) book that may be printed in black & white by the publisher. We keep this POD manual in stock so it will ship same day as ordered if ordered prior to 1:00pm central time during normal business hours.
The two F-Body cars are similar in design; however, the engine selection options were quite different. For example, in the mid 1970s the Firebird was offered with Chevy engines as an economical option. The powerful Pontiac 400 engine was offered in the Trans Am. In the 1970s, due to the "Gas Crisis", more than one million Camaro and Firebirds were sold with six cylinders. Many of the Camaros and Firebirds did come equipped with smog-equipped 305s and 350s. When compared to the first generation Camaros and Firebirds, its easy to understand why the second generation Camaros and Firebirds have lower collector values. That said, the second generation Camaro and Firebirds sold toward the end of the muscle car era are some of the most valuable collector cars on the market.
The detailed instructions and associated diagrams in this guide will help you speed through your performance project in an efficient and cost effective manner. From performance engines to the interior, this guide includes everything you need to know to transform your Camaro or Firebird into a "dream" that will turn heads for years to come. Maybe you have a mint condition Camaro or Firebird that just isnít fast or beefy enough for you... If so, this guide will show you how to upgrade your ride to an extremely powerful and desirable muscle car.
Subject: Camaro & Firebird Performance Projects 1970, 1971, 1972, 1973, 1974, 1975, 1976, 1977, 1978, 1979, 1980, 1981 ISBN-10: 1613250142 | ISBN-13: 9781613250143 | CarTech Books SA237P
Specifications
Publisher: CarTech Books
Author: Jeff Tann
Pages: 176 - Over 450 b & w photos
Binding: Paperback - 8.5 x 11 inches
ISBN: 978-1-61325-014-3
Years: 1970 - 1981
Table of Contents
TABLE of CONTENTS:
Organization and Planning Tips
Engine Performance Projects - includes small block vs. big block and head installation
Camshaft Selection and Installation Project - includes roller cams; solid lifters; hydraulic lifters
How to Select and Install a Carburator - includes Intake Manifold removal and install
Ignition System Component Removal/Install - includes distributor and coil
Exhaust Header Selection and Emissions Overview
Crate Engine Selection and Installation - includes GM LS, small vs big block Chevy performance
Transmission Performance Selection Options and Sources
Chassis Enhancement Projects - includes subframe connector and wheel hub installation instructions
Front Subframe Suspension Installation
Rear Spring and Rear Suspension Installation
Front Brake Installation
Front Shock Installation
Drum to Disk Brake Conversion Instructions
Cooling System Enhancement Ideas - includes thermostat, radiator, water pump and fans
Weight-Saving Ideas
Wheels and Tire Recommendations
Interior Projects - includes seat reupholstery, sound system, steering wheel and dash/gauges
Electrical System Overview - includes power window installation
Questions & Answers about Camaro and Firebird Performance Projects 1970-1981
Questions & Answers about Camaro and Firebird Performance Projects 1970-1981
Ask a question about Camaro and Firebird Performance Projects 1970-1981.
Camaro and Firebird Performance Projects 1970-1981
Description

Specifications

Table of Contents

Questions & Answers

Customer Reviews