How to Build and Modify High-Performance Manual Transmissions: Disassemble, Evaluate, Rebuild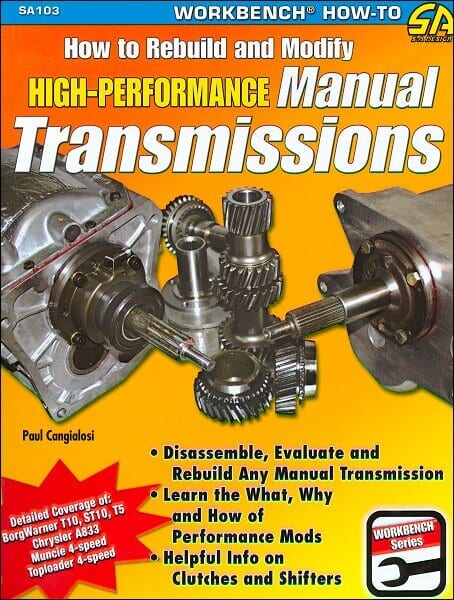 Why Buy From Us?
Free Shipping
Veteran Owned
Secure Shopping
Satisfaction Guaranteed
Item Description
How To Build and Modify High Performance Manual Transmissions is a top-notch reference for all small block Ford rebuild procedures. Itís jam packed with hundreds of highly detailed photographs and illustrations, as well as a wealth of laymanís text covering all aspects of transmission rebuild. It includes theory and operation for inspection, disassembly, upgrade, part identification and modification. The most complicated process behind designing a high performing transmission, such as modifying a Hurst Competition Plus Shifter, has been simplified so that even an inexperienced enthusiast can tear down components. Every owner will be able to successfully follow small block Ford rebuild procedures.
Packed with over 400 color close-up photos, How to Build and Modify High-Performance Manual Transmissions details the disassembly, inspection, modification, upgrade, and rebuilding process into easy-to-follow steps.
The manual includes the latest techniques and pro tips, so an enthusiast can tear-down, identify parts that need to be replaced, pick the best components, and successfully re-assemble a high-performance transmission.
Cangialosi guides you through the rebuilding process for major high-performance trannys, including:
BorgWarner T10
BorgWarner Super T10
GM/Muncie
Ford Toploader
Chrysler A833
Tremec T5
In addition, the manual clearly explains theory, gear ratio calculation, synchro function, and gear design features, so you will be able to build the best gearbox.
Clutch selection, setup and shifter modification are also covered.
This authoritative resource is packed with over 400 color photos, charts, and illustrations, so you can get the most out of your manual transmission.
Subject:
How to build and modify high-performance manual transmissions.
ISBN-10: 1934709298 | ISBN-13: 9781934709290 | CarTech SA103
Specifications
Publisher: CarTech Books
Author: Paul Cangialosi
Pages: 128 - Hundreds of color photos and illustrations
Binding: Paperback - 8.5 x 11 inches
ISBN: 978-1-934709-29-0
Table of Contents
TABLE of CONTENTS:
CHAPTER 1: THEORY of MANUAL TRANSMISSIONS
Wide and Close Ratios Explained
What Makes Close-Ratio Close?
Goodbye Wide and Close Ratios
The How and Why of Synchros
Gear Design Basics
Bearing Selection
CHAPTER 2: TRANSMISSION ASSEMBLY and INSPECTION TECHNIQUES
So What Do I Use?
Repairing Castings
Gear Preparation
Bolts and Threads
Hydraulic Press Basics
Loading Needle Bearings
Subassemblies - Synchronizers
Bearing Tips
Gaskets and Sealants
CHAPTER 3: BORGWARNER TRANSMISSIONS
T10 4-Speed History and Facts
BorgWarner Numbering System
Rebuilding T10 and Super T10 4-Speeds
Early T10 Building Basics
Rebuilding the T5
T5 Assembly - Starting From the Ground Up
High-Performance T5
CHAPTER 4: CHRYSLER A833 4-SPEED TRANSMISSION
CHAPTER 5: GM/MUNCIE 4-SPEED TRANSMISSION
How to Identify a Muncie
Serial and VIN numbers
Putting it All Together
M22 Heavy-Duty Rockcrushers and New Muncies
GM Speedometer Primer
Calculating Speedometer Errors
Muncie 4-Speed Rebuild
CHAPTER 6: FORD TOPLOADER 4-SPEED TRANSMISSION
Transmission Build-Up
Final Assembly
CHAPTER 7: OTHER COMMON MANUAL TRANSMISSIONS
Saginaw 4-Speed Transmissions
Richmond Gear 4+1 5-Speed Transmission
ZF Transmission S6-40
Tremec Transmissions
Doug Nash 4+3 Transmission
Autogear M33 "Syracuse 5-Speed" Transmission
CHAPTER 8: HIGH-PERFORMANCE TRANSMISSIONS
CHAPTER 9: CLUTCH BASICS
Clutch Components
Clutch Types
CHAPTER 10: GUIDE to SHIFTERS
The Need for Shifters
Fixing the Hurst Competition Plus Shifter
T5/T6 Shifter Modifications
Appendix: Gear and Torque Specifications and Oil Capacities
Questions & Answers about How to Build & Modify High-Performance Manual Transmissions
Questions & Answers about How to Build & Modify High-Performance Manual Transmissions
Ask a question about How to Build & Modify High-Performance Manual Transmissions.
How to Build and Modify High-Performance Manual Transmissions: Disassemble, Evaluate, Rebuild
Description

Specifications

Table of Contents

Questions & Answers

Customer Reviews