1989 Jeep Service Manual - 4 Volumes (Printed / New)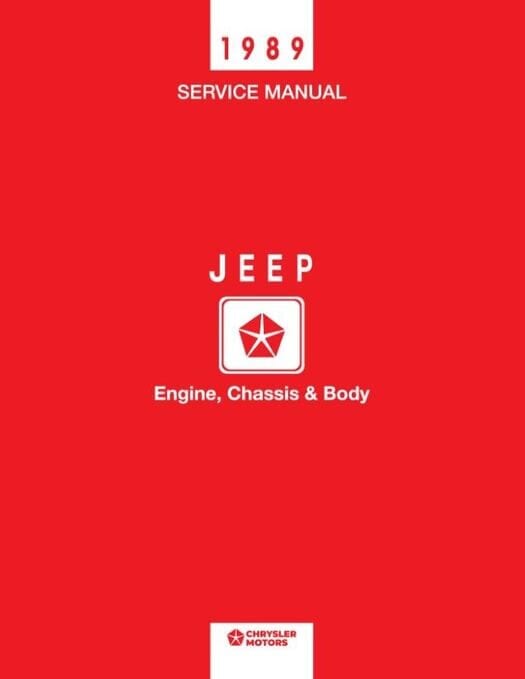 Why Buy From Us?
Free Shipping
Veteran Owned
Secure Shopping
Satisfaction Guaranteed
Item Description
This 1989 Jeep Service Manual - 4 Volumes is a high-quality, licensed, PRINT reproduction of the shop manual written and first published by the experts at the original equipment manufacturer (OEM), Jeep Corporation, for use by their dealership mechanics. The 1989 Jeep Service Manual set includes the following four volumes:
1989 Jeep Engine, Chassis & Body Service Manual - 81-370-9045
1989 Jeep Electrical Service Manual - 81-370-9046
1989 Jeep Anti-Lock Brake System Service Manual Supplement - 81-370-9045 A
1989 Jeep AX 15 Manual Transmission Service Manual Supplement - 81-370-9045 B
This set is the ultimate resource for the service and repair projects on your classic '89 Jeep. It's loaded with a whopping 2,214 pages of factory-authorized procedures and factory-correct specifications. Now, this dependable tool of the professionals can be yours with a few simple clicks.
MODELS COVERED:

1989 Jeep Cherokee Truck
1989 Jeep Cherokee Laredo Truck
1989 Jeep Cherokee Limited Truck
1989 Jeep Cherokee Pioneer Truck
1989 Jeep Cherokee Sport Truck
1989 Jeep Comanche Truck
1989 Jeep Comanche Eliminator Truck
1989 Jeep Comanche Pioneer Truck
1989 Jeep Grand Wagoneer Truck
1989 Jeep Wagoneer Limited Truck
1989 Jeep Wrangler Truck
1989 Jeep Wrangler Islander Truck
1989 Jeep Wrangler Laredo Truck
1989 Jeep Wrangler Sahara Truck
You'll find a wealth of valuable information inside these volumes. They're undeniably loaded with excellent descriptions, step-by-step, easy-to-follow text directions and a huge number and variety of exceptional visual aids to walk you through the various Jeep maintenance and repair endeavors from start to finish.
ALL of the content from the original source has been retained in this beautifully reprinted shop manual set. In fact, these manuals may actually be even better than new. How's that possible? It's because the publisher, Detroit Iron, uses industry-leading, digital technology along with superior materials (such as thick paper) to create these stunning reproductions. Their attention to detail and commitment to quality is evident in the final product. You'll love the dark, legible text, clean backgrounds and sharp visual tools. When all of the subject matter composed by the experts is available in a freshly-printed and packaged form, your really do have the best of both worlds.
We've included a couple of sample pages below demonstrating the high quality of the illustrations as well as how skillfully they complement the rich text. The first example is from the engine section and features multiple, helpful illustrations. The second sample page contains a well-organized, full-page wiring diagram of the starter system. The information is presented with unmatched clarity, due to this outstanding layout. It means you can complete the tasks efficiently and accurately.
In '89, the ads and brochures loved to use the phrase, "Only in a Jeep". It's a great way to say that competitor's products just don't stack up. The same goes for this 1989 Jeep Service Manual - four-volume set.
Be prepared for adventure by getting and keeping your rugged, classic machine at its best. You'll be able to do just that with the knowledge contained in these volumes. Order your set now!
This factory-written shop manual is perfect for service, repairs, restoration and rebuild projects. Clear illustrations and photos show exploded views, as well as component details, plus specifications, engine repair details, fuel systems and more.
Subject:
1989 Jeep Service Manual - 4 Volumes - Includes Detailed Procedures and Instructions.
| ISBN-10: 01791412416 | ISBN-13: 9781791412418 | OEM Part Number: 81-370-9045, 81-370-9045A, 81-370-9045B, 81-370-9046
Specifications
Publisher: Detroit Iron Publishing
Author: Jeep Corporation
Pages: 2214 - Hundreds of b&w illustrations
Binding: Paperback - 8.5 x 11 x 4.21 inches
ISBN: 978-1-7914-1241-8
Years: 1989
Table of Contents
1989 Jeep Service Manual - 4 Volumes - Table of Contents 1
1989 Jeep Service Manual - 4 Volumes - Table of Contents 2
TABLE OF CONTENTS - Engine, Chassis, Body
— INTRODUCTION
0 - LUBRICATION AND MAINTENANCE
1 - ACCESSORIES
2 - FRONT SUSPENSION
3 - REAR AXLE
5 - BRAKES
6 - CLUTCH
7 - COOLING SYSTEM
9 - ENGINE
11- EXHAUST/INTAKE MANIFOLD
13 - FRAME
14 - FUEL SYSTEM
16 - PROPELLER SHAFT AND UNIVERSAL JOINTS
17 - SPRINGS—SHOCK ABSORBERS
19 - STEERING
21 - TRANSMISSION
22 - WHEELS AND TIRES
23 - BODY
24 - HEATING AND AIR-CONDITIONING
25 - EMISSIONS CONTROL SYSTEMS
TABLE OF CONTENTS - Electrical
INTRODUCTION
8 ELECTRICAL
8A BATTERY
8B CHARGING SYSTEM
8C STARTING SYSTEM
8D IGNITION
8E INSTRUMENT PANEL
8F RADIO, ANTENNA & SPEAKERS
8G HORNS
8H CRUISE CONTROL
8J MULTI-FUNCTION SWITCH & HAZARD
8K WINDSHIELD WIPERS & WASHERS
8L LAMPS
8M WARNING BUZZER/CHIME MODULE
8N REAR WINDOW DEFOGGER
8P POWER DOOR LOCKS
8R POWER SEATS
8S POWER WINDOWS
8T POWER MIRRORS
8W WIRING DIAGRAMS
Sample Page:
Below:1989 Jeep Service Manual - 4 Volumes - Sample Page - Engines
Sample Page:
Below:1989 Jeep Service Manual - 4 Volumes - Sample Page - Wiring Diagrams - Starter System
Questions & Answers about 1989 Jeep Service Manual - 4 Volumes
Questions & Answers about 1989 Jeep Service Manual - 4 Volumes
Ask a question about 1989 Jeep Service Manual - 4 Volumes.
1989 Jeep Service Manual - 4 Volumes (Printed / New)
Description

Specifications

Table of Contents

Questions & Answers

Customer Reviews