1984 Pontiac Fiero Service Manual (Chassis & Body) - Licensed OEM Reproduction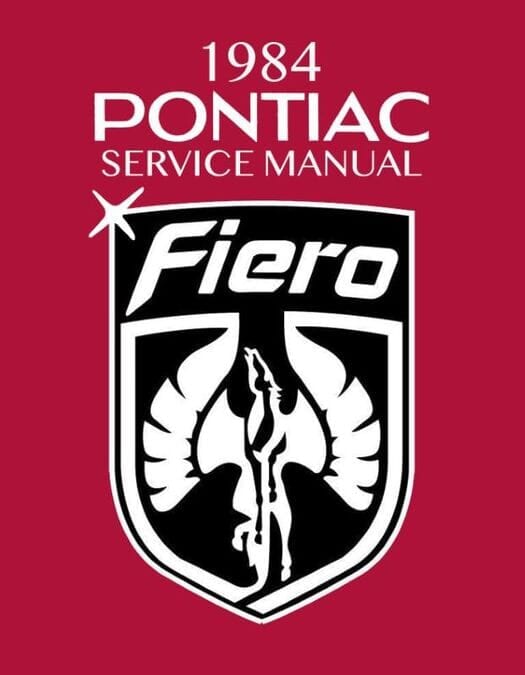 Why Buy From Us?
Free Shipping
Veteran Owned
Secure Shopping
Satisfaction Guaranteed
Item Description
This 1984 Pontiac Fiero Service Manual is a high-quality, licensed PRINT reproduction of the shop manual written and first published by the experts at the original equipment manufacturer (OEM), Pontiac Motor Division, for use by their dealership mechanics. If your Pontiac Fiero is looking more like a pure ransacked fiasco, this guide is here to rescue you. It's the ultimate source for all of the maintenance and repair tasks on your beloved sporty machine.
MODELS COVERED:

1984 Pontiac Fiero
1984 Pontiac Fiero SE
1984 Pontiac Fiero Sport
Containing almost 950 pages of detailed material, this outstanding shop manual definitely delivers the goods with respect to your Fiero's chassis and body needs. It's filled with factory-correct specifications and procedures, so you'll have the knowledge in order to do the jobs right. Not only will you discover a massive amount of step-by-step text instructions, but you'll find that those directions have been thoughtfully paired with a vast number and variety of excellent visual aids.
To prove how well it all works, we've included a couple of sample pages below. Please take a moment to scroll down and take a look. You'll find exploded view diagrams and multiple illustrations, which complement the easy-to-follow written information. This awesome level of detail has been included throughout.
The good news is, "1984" isn't just a legendary Van Halen album. Pontiac rolled out their first two-seater in close to fifty years. If that wasn't cool enough, the Fiero was also the first American, mass-produced, mid-engine sports car. Featuring striking good looks and many cool features, such as speakers in the headrests, these machines were affordable. They were made on a budget using many existing parts from the General Motors inventory. If you're Fiero is acting like a "Girl Gone Bad", don't just say "I'll Wait" to handle the repairs, while she puts you in a "House of Pain". Instead, you should "Jump" at the opportunity to pick up this fantastic resource. Check out the Table of Contents tab on this page and we're sure it will leave you hot for features.
These cars were well-loved right out of the box. They sold well and even paced the Indy 500 in their first year of production. Keep yours at its best with this clean, new guide, which retains all of the material from the original, factory source.
This factory-written shop manual is perfect for service, repairs, restoration and rebuild projects. Clear illustrations and diagrams show exploded views, as well as component details, plus specifications, engine repair details, fuel systems and more.
Subject:
1984 Pontiac Fiero Service Manual - Includes Detailed Procedures and Instructions.
| OEM Part Number: S-8410P
Specifications
Publisher: Detroit Iron Publishing
Author: Pontiac Motor Division
Pages: 942 - Hundreds of b&w illustrations
Binding: Paperback - 8.5 x 11 inches
ISBN: 978-1-7914-1026-1
Years: 1984
Table of Contents
1984 Pontiac Fiero Service Manual - Table of Contents 1
1984 Pontiac Fiero Service Manual - Table of Contents 2
TABLE OF CONTENTS
General Information
Heating and Air Conditioning
Frame and Bumpers
Steering, Suspension, Wheels and Tires
Propeller Shaft and Rear Axle
Brakes
Engines
Transaxle
Chassis and Body Electrical
Accessories
Body
TABLE OF CONTENTS -- BODY SERVICE
General Information
Wiper Systems
Underbody
Front end
Doors
Rear Quarters
Rear End
Roof
Seats
Electrical
Stationary Glass
Index
Sample Page:
Below:1984 Pontiac Fiero Service Manual - Sample Page - Heating and Ventilation
Sample Page:
Below:1984 Pontiac Fiero Service Manual - Sample Page - Roof
Questions & Answers about 1984 Pontiac Fiero Service Manual
Questions & Answers about 1984 Pontiac Fiero Service Manual
Ask a question about 1984 Pontiac Fiero Service Manual.
1984 Pontiac Fiero Service Manual (Chassis & Body) - Licensed OEM Reproduction
Description

Specifications

Table of Contents

Questions & Answers

Customer Reviews