1981 Chevrolet Car Shop Manual - Licensed OEM Reproduction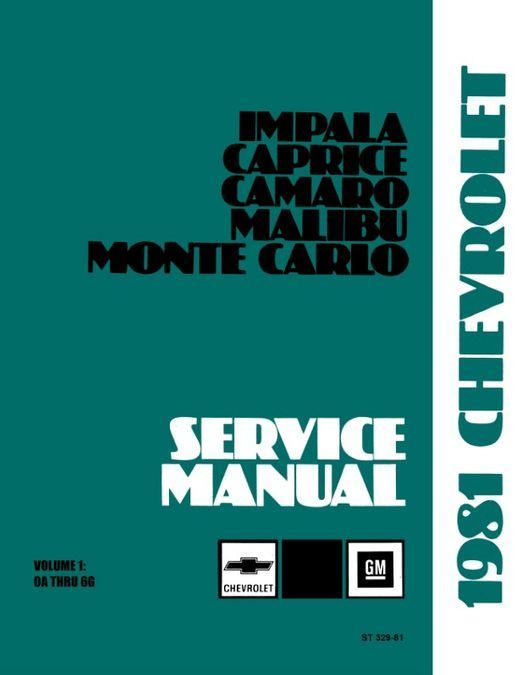 Why Buy From Us?
Free Shipping
Veteran Owned
Secure Shopping
Satisfaction Guaranteed
Item Description
This 1981 Chevrolet Car Shop Manual is a high-quality, PRINT reproduction of the shop manual which was written and first published by the experts at the original equipment manufacturer (OEM), Chevrolet Motor Division, for use by their dealership mechanics. Used for decades as the "go to" source by the automotive professionals, this superior resource can be yours!
MODELS COVERED:

1981 Chevrolet Bel Air
1981 Chevrolet Camaro Berlinetta
1981 Chevrolet Camaro Sport
1981 Chevrolet Camaro Z28
1981 Chevrolet Caprice
1981 Chevrolet Caprice Classic
1981 Chevrolet Caprice Classic Estate
1981 Chevrolet Caprice Classic Landau
1981 Chevrolet El Camino Truck
1981 Chevrolet El Camino Conquista Truck
1981 Chevrolet El Camino Royal Knight Truck
1981 Chevrolet El Camino SS Truck
1981 Chevrolet Impala
1981 Chevrolet Impala Estate
1981 Chevrolet Malibu
1981 Chevrolet Malibu Classic
1981 Chevrolet Malibu Classic Landau
1981 Chevrolet Monte Carlo
1981 Chevrolet Monte Carlo Landau
Clocking in with a hefty 1,188 pages, this colossal guide has been conveniently divided into two volumes. It is the ultimate source for factory specifications and instructions regarding the diagnosis, maintenance adjustments, minor service operations and replacement of components for the '81 Impala, Caprice, Malibu, Monte Carlo and Camaro. Now that's a list of car models with decades of street cred.
In addition to all of the fine, step-by-step text directions, you'll find a huge number and variety of excellent visual aids to assist you with projects of all sizes from start to finish. Please take a moment to scroll down on this webpage to see just how well the illustrations complement the text instructions.
What kind of information can you expect to find? Please find and open up the Table of Contents tab on this page to see just how thoroughly these great models have been covered. Go ahead. We'll wait!
Did you know that there are two types of propeller shafts, and before servicing, the type of shaft must be determined because the service procedures differ? Well, you would if you owned this manual and flipped to section 4A and examined the general description information. You'd be advised that the Cleveland design can be recognized by snap rings outboard of the universal joint. You'd also discover that the Saginaw shaft is recognized by the absence of snap rings at the universal joints. These production shafts have trunnions which are retained by a nylon material which is injected into a groove in the yoke. This helpful book provides access to all of that, plus illustrations of each type, as well as diagnosis and unit repair instructions. That's just a small example of the level of detail you'll find throughout this handy guide.
In 1981, Chevrolet offered an excellent array of car models for just about every taste and need. The Camaro was in its last year of a wildly popular body style which had been around since 1970 (1970 ½ for you technical folks…you know who you are). Beyond that, you still had a great selection of vehicles with various blends of luxury, sport and utility. When it's time to get to work on the service and maintenance tasks to get (and keep) yours running, be sure to use the authority's guide to make sure you are loaded with the factory specifications and instructions to keep your beloved classic at its best.
Want a little perspective on how much life has changed since the beginning of the glorious '80s? In 1981, the world witnessed the first U.S. space shuttle flight, when the Columbia went out to explore "the final frontier". International Business Machines (IBM) also launched something… its FIRST PC! The term "internet" was first used. How about one more launch…Music Television (MTV). I want my (original) MTV! You may not need to get your car ready for The Cannonball Run, which hit theaters in '81, but you'll still want it in first-class condition. This 1981 Chevrolet car shop manual is the best tool to get that dream done.
This is not some shabby hand-me-down book. It's a clean and freshly printed reproduction shop manual which retains all of the material from the original source. It's the best of both worlds.
NOTE: This is the CHASSIS service manual. For OVERHAUL information please see our: 1981 Chevrolet Car / Truck Unit Repair Manual, which can be found by clicking here…1981 Chevrolet Car / Truck Unit Repair Manual. For information regarding the BODY, please see our: 1981 Fisher Body Service Manual, which can be found by clicking here…1981 Fisher Body Service Manual.
This factory-written shop manual is perfect for service, repairs, restoration and rebuild projects. Clear illustrations and photos show exploded views, as well as component details, plus specifications on engine, data, engine torque, carburetion and more.
Subject:
1981 Chevrolet Car Shop Manual - Includes Detailed Procedures and Instructions.
| OEM Part Number: ST 329-81
Specifications
Publisher: Chevrolet Motor Division
Pages: 1188 - Hundreds of b&w illustrations
Binding: Paperback - 8.5 x 11 inches
Years: 1981
Sample Page:
Below:1981 Chevrolet Car Shop Manual Sample Page - Maintenance and Lubrication
Sample Page:
Below:1981 Chevrolet Car Shop Manual Sample Page - Heater Wiring Diagram
Questions & Answers about 1981 Chevrolet Car Shop Manual
Questions & Answers about 1981 Chevrolet Car Shop Manual
Ask a question about 1981 Chevrolet Car Shop Manual.
1981 Chevrolet Car Shop Manual - Licensed OEM Reproduction
Description

Specifications

Table of Contents

Questions & Answers

Customer Reviews