1978 Pontiac Service Manual - Licensed OEM Reproduction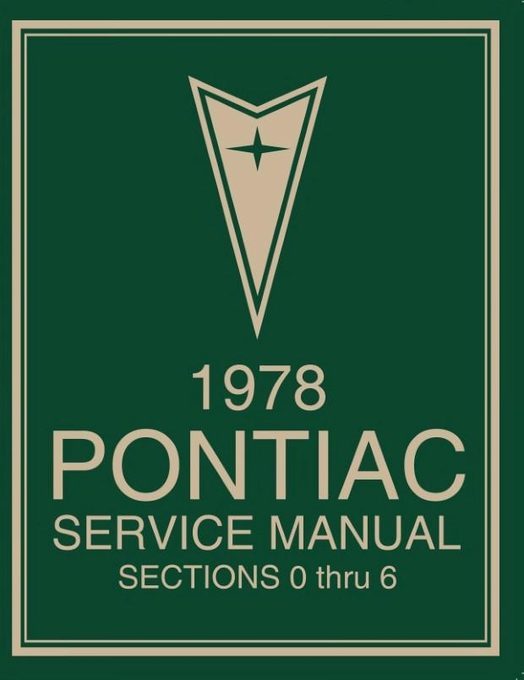 Why Buy From Us?
Free Shipping
Veteran Owned
Secure Shopping
Satisfaction Guaranteed
Item Description
This OEM 1978 Pontiac Service Manual (2-Volume Set) is a high quality authorized licensed reproduction of the original shop manual published by Pontiac Motor Division. If you're ready to work on your 1978 Pontiac, the first tool you'll want in hand is this shop manual. At just under 1,400 pages, we've broken it into 2 easier to hold and use volumes (sold together as a set). It covers general information, maintenance and lubrication, heating and air conditioning, steering, suspension, wheel and tires, propeller shaft and differential, brakes, engine, transmission (automatic, manual, clutch), chassis electrical, accessories and metric fasteners. Please note: This manual does cover frame and body mounts, front and rear bumpers, chassis metal, plastics, paint and repair, BUT other "Body" information is contained in a separate Body Manual.
This repair manual applies to all 1978 Pontiac models and series and is loaded with step by step instructions for service and maintenance. The comprehensive text is accompanied by an impressive number and assortment of visual tools, such as diagrams, black and white photos, tables, charts, to make sure you have the information you need to get the jobs done. It has wiring diagrams.
Whether you're wrenching on a 2.5 litre (151 cubic inch) L4, the 6.6 litre (403 cubic inch) V8, or any of the engines in between, this monster book has you covered with specifications and instructions to aid in troubleshooting and repairs from minor to major.
Thanks to carry-over excitement from the smash movie hit "Smokey and the Bandit" the previous year, Pontiac was red-hot in 1978. The movie took an already popular car in the Trans Am and pushed it to legendary status. If you're lucky enough to be servicing one of those famous Trans Ams, or one of Pontiac's other popular 1978 models, this guide will help you to get (and keep) that classic Pontiac motoring down the road. It's a wonderful resource when your project has a long way to go and a short time to get there.
PONTIAC MODELS COVERED:

1978 Pontiac Acadian
1978 Pontiac Bonneville
1978 Pontiac Bonneville Brougham
1978 Pontiac Bonneville Safari
1978 Pontiac Catalina
1978 Pontiac Catalina Safari
1978 Pontiac Firebird
1978 Pontiac Firebird Esprit
1978 Pontiac Firebird Formula
1978 Pontiac Firebird Trans Am
1978 Pontiac Grand Am
1978 Pontiac Grand LeMans
1978 Pontiac Grand LeMans LE
1978 Pontiac Grand LeMans SA
1978 Pontiac Grand LeMans Safari
1978 Pontiac Grand Prix
1978 Pontiac Grand Prix LJ
1978 Pontiac Grand Prix SJ
1978 Pontiac Grand Safari
1978 Pontiac Laurentian
1978 Pontiac LeMans
1978 Pontiac LeMans Safari
1978 Pontiac Parisienne
1978 Pontiac Phoenix
1978 Pontiac Phoenix LJ
1978 Pontiac Phoenix SJ
1978 Pontiac Sunbird
1978 Pontiac Sunbird Safari
This manual is perfect for the restorer or anyone working on one of these vehicles. Clear illustrations show exploded views as well as component details, plus specs on engine data, engine torque, carburetion, and more.
Should you use this newly-printed and packaged manual to service and maintain your 1978 Pontiac? Well, considering it's a version of the same guide which was prepared for, and used by, the Pontiac Service Team when these cars were new...That's a big 10-4!
Subject:
1978 Pontiac Service Manual (2-Volume Set) - Includes Detailed Procedures and Instructions.
| OEM Part Number: S-7804F
Specifications
Publisher: Pontiac Motor Division
Pages: 1396 - Hundreds of b&w illustrations
Binding: Paperback - 8.5 x 11 inches
Years: 1978
Questions & Answers about 1978 Pontiac Service Manual (2-Volume Set)
Questions & Answers about 1978 Pontiac Service Manual (2-Volume Set)
Ask a question about 1978 Pontiac Service Manual (2-Volume Set).
Customer Reviews
REVIEWS
Trent Osborne
verified customer
March 24, 2020
You May Also Like

1978 Pontiac Service Manual - Licensed OEM Reproduction
Description

Specifications

Table of Contents

Questions & Answers

Customer Reviews