1978 Cadillac Shop Manual Supplement (Includes 11x26 Color Wiring / Vacuum Diagrams) - Licensed OEM Reproduction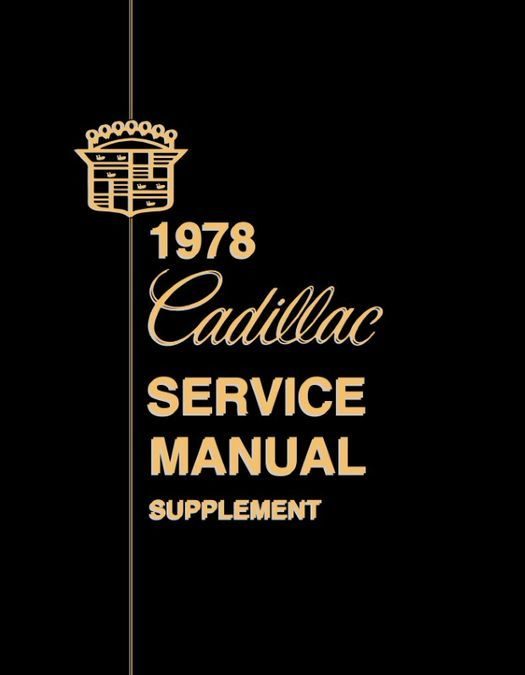 Why Buy From Us?
Free Shipping
Veteran Owned
Secure Shopping
Satisfaction Guaranteed
Item Description
This 1978 Cadillac Shop Manual Supplement to 1977 Shop Manual is a high-quality, PRINT reproduction of the shop manual which was written and first published by the experts at the original equipment manufacturer (OEM), Cadillac Motor Car Division, for use by their dealership mechanics.
NOTE: In this service manual, we have proudly included COLOR, fold-out 11" x 26" wiring / vacuum diagrams! Not many (if any) reproduction manuals offer fold-out materials, much less in color. We think you will benefit greatly from their inclusion.
MODELS COVERED:

1978 - 1979 Cadillac Commercial Chassis
1978 Cadillac DeVille
1978 Cadillac DeVille Cabriolet
1978 Cadillac DeVille d'Elegance
1978 Cadillac DeVille Phaeton
1978 Cadillac Eldorado
1978 Cadillac Eldorado Biarritz
1978 Cadillac Eldorado Cabriolet
1978 Cadillac Fleetwood
1978 Cadillac Fleetwood Brougham
1978 Cadillac Fleetwood Brougham d'Elegance
1978 Cadillac Fleetwood Formal
1978 Cadillac Seville
1978 Cadillac Seville Elegante
1978 Cadillac Seville Opera
NOTE: This manual is a SUPPLEMENT. That means the service information in this 424-page guide covers ONLY those features specific to the 1978 Cadillac. It has been designed to work TOGETHER with the 1,276-page, 1977 Cadillac Service Manual, which can be found by clicking here…1977 Cadillac Shop Manual. You will need to refer to the 1977 Cadillac Service Manual for all service information common to the 1977 and 1978 models. For BODY information, please see our: 1978 Fisher Body Service Manual, which can be accessed by clicking here…1978 Fisher Body Service Manual.
If you're searching for the definitive guide for maintenance and repair procedures for your '78 Caddy, this is it. Loaded with comprehensive, step-by-step text instructions, you'll also find a vast number and variety of excellent visual aids. Please scroll down to the sample page in order to see an example of just how well the crisp black and white photographs and illustrations complement the rich text. The clarity of instructions will assist you in completing jobs of all sizes accurately and efficiently from beginning to end.
Did you know that in 1978, aluminum hoods were used on California Sedan DeVilles, all Sedan DeVilles equipped with electronic fuel injection and all Federal Carburetor Broughams with Standard Emission System (NA2)? Aluminum hoods are identified by a large letter "A" stamped on the hood reinforcement near the hood latch. You'd know all of that and much, much more if you owned this helpful shop manual. It also provides a chart to show you the different materials to use when repairing steel versus aluminum, repair procedures and tips for painting aluminum. That superior level of detail has been employed throughout this handy service guide. Pick up this '78 supplement (and the 1977 shop manual) and you'll be ready to get keep your classic Cadillac motoring down the road.
The days of "bigger is better" at Cadillac were quickly going away by 1978, as the oil embargoes caused consumers to rethink their needs with respect to their automobile choices. You can't deny that miles of shapely sheet metal wrapping opulent interiors and powered by monstrous V8 engines is one good way to sum up a large part of Cadillacs illustrious history. The 70s decade was known for having lots of bold style, and these '78 Cadillac models are great reminders of just that, as well as setting the standard for luxury. If you're lucky enough to own one of these great cars, be sure to treat yours to the factory specifications and instructions it requires to live on as a beloved souvenir of that era.
This factory-written shop manual is perfect for service, repairs, restoration and rebuild projects. Clear illustrations and photos show exploded views, as well as component details, plus specifications on engine data, engine torque, carburetion and more.
Subject:
1978 Cadillac Shop Manual Supplement to 1977 Shop Manual - Includes Detailed Procedures and Instructions.
| OEM Part Number: S-1551
Specifications
Publisher: Cadillac Motor Car Division
Pages: 434 - Hundreds of b&w illustrations
Binding: Paperback - 8.5 x 11 inches
Years: 1978
Sample Page:
Below:1978 Cadillac Shop Manual Supplement Sample Page - Disc Brake Caliper Assembly
Questions & Answers about 1978 Cadillac Shop Manual Supplement to 1977 Shop Manual
Questions & Answers about 1978 Cadillac Shop Manual Supplement to 1977 Shop Manual
Ask a question about 1978 Cadillac Shop Manual Supplement to 1977 Shop Manual.
1978 Cadillac Shop Manual Supplement (Includes 11x26 Color Wiring / Vacuum Diagrams) - Licensed OEM Reproduction
Description

Specifications

Table of Contents

Questions & Answers

Customer Reviews