1977 Cadillac Shop Manual (Includes 11x26 Color Wiring / Vacuum Diagrams) - Licensed OEM Reproduction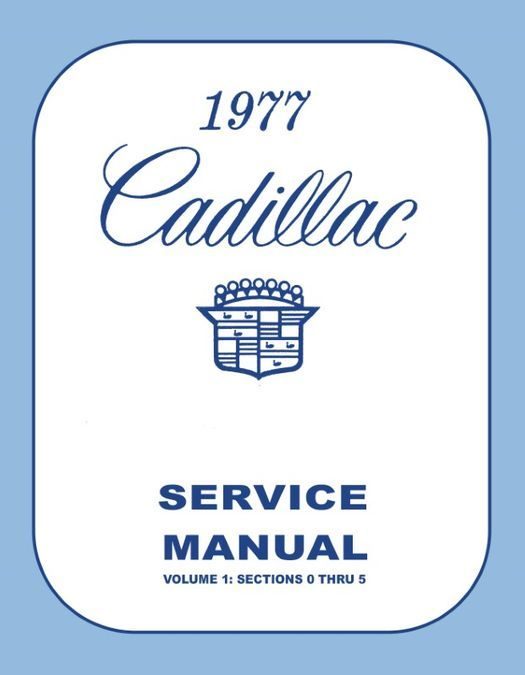 Why Buy From Us?
Free Shipping
Veteran Owned
Secure Shopping
Satisfaction Guaranteed
Item Description
This 1977 Cadillac Shop Manual is a high-quality, PRINT reproduction of the shop manual which was written and first published by the experts at the original equipment manufacturer (OEM), Cadillac Motor Car Division, for use by their dealership mechanics. This longtime, trusted resource of the automotive professionals can now be yours!
NOTE: In addition to the excellent material in this guide, we are proud to include 11" x 26" fold-out wiring / vacuum diagrams. You won't find many (if any) other reproduction manuals with this superior feature.
MODELS COVERED:

1977 Cadillac Commercial Chassis
1977 Cadillac DeVille
1977 Cadillac DeVille d'Elegance
1977 Cadillac Eldorado
1977 Cadillac Eldorado Biarritz
1977 Cadillac Fleetwood 75
1977 Cadillac Fleetwood 75 Formal
1977 Cadillac Fleetwood Brougham
1977 Cadillac Fleetwood Formal
1977 Cadillac Seville
1977 Cadillac Seville Opera
Boasting 1,276 pages, this service manual is the ultimate guide for maintenance and repair tasks on your classic Caddy. Don't worry, the information has been conveniently divided into two volumes. It's a freshly printed version which retains all of the content from the original source.
In addition to the outstanding and detailed text information, you'll find a huge number and variety of visual aids to assist you all along the way. Please take a moment and scroll down to our sample pages in order to see just how well the illustrations and black and white photographs work together.
NOTE: This is the CHASSIS service manual, for information related to the BODY, please see our 1977 Fisher Body Service Manual, which can be found by clicking here…1977 Fisher Body Service Manual.
In the 70s, in an effort to keep up with the changing times, Cadillac models began to adapt by downsizing. Some were shorter, narrower and lighter, yet offered more head and legroom and even a larger trunk. That's great engineering! Cadillac liked to refer to the '77 models as "the next generation of the luxury car", and they weren't shy in their other ads of the day proclaiming, "Leave it to Cadillac to lead the way."
Did you know that a fuel filter element of pleated paper is located in the carburetor fuel inlet? Well, you would know that and more, if you owned this handy book and flipped to the Fuel System section 6C-24. It also explains that elements are placed in the inlet hole with the gasket surface outward. A spring holds the element outward, sealing it by compressing a gasket surface against the inlet fitting. It then offers you valuable information such as, if the element should ever become plugged the engine will stop. An engine stoppage caused by a plugged filter element will be preceded by a hesitation or sluggish operation. It further advises that the carburetor inlet fuel filter should be replaced every 15,000 miles or 12 months. You can expect that level of detail and more for systems throughout this comprehensive repair manual. When you kick in all four barrels on that classic Quadrajet, be sure it can drink in all the fuel it needs to get you moving in Cadillac style.
This factory-written shop manual is perfect for service, repairs, restoration and rebuild projects. Clear illustrations and photos show exploded views, as well as component details, plus specifications on engine data, engine torque, carburetion and more.
Subject:
1977 Cadillac Shop Manual - Includes Detailed Procedures and Instructions.
| OEM Part Number: S-1451
Specifications
Publisher: Cadillac Motor Car Division
Pages: 1276 - Hundreds of b&w illustrations
Binding: Paperback - 8.5 x 11 inches
Years: 1977
Sample Page:
Below:1977 Cadillac Shop Manual Sample Page - Check Valve Replacement
Sample Page:
Below:1977 Cadillac Shop Manual Sample Page - Throttle Body Removal
Questions & Answers about 1977 Cadillac Shop Manual
Questions & Answers about 1977 Cadillac Shop Manual
Ask a question about 1977 Cadillac Shop Manual.
1977 Cadillac Shop Manual (Includes 11x26 Color Wiring / Vacuum Diagrams) - Licensed OEM Reproduction
Description

Specifications

Table of Contents

Questions & Answers

Customer Reviews