1969 Pontiac Service Manual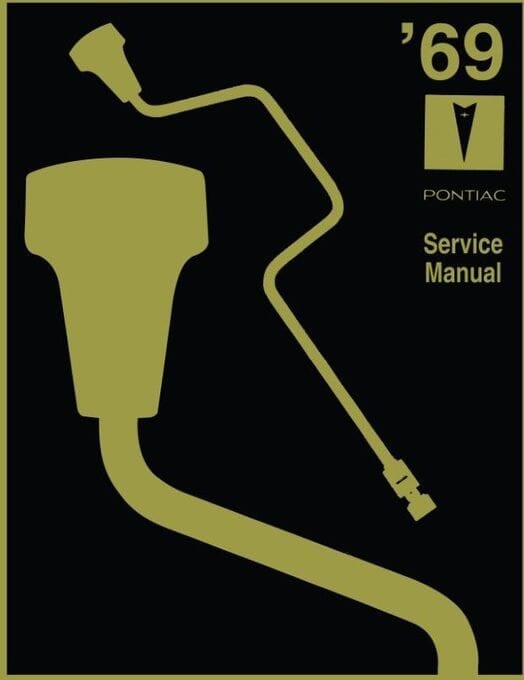 Why Buy From Us?
Free Shipping
Veteran Owned
Secure Shopping
Satisfaction Guaranteed
Item Description
Are you searching for a great '69 Firebird shop manual? We have what you need! Detailed step-by-step instructions, a large number of black and white photographs, illustrations and other visual aids make this factory-issued 1969 Pontiac Service Manual reprint essential for owners of these vehicles (and the mechanics and professional restorers who regularly work on them). Because it's a reproduction of the factory-written service manual, you can be sure the jobs have been laid-out in an efficient and effective manner. At close to 900 pages, you'll find it's packed with the information and specifications you'll need to take on your Poncho projects from small to large.
NOTE: Body information is contained in the 1969 Fisher Body Service Manual - For All Body Styles which can be found by clicking here... Fisher Body Manual.
Pontiac was widely known as the General Motors division that leaned toward performance and loved to bring excitement. Certainly in the mid to late 60s this was true. There's no doubt that 1969 was a year in which we saw Pontiac carrying on this tradition. Need proof? It was the year that marked the introduction of the sporty Trans Am. These were tremendous cars designed for road racing, so it's no surprise they featured superb handling characteristics. Initially produced in small numbers, word soon got out about the Trans Am and it went on to became an automotive legend.
MODELS COVERED:

1969 Pontiac Bonneville
1969 Pontiac Bonneville Safari
1969 Pontiac Catalina
1969 Pontiac Catalina Safari
1969 Pontiac Catalina Ventura
1969 Pontiac Executive
1969 Pontiac Executive Safari
1969 Pontiac Firebird 350
1969 Pontiac Firebird 350 HO
1969 Pontiac Firebird 400
1969 Pontiac Firebird
1969 Pontiac Firebird Sprint
1969 Pontiac Firebird Trans Am
1969 Pontiac Grand Prix
1969 Pontiac GTO
1969 Pontiac LeMans
1969 Pontiac LeMans Safari
1969 Pontiac Tempest
1969 Pontiac Tempest Custom
1969 Pontiac Tempest Safari
The information contained in this manual applies to all 1969 Pontiac automobiles, including the Bonneville, Catalina, Custom S, Executive, Firebird, Grand Prix, G.T.O., Le Mans, Le Mans Safari and Tempest. So if you're in the middle of a challenging restoration project and need a factory service manual ('69 GTO included), this is it. But this isn't just a 1969 Pontiac GTO factory service manual. It also covers all of these other great models. That fact makes this guide great for DIY owners, but also for professional mechanics who specialize in vintage Pontiac vehicles.
The Pontiac manual includes service information and standard maintenance procedures for all components of the car except the body. This includes the engine, transmission and clutch, brakes, front and rear suspension, heating and ventilation, fuel tank and much more. Detailed electrical diagrams are included as are illustrations and instructions for the cruise control, clock, speedometer, lamps, radio, tape player, speakers and other accessories.
If you're looking to supplement the factory manual with an aftermarket DIY repair manual (1969 Firebird and other years), please see the Chilton Pontiac Firebird 1967-1981 Repair Manual.
Subject: OEM Repair & Service Procedures / Instructions for 1969 Pontiac cars. | OEM Part Number: S-6904
Specifications
Publisher: Pontiac Motor Division
Pages: 872 - Hundreds of b&w photos and illustrations
Binding: Paperback - 8.5 x 11 x 1.25 inches
Years: 1969
Table of Contents
Table of Contents
General information and lubrication
Heating and ventilation
Frame and Body Mountings
Front suspension
Rear suspension
Brakes
Engine
Clutch and controls
Transmission
Fuel tank and exhaust system
Steering
Wheels and tires
Chassis sheet metal
Electrical — Body and chassis
Radiator
Bumpers and Grille
Accessories
Index
Sample Pages:
Below: 1969 Ford Car OEM Shop Manual Volume Sample Page - Transmission Section
Questions & Answers about 1969 Pontiac Service Manual
Questions & Answers about 1969 Pontiac Service Manual
Ask a question about 1969 Pontiac Service Manual.
1969 Pontiac Service Manual
Description

Specifications

Table of Contents

Questions & Answers

Customer Reviews