1963 Pontiac Chassis Shop Manual - Licensed OEM Reproduction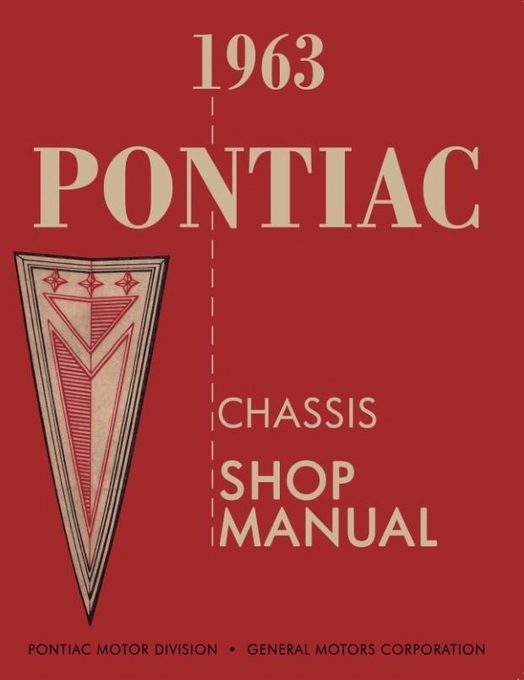 Why Buy From Us?
Free Shipping
Veteran Owned
Secure Shopping
Satisfaction Guaranteed
Item Description
This OEM 1963 Pontiac Chassis Shop Manual is a high quality authorized licensed reproduction of the original shop manual published by Pontiac Motor Division. If you're ready to knock-out projects on your 1963 Pontiac, this service manual is the first tool you should grab. It begins with general information, then it addresses: frame and body mountings, general lubrication, suspension, wheels and tires, rear axle, propeller shaft, brakes (standard, heavy duty), brakes (power), engine mechanical, engine (cooling and lubrication), engine fuel, engine tune-up, engine clutch, Synchro-Mesh transmission standard 3-speed, Synchro-Mesh transmission heavy duty 3-speed, Synchro-Mesh transmission 4-speed, Roto Hydra-Matic transmission, Super Hydra-Matic transmission, fuel tank and exhaust, steering (standard), steering (power), chassis sheet metal, electrical and instruments and accessories.
This repair manual contains 746 pages. It is filled with well-written detailed instructions and accompanied by a large number and variety of visual reference tools. There are black and white photos, tables, charts, cut-away views, illustrations and wiring diagrams included to make sure you're armed with all the info you'll need. Whether you're working on a 389 cubic inch V-8, a 421 High Output or a 421 Super Duty, this book has the information. From tune-up to major overhaul, you'll find the knowledge and confidence to get the jobs done.
NOTE: The 1963 Pontiac Chassis Shop Manual covers the areas outlined above. The 1963 Pontiac Body information is available in a separate manual. If you are needing the information regarding the 1963 Pontiac body, please click here... 1963 Pontiac and Tempest Body Shop Manual.
PONTIAC MODELS COVERED:

1963 Pontiac Bonneville
1963 Pontiac Bonneville Safari
1963 Pontiac Catalina
1963 Pontiac Catalina Safari
1963 Pontiac Catalina Ventura
1963 Pontiac Grand Prix
1963 Pontiac Star Chief
This manual is perfect for the restorer or anyone working on one of these vehicles. Clear illustrations show exploded views as well as component details, plus specs on engine data, engine torque, carburetion, and more. Be sure to use this newly-printed and packaged version of the same manual prepared for (and used by) the Pontiac mechanics when these models were new.
Subject:
1963 Pontiac Chassis Shop Manual - Includes Detailed Procedures and Instructions.
| OEM Part Number: S-6304
Specifications
Publisher: Pontiac Motor Division
Pages: 746 - Hundreds of b&w illustrations
Binding: Paperback - 8.5 x 11 inches
Years: 1963
Questions & Answers about 1963 Pontiac Chassis Shop Manual
Questions & Answers about 1963 Pontiac Chassis Shop Manual
Ask a question about 1963 Pontiac Chassis Shop Manual.
1963 Pontiac Chassis Shop Manual - Licensed OEM Reproduction
Description

Specifications

Table of Contents

Questions & Answers

Customer Reviews