1961 Ford Thunderbird Shop Manual - Licensed OEM Reproduction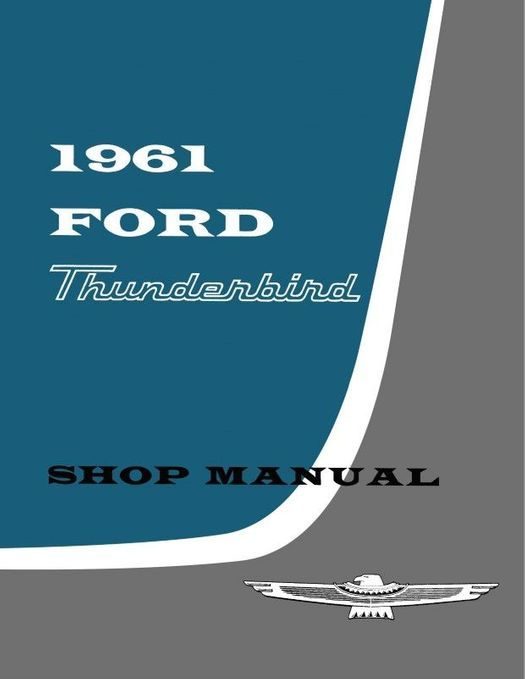 Why Buy From Us?
Free Shipping
Veteran Owned
Secure Shopping
Satisfaction Guaranteed
Item Description
This 1961 Ford Thunderbird Shop Manual is a high-quality, PRINT, reproduction of the original equipment manufacturer's (OEM) service guide, which was written and first published by the experts at Ford Motor Company.
In 1961, the new Ford Thunderbird model was definitely a big hit. It not only possessed elegant styling, but thanks to a healthy 390 cubic inch V8 burbling under the hood, it had plenty of power as well. That sporty combination served it well for its duty as the Indy 500 pace car that year.
The best way to keep your T-bird looking and running at its best is through good, regular maintenance and repair. In order to do that, you'll need to know such things as factory specifications and recommendations for service intervals. Beyond that, you'll want to know the step by step instructions for how to get those jobs done right. Fortunately, this book has you covered. It's a freshly-printed and packaged version of the same guide that was originally provided by the automaker to their dealership service teams. As such, it is the best source of information for service and repair on these classic Fords.
With over 300 pages of detailed written instructions, and a huge number of visual aids such as sharp, black and white photographs, beautiful illustrations, tables, cut-away views, exploded-views and much more, you'll have the correct information right at your fingertips.
One of the neat new options for the 1961 Thunderbird was a "swing-away" steering wheel. It could glide to the side in order to make it easier for the driver to get in and out of the car. Does yours need work? If so, you'll want to turn to part 8-2 of this book and follow the instructions for "MOVABLE STEERING COLUMN REMOVAL AND INSTALLATION". The procedure is handily broken down into 21 numbered steps (featuring multiple, lovely visual tools). You'll be back in business in no time.
It's not just about fancy steering wheels. Take a look at the table of contents available on this page and you'll see that it covers all of the major components of these fine automobiles. Whether you're wrenching on the engine, tearing into the transmission, working on the brakes, or any number of other components or projects, this is the book to use.
NOTE: We are also proud to offer the 1960-1964 Ford Car Parts & Accessories Text and Illustrated Catalog (2-Volume/3- Book Set), which can be accessed by clicking here…(1960 - 1964 Ford Car Parts Book / Catalog
MODELS COVERED:

This factory written shop manual is perfect for service, repairs, restoration, and rebuild projects. Clear illustrations and photos show exploded views as well as component details, plus specifications on engine data, engine torque, carburetion, and more.
Subject:
1961 Ford Thunderbird Shop Manual - Includes Detailed Procedures and Instructions.
| OEM Part Number: FORM 7750-61
Specifications
Publisher: Ford Motor Company
Pages: 328 - Hundreds of b&w illustrations
Binding: Paperback - 8.5 x 11 inches
Years: 1961
Table of Contents
TABLE OF CONTENTS
Thunderbird Identification
Engines and Exhaust System
Ignition System
Fuel System
Cooling System
Cruise-O-Matic Transmission
Rear Axle and Drive Line
Wheels, Tires, and Chassis Suspension
Steering
Brakes
Generating and Starting Systems
Lights, Instruments, and Accessories
Body Maintenance and Repair
Doors, Deck Lid, and Windows
Interior Trim, Seats, Hood, and Grille
Convertible Top
Maintenance and Lubrication Guides, and Special Tools
Index
SPECIFICATIONS AT END OF EACH GROUP
Sample Page:
Below: 1961 Ford Thunderbird Shop Manual Sample Page - Distributor
Questions & Answers about 1961 Ford Thunderbird Shop Manual
Questions & Answers about 1961 Ford Thunderbird Shop Manual
Ask a question about 1961 Ford Thunderbird Shop Manual.
1961 Ford Thunderbird Shop Manual - Licensed OEM Reproduction
Description

Specifications

Table of Contents

Questions & Answers

Customer Reviews