1940 GMC Truck 100-460 Maintenance Manual (Printed / New)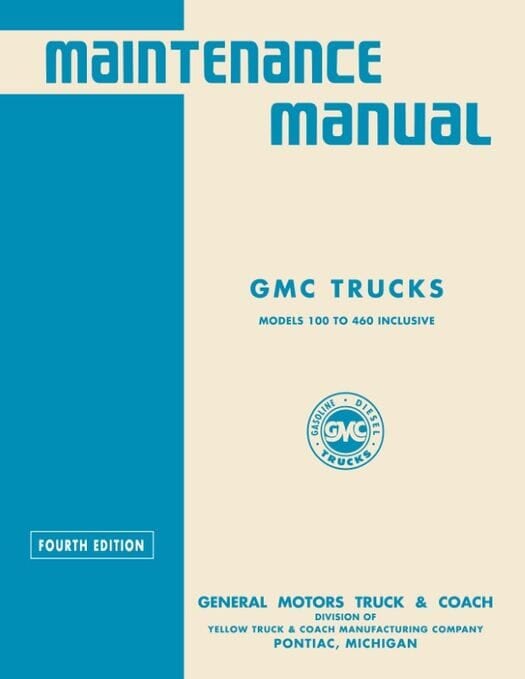 Why Buy From Us?
Free Shipping
Veteran Owned
Secure Shopping
Satisfaction Guaranteed
Item Description
This 1940 GMC Truck 100-460 Maintenance Manual is a high-quality, licensed, PRINT reproduction of the shop manual written and first published by the experts at the original equipment manufacturer (OEM), General Motors Corporation, for use by their dealership mechanics. Now, this professional service manual can be yours with just a few clicks. It contains the factory-correct procedures and specifications to get your jobs done right. The wisdom we impart is...Be smart, before you start and, on this page, click "ADD TO CART".
Why? Because this comprehensive guide is loaded with well-organized service information. In addition to data, you'll find details regarding such components and areas as: front axle, rear axle, body, brakes, clutch, cooling, electrical, engine, frame, fuel, lubrications, springs, steering, transmission, propeller shafts, wheels, bearings and specifications.
MODELS COVERED:

1940 GMC AC100 Truck
1940 GMC AC150 Truck
1940 GMC AC250 Truck
1940 GMC AC252 Truck
1940 GMC AC300 Truck
1940 GMC AF240 Truck
1940 GMC AFP240 Truck
Packed with almost 300 pages of outstanding material, you're sure to love the clarity provided by the well-written, step-by-step text instructions. As if that isn't enough, those directions have been thoughtfully paired with a huge number and variety of visual aids to deliver you unmatched clarity. You'll find charts, tables, cut-away views, illustrations, exploded-views and circuit diagrams to assist you with projects from start to finish.
With this 1940 GMC Truck 100-460 maintenance manual, you'll enjoy that great feeling of satisfaction which is achieved from doing the jobs yourself (and you'll save some dough!). All the while, you can take comfort in knowing that you have the expert's knowledge at your fingertips. Even if you decide to let someone else handle the work, you can ensure that specialist's information gets to them by putting this helpful book into their hands. With mechanic's hourly rates, any time you can save them, saves YOU money!
Let's be clear. This isn't what remains of some, greasy, hand-me-down "survivor" manual. Far from it. The publisher, Detroit Iron, has beautifully, digitally reproduced this guide using industry-leading technology and has employed superior materials as well. Featuring thick paper, dark text and sharp images on clean backgrounds, you'll have a manual as good as new, while you work on getting (and keeping) your classic GMC hauler that way too!
Please scroll down in order to view a sample page which demonstrates the tremendous quality found throughout this 1940 GMC Truck shop manual, as well as how effectively the precision visual tools complement the rich text.
This factory-written shop manual is perfect for service, repairs, restoration and rebuild projects. Clear illustrations and photos show exploded views, as well as component details, plus specifications, engine repair details, fuel systems and more.
Subject:
1940 GMC Truck 100-460 Maintenance Manual - Includes Detailed Procedures and Instructions.
| ISBN-10: 01791411800 | ISBN-13: 9781791411800 | OEM Part Number: X-4044
Specifications
Publisher: Detroit Iron Publishing
Author: General Motors Corporation
Pages: 296 - Hundreds of b&w illustrations
Binding: Paperback - 8.5 x 11 x 0.56 inches
ISBN: 978-1-7914-1180-0
Years: 1940
Sample Page:
Below:1940 GMC Truck 100-460 Maintenance Manual - Sample Page - Transmission
Questions & Answers about 1940 GMC Truck 100-460 Maintenance Manual
Questions & Answers about 1940 GMC Truck 100-460 Maintenance Manual
Ask a question about 1940 GMC Truck 100-460 Maintenance Manual.
1940 GMC Truck 100-460 Maintenance Manual (Printed / New)
Description

Specifications

Table of Contents

Questions & Answers

Customer Reviews