U.S. Army Spare Tire Covers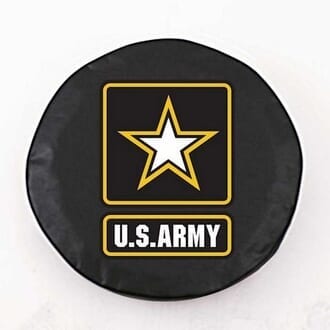 Why Buy From Us?
Free Shipping
Veteran Owned
Secure Shopping
Satisfaction Guaranteed
Item Description

The United States Army Spare Tire Cover will definitely look great on the back of your vehicle. There is no doubt that you will also feel great pride displaying your Army Strong U.S. Army Tire Cover.
Why not support the finest Army in the world by sporting this high quality exact fit Army tire cover and protect your valuable spare tire and wheel at the same time.
This heavy duty vinyl US Army tire cover is Made In America so it also America strong!

Specifications
$('.JQlink').click(function(){window.location = $(this).attr('title');});
$(document).ready(function() { function setIframeHeight(){ $("#tmb-tire-size").contents().find("a.LB[rel]").overlay({mask:'#fff', top:'center', fixed:false}); $("#tmb-tire-size").contents().find("span.LB[rel]").overlay({mask:'#fff', top:'center', fixed:false}); } setInterval(setIframeHeight,500); setIframeHeight();
});