The Race Car Chassis: Design, Structures, Materials for Road, Drag and Circle Track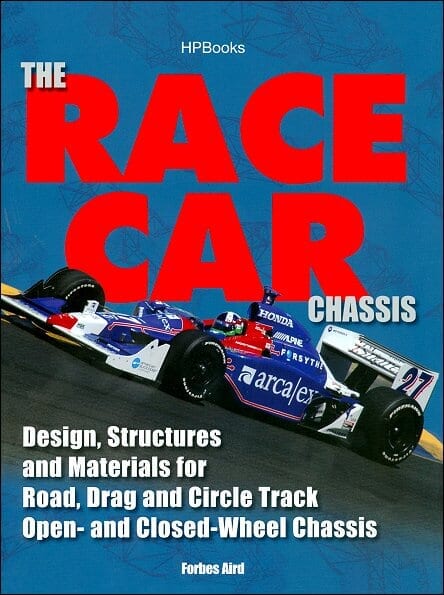 Why Buy From Us?
Free Shipping
Veteran Owned
Secure Shopping
Satisfaction Guaranteed
Item Description
Which is one of the most important pieces of a winning race car?

Ask any racing engineer and, invariably, you'll get the same answer: The chassis!

So what's involved in designing and fabricating a race car chassis that will have a shot at the winner's circle?

In The Race Car Chassis, author Forbes Aird distills the answer down to the basics, and presents a study of the design of stiff and lightweight race car frames, and materials used for their construction. Everything you need to know about drag car chassis materials is here in a 122-page book with more than 200 illustrations and photos. It will reveal what drag racing car material goes into building a mean machine.

He also covers important topics such as:

 Chassis Types
 Chassis History
 Suspension Design
 Joining Ferrous Metals
 Joining Light Alloys
In sum, this guide is a must-have resource for engineers, engineering students, fabricators, racers and anyone interested in the fundamentals of designing a race car, whether road, drag, circle trac, open- or closed-wheel.
Subject:
A comprehensive study on the history and design fundamentals of race car chassis.
ISBN-10: 1557885400 | ISBN-13: 9781557885401 | HPBooks 1540
Specifications
Publisher: HP Books
Author: Forbes Aird
Pages: 122 - Over 200 b&w photos and illustrations
Binding: Paperback - 8.5 x 11 inches
ISBN: 978-1-55788-540-1
Table of Contents
TABLE of CONTENTS:
Acknowledgments
Introduction
The Idea of a Chassis
Suspension Systems
The Loads of a Vehicle Frame
Four-Tube Chassis and Space Frames
Stressed-Skin Construction
An Overview of the Strength of Materials
Tube Frame Materials and Details
Stressed-Skin Materials and Details
An Overview of the Modern Race Car Chassis
Bibliography
Questions & Answers about The Race Car Chassis
Questions & Answers about The Race Car Chassis
Ask a question about The Race Car Chassis.
The Race Car Chassis: Design, Structures, Materials for Road, Drag and Circle Track
Description

Specifications

Table of Contents

Questions & Answers

Customer Reviews