Rebuilding The Small-Block Chevy: Step-by-Step VideoBook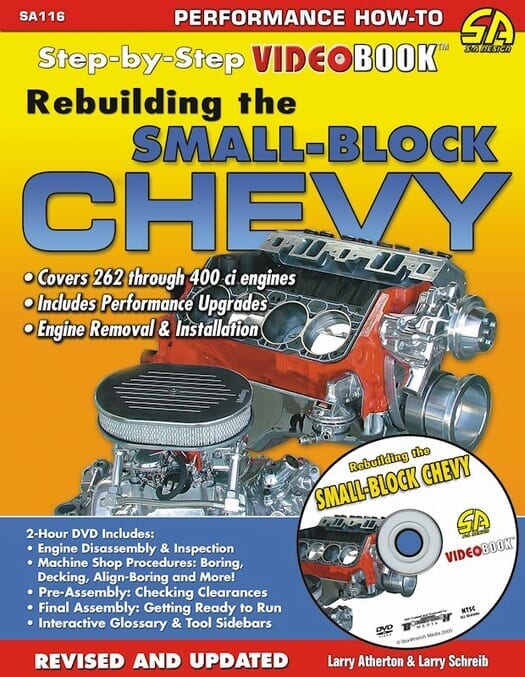 Why Buy From Us?
Free Shipping
Veteran Owned
Secure Shopping
Satisfaction Guaranteed
Item Description
- PUBLISHER OUT OF STOCK UNTIL JUNE 2022 -
The Rebuilding The Small-Block Chevy: Step-by-Step Videobook by CarTech Books is the most respected source for DIY instructions, procedures and tips/tricks that you will need when rebuilding your small-block engine.

For over fifty years, the small-block Chevy has ruled the streets. And, literally millions of them are out there, powering everything from family cars to race cars, hot rods to pickup trucks, boats to muscle cars. The small-block Chevy is, without a doubt, the most popular engine ever built.

And when the time comes to rebuild your engine, this VideoBook provides all the information you'll need - in book and video form - to rebuild your small-block Chevy.
Note: this VideoBook covers 262, 265, 267, 283, 302, 305, 327, 350, and 400 cubic-inch small-blocks.
Among small block Chevy books, this one, which covers 350 Chevy rebuild steps and much more, is the most comprehensive that you will find. Packaged with a two-hour bonus DVD, this manual by Larry Atherton and Larry Schreib is 160 pages and includes more than 650 full-color photos and informative charts. Do-it-yourself car mechanics can find advice on how to keep an organized workspace, inspecting parts before you take them to the machine shop, how to select parts, all the things you should do at the machine shop and much more.
BONUS DVD INCLUDED (2 Hours) - read the back cover below for more details!!
Below: Rebuilding The Small-Block Chevy: Step-by-Step VideoBook - Back Cover. Copyright CarTech.
Subject:
How to rebuild the small-block Chevy engine procedures and steps.
ISBN-10: 1613251971 | ISBN-13: 9781613251973 | CarTech SA116
Specifications
Publisher: CarTech Books
Author: Larry Atherton, Larry Schreib
Pages: 160 - Over 650 color photos and charts
Binding: Paperback - 8.5 x 11 inches, DVD inside back cover
ISBN: 978-1-61325-197-3
Table of Contents
TABLE of CONTENTS:
Acknowledgments | Introduction: What is a Workbench? Book?
Chapter 1: Before You Begin
The small-block family | Engine building tools | The workspace | Cleaning area | Engine handling | Air compressors | Do you need to rebuild? | Troubleshooting basics | System diagnostics
Chapter 2: Engine Disassembly
Keep an organized workspace | Tools and supplies needed | Safety first, always!
Chapter 3: Initial Parts Inspection
Inspecting parts before taking tham to the machine shop | What to do when your parts don't pass inspection
Chapter 4: Selecting Parts
Bearings | Camshaft drives | Cam bumpers and drive covers | Camshaft kits | Carburetors | Crankshaft and connecting rods | Cylinder heads | Distributors and ignitions | Exhaust manifolds | Oil system | Pistons and rings | Rocker arms and studs
Chapter 5: At the Machine Shop
Finding and dealing with a machine shop | Who's responsible? | Before you drop off parts | Cleaning and crack detection | Block machine work | Head machine work | Piston machine work | Piston rings | Rod machine work | Crankshaft and machine work | Engine balancing | Manifold machine work | Other nachine shop services | Picking up your parts | Things to do after you pick up your parts
Chapter 6: Component Cleaning
Tools and supplies | Important considerations | Precautions
Chapter 7: Pre-Assembly Fitting
Preparations and supplies | Precision tools | Special considerations | Final tips
Chapter 8: Final Assembly
Tools and supplies | Final assembly tips
Chapter 9: Break-In and Testing
Installing the engine
Appendix A:
Workbench reference charts |
Appendix B:
Source guide
Questions & Answers about Rebuilding The Small-Block Chevy: Step-by-Step VideoBook
Questions & Answers about Rebuilding The Small-Block Chevy: Step-by-Step VideoBook
Ask a question about Rebuilding The Small-Block Chevy: Step-by-Step VideoBook.
Rebuilding The Small-Block Chevy: Step-by-Step VideoBook
Description

Specifications

Table of Contents

Questions & Answers

Customer Reviews