Pittsburgh Pride Neon Clock, High Quality, 20 Inch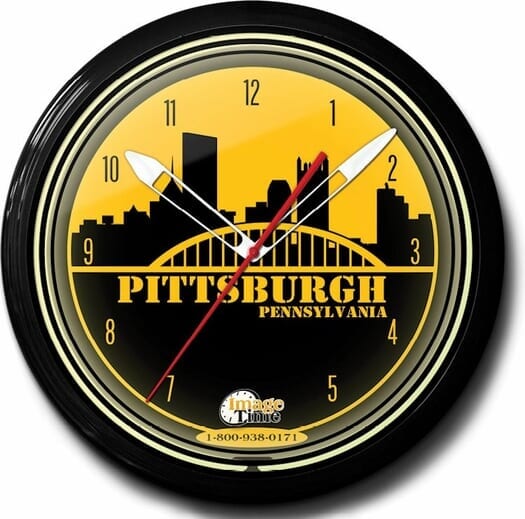 Why Buy From Us?
Free Shipping
Veteran Owned
Secure Shopping
Satisfaction Guaranteed
Item Description
The Manufacturer is closing its doors in July of 2021 so the products are currently out of stock. We will keep the pages on the website with the hope that a new company will buy out the assets.
Fans of Pittsburgh, Pennsylvania will enjoy having this 20 inch neon clock adorning their wall.
Features of this marvelous Pittsburgh Neon Clock include:
Beautifully sleek black bezel
Neon yellow face outlining Pittsurgh cityscape
Border of glass lined in smooth black finish
Bright yellow 1/2 inch neon tube with long lasting efficiency
Bright white open hands
Red sweep seconds counter
110 volt electric clock movement powered by a cord attachment
Optional European 50 cycle 220 volt feature for clock owners outside of United States of America borders
Image Time specializes in providing customers with high quality clocks. All clocks are unique in design and consistent in reliability.
Materials used in the creation of this special item include:
Hand spun aluminum bezel with powder coated finish
A smooth motion sweeping second hand
A crystal clear glass face of 5/32" thickness with or without a border
Neon tubing for lighting of 1/2" thickness with long lasting capability
A Pittsburgh cityscape silhouetted against a neon yellow sky presented on the face of the clock
Image Time clocks have earned recognition and fame for dependability. Their clocks tick for well over 100,000 hours or more without any problems, providing a long lasting service to all customers for over 11 years per clock!
Perks of ordering from The Motor Bookstore include:
Free shipping in the USA
Excellent Customer Service
Expert packing delivery services and shipped direct from the factory via UPS.
Recipients of this wonderful clock can show off their pride and loyalty to Pittsburgh by displaying it anywhere. A Pittsburgh Neon Clock by Image Time makes a wonderful gift!
No Expedited Shipping option for this Product! Free shipping in US48.
Clocks will be shipped via UPS directly to you by the manufacturer within 10-14 business days
Subject:
Neon Clock for fans of the city of Pittsburgh.
Specifications
Pittsburgh Pride Neon Clock Feature Specifications:

Black Bezel
Long lasting 1/2" Yellow Neon Tube
5/32" crystal clear glass with Art Deco Black Glass
White Open Hands
Red Sweep
20 inch diameter
5 1/4 inch thick
1/4 inch Hang Hole
15 pounds
Quality printing and artwork
110 AC cord
Separate Neon Light Switch
One year warranty
Made in the USA
Questions & Answers about Pittsburgh Pride Neon Clock, High Quality, 20 Inch
Questions & Answers about Pittsburgh Pride Neon Clock, High Quality, 20 Inch
Ask a question about Pittsburgh Pride Neon Clock, High Quality, 20 Inch.
Pittsburgh Pride Neon Clock, High Quality, 20 Inch
Description

Specifications

Table of Contents

Questions & Answers

Customer Reviews