Nash Motors Neon Clock, High Quality, 20 Inch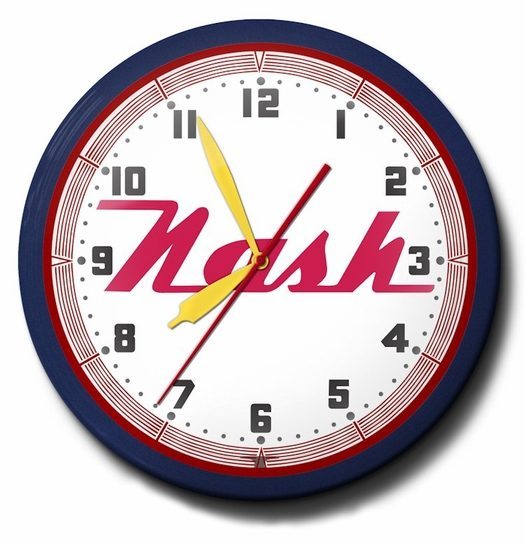 Why Buy From Us?
Free Shipping
Veteran Owned
Secure Shopping
Satisfaction Guaranteed
Item Description
The Manufacturer is closing its doors in July of 2021 so the products are currently out of stock. We will keep the pages on the website with the hope that a new company will buy out the assets.
Nash Motors Neon Clock, High Quality, 20 Inch
People who remember companies like Nash with its slogan of "Give the customer more than he has paid for" will appreciate this Nash themed clock. Car collectors will also love owning a historic reminder of a company known for its introduction of multiple car features which improved the automobile, such as increased stability and air flow. Nash contributed to the development of the classic car era with numerous features, as well as the introduction of the Rambler.
Just like Nash, Image Time's offering of a Nash Motors Neon Clock gives customers more for their money.
The Nash Motors Neon Clock possesses the following attributes:
Classy blue wrinkle bezel
Clean white neon lighting
Stylish red lined glass
1/2 inch white neon tube
Yellow hands
A red sweep seconds counter
The Nash logo splashed across the clock face
110 volt electric clock movement powered by a cord attachment
Image Time is recognized globally for its quality. These clocks are known for providing time keeping accurately over 100,000 hours regularly. Only the finest materials are used to build these beautiful vintage pieces of art which also function as clocks.
Benefits of ordering from The Motor Bookstore include:
Zero cost shipping in the USA
Delivery within 5-7 business days
Professional delivery services by UPS
Expert packaging to protect your investment
The best customer service period...
People who appreciate quality and getting more than their money's worth will enjoy adding this clock to their collection. This Nash Motors Neon Clock is a great gift for anyone who appreciates the history of the automobile or revels in classic cars!
No Expedited Shipping option for this Product! Free shipping in US48.
Clocks will be shipped via UPS directly to you by the manufacturer within 10-14 business days.
Refer to the Specifications Tab for the detailed feature specifications of these clocks.
Subject:
Neon Clock for Nash Motors's fans and enthusiasts.
Specifications
Nash Motors Neon Clock Feature Specifications:

Blue Wrinkle Bezel
Long lasting 1/2" White Neon Tube
5/32" crystal clear glass with Red Lined Glass
Yellow Solid Hands
Red Sweep
20 inch diameter
5 1/4 inch thick
1/4 inch Hang Hole
15 pounds
Quality printing and artwork
110 AC cord
Separate Neon Light Switch
One year warranty
Made in the USA
Questions & Answers about Nash Motors Neon Clock, High Quality, 20 Inch
Questions & Answers about Nash Motors Neon Clock, High Quality, 20 Inch
Ask a question about Nash Motors Neon Clock, High Quality, 20 Inch.
Nash Motors Neon Clock, High Quality, 20 Inch
Description

Specifications

Table of Contents

Questions & Answers

Customer Reviews