Kawasaki ZX500, ZX600 Ninja Repair & Service Manual 1985-1997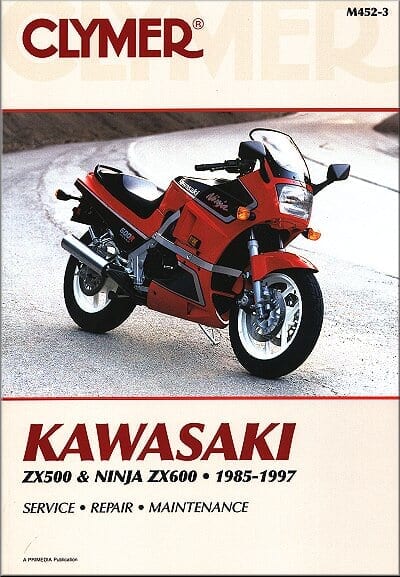 Why Buy From Us?
Free Shipping
Veteran Owned
Secure Shopping
Satisfaction Guaranteed
Item Description
The 1985-1997 Kawasaki ZX500, ZX600 Ninja sportbike repair manual by Clymer covers the following models:
Kawasaki ZX500, (Europe) 1985-1990
Kawasaki Ninja ZX600 (ZX600A), 1985-1987
Kawasaki ZX600C, 1988-1997
Book Excerpt: 1985-1997 Kawasaki ZX500, ZX600 Ninja Repair Manual
TRANSMISSION
This chapter covers all the parts that transmit power from the clutch to the drive chain; engine sprocket, transmission gears, shift drum, shift forks and shift linkage. Table 1 (end of chapter) lists transmission specifications.


SPROCKET COVER: REMOVAL/INSTALLATION

Remove the shift linkage (Figure 1). Remove the pinch screw (A) and the pivot screw (B) securing the shift linkage and pull the shift linkage off. If the pivot boss is tight on the shaft, spread the slot open with a screwdriver.
Remove the screws securing the engine sprocket cover and remove the cover (Figure 2).
To install the sprocket cover, reverse the removal steps.


NEUTRAL SWITCH: REMOVAL/INSTALLATION

The neutral light is activated by a switch mounted in the shift linkage cover (Figure 3) under the sprocket cover. The switch is turned on when the shift drum end plate is at its NEUTRAL position.

Disconnect the electrical connector at the neutral switch.
Using a sprocket, unscrew the neutral switch and remove it.
Reverse to install.
FUEL, EMISSION CONTROL AND EXHAUST SYSTEMS
AIR SUCTION SYSTEM (US MODELS)

The air suction system (Figure 39) consists of a vacuum switch, 2 air suction valves (reed valves) and air and vacuum hoses. This system does not pressurize air, but uses the momentary pressure differentials generated by the exhaust gas pulses to introduce fresh air into the exhaust ports.

The vacuum switch normally allows fresh air pulses into the exhaust ports but shuts off air flow during engine braking.
Subject: 1985, 1986, 1987, 1988, 1989, 1990, 1991, 1992, 1993, 1994, 1995, 1996, 1997 Kawasaki ZX500, ZX600 Ninja service, maintenance, repair. ISBN-10: 0892876964 | ISBN-13: 9780892876969 | Clymer M452-3
Specifications
Publisher: Clymer Series / Haynes Manuals
Pages: 330 - Hundreds of b&w photos and illustrations
Binding: Paperback - 7 x 10 inches
ISBN: 978-0-89287-696-9
Years: 1985 - 1997
Table of Contents
TABLE of CONTENTS:
General Information
Troubleshooting
Lubrication, Maintenance and Tune-up
Engine
Clutch and External Gearshift Linkage
Transmission and Internal Shift Mechanism
Fuel and Emission Systems
Exhaust System
Electrical System
Wheels, Tires and Drive Chain
Front Suspension and Steering
Rear Suspension
Brakes
Body and Frame
Wiring Diagrams
Questions & Answers about Kawasaki ZX500, ZX600 Ninja Repair Manual 1985-1997
Questions & Answers about Kawasaki ZX500, ZX600 Ninja Repair Manual 1985-1997
Ask a question about Kawasaki ZX500, ZX600 Ninja Repair Manual 1985-1997.
Kawasaki ZX500, ZX600 Ninja Repair & Service Manual 1985-1997
Description

Specifications

Table of Contents

Questions & Answers

Customer Reviews