How To Supercharge and Turbocharge GM LS-Series Engines: Pistons, Cranks, Rods, Heads, etc.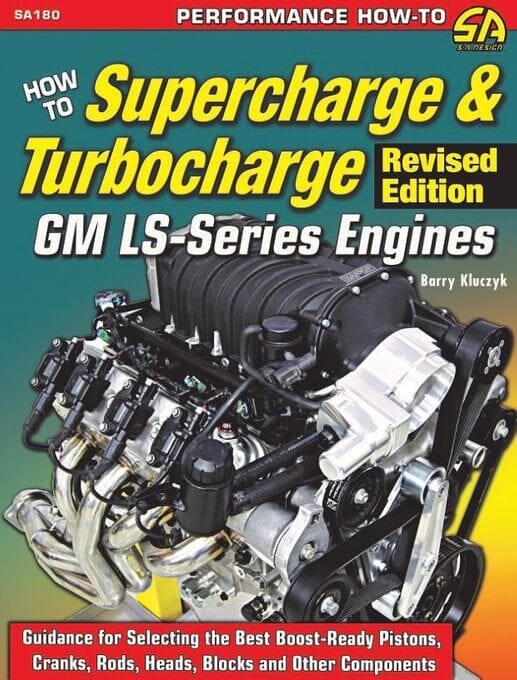 Why Buy From Us?
Free Shipping
Veteran Owned
Secure Shopping
Satisfaction Guaranteed
Item Description
This 2019 revised edition of How to Supercharge and Turbocharge GM LS-Series Engines covers both systems in complete detail, including your budget for the project, the engine and intended application.
Each system has its benefits as well as drawbacks, and they must be taken into account before installation, just like the challenges you will face when installing either system, which tools will be needed and how long the job will take.
In addition to selection and installation, the book covers tuning and system maintenance, which will insure a healthy engine.
How to Supercharge and Turbocharge GM LS-Series Engines is the only how-to book on the subject, and is required reading for the proper installation of one of these systems.
We have this book in stock so order today so you can ensure the success of your GM LS Series Engine supercharge or turbocharge project as soon as possible. The Motor Bookstore offers Free and Fast Shipping to all continental United States customers.
Learn how to charge the pistons, cranks, rods and heads of any GM LS-Series engine with the CarTech book How To Supercharge and Turbocharge GM LS-Series Engines available at The Motor Bookstore. The book comes with 144 pages packed with over 400 COLOR photos and illustrations that can help you learn such things as the compression ratio and the recommended boost limits of LS engines, the importance of a charge cooler, tips on how much blower is truly necessary, selecting the right size turbocharger, how to build an LS engine, twin turbo kits for LS engines, supercharged LS detonation, and even how to install a cat-back exhaust system. The book usually ships the next business day when you order from The Motor Bookstore.
Subject: Transportation:
GM LS Engines: Engine Performance: How to install a supercharger or turbocharger instructions.
ISBN-10: 1613254903 | ISBN-13: 9781613254905 | CarTech SA180
Specifications
Publisher: Cartech Books
Author: Barry Kluczyk
Pages: 144 - Over 400 color photos and charts
Binding: Paperback - 8.25 x 10.75 inches
ISBN: 978-1-61325-490-5
Table of Contents
TABLE of CONTENTS:
Dedication | Acknowledgments | Introduction
CHAPTER 1: LS ENGINES and FORCED INDUCTION
LS Family Tree | Gen III Automotive Engines | Gen IV Automotive Engines | Gen III/IV Vortec Truck Engines | Supercharging vs. Turbocharging | Understanding Boost — Including PSI vs. Bar | Drag Racing | LS Performance Potential | Cast Rotating Parts: Pushing the Factory Parts' Envelope | Compression Ratio and Recommended Boost Limits | Importance of Tuning and Avoiding Detonation | Charge Cooling/Intercooling | Forced-Induction Terms | Real-World Project: Steve Gilliland's 1,000-hp Twin-Turbo Z06
CHAPTER 2: SUPERCHARGER TYPES and SELECTION
Positive-Displacement Superchargers | Centrifugal Superchargers | Kit and Cost Considerations | Positive-Displacement vs. Centrifugal Blowers | How Much "Blower" Do You Need? | Music to the Ears? | The Importance of a Charge Cooler | Surge Protection | Pulley Size and Performance | Belt Wrap and Belt Size | GM Factory-Supercharged LS9 and LSA Engines | Real-World Project: Pratt & Miller's LS9.RS — The Ultimate Supercharged LS Street Engine
CHAPTER 3: TURBOCHARGER TYPES and SELECTION
LS-Powered Production Vehicles | Turbocharger Component Terms | Operation Basics | Selecting the Right Size Turbocharger | Turbocharger Aspect Ratio | Pitfalls of Mixing Turbines and Compressors | Elements of a Turbo System | Boost Controller and Turbo Timer | Single- vs. Twin-Turbo Systems | Bolt-On Turbo Kits and Tuner Systems
CHAPTER 4: KIT PRE-INSTALLATION
Body and Chassis Component Removal | Engine Preparation | Fuel-Pressure Relief | Oil-Pan/Oil-System Modifications | "Pinning" the Crankshaft | Fuel Pump | Fuel Injectors | Spark Plugs | Real-World Project: Camshaft and Valvesprings Swap
CHAPTER 5: SUPERCHARGER INSTALLATION PROJECTS
Project 1: Roots/Screw-Type Supercharger Kit | Project 2: Centrifugal Supercharger Kit
CHAPTER 6: TURBOCHARGER INSTALLATION PROJECTS
Real-World Project: Lingenfelter System | Custom Turbo System Fabrication | The STS Option | Building a Racing Car around a Turbo System
CHAPTER 7: TUNING for SUPERCHARGED and TURBOCHARGED ENGINES
Air + Fuel = Horsepower | Mass Airflow vs. Speed Density | Map Sensors | GM Controllers | Pre-Packaged Programming | Aftermarket Flash Software | Livernois Motorsports' X-Treme Cal Tuning System | Standalone Control Systems | Chassis Dyno Tuning | Wideband Tuning | Electronic Throttle | Methanol Injection | The Martin SS 427 Package
CHAPTER 8: BUILDING an LS ENGINE: CYLINDER BLOCK and ROTATING ASSEMBLY
Cylinder Block | Rotating Assembly
CHAPTER 9: BUILDING an LS ENGINE: HEADS, CAM and INDUCTION
Cylinder Heads | Valves | Valvetrain Components | Cylinder-Head Gaskets | Camshaft | Turbocharger Camshaft | Ignition and Ignition Controller | Intake Manifold | Throttle Body | Real-World Project: Building a 2,000-hp Twin-Turbo LS Engine
CHAPTER 10: FORCED-INDUCTION SUPPORT and AUXILIARY COMPONENTS
Headers and Exhaust System | Real-World Project: Installing a Cat-Back Exhaust System | Cooling System | Transmissions | Axle Upgrades | Real-World Project: F-Car Axle Swap
Auxiliary Instruments | Source Guide
Questions & Answers about How To Supercharge & Turbocharge GM LS-Series Engines
Questions & Answers about How To Supercharge & Turbocharge GM LS-Series Engines
Ask a question about How To Supercharge & Turbocharge GM LS-Series Engines.
Customer Reviews
REVIEWS
Cherese G.
verified customer
May 10, 2017
How To Supercharge and Turbocharge GM LS-Series Engines: Pistons, Cranks, Rods, Heads, etc.
Description

Specifications

Table of Contents

Questions & Answers

Customer Reviews