Honda TRX350 Rancher Repair Manual 2000-2006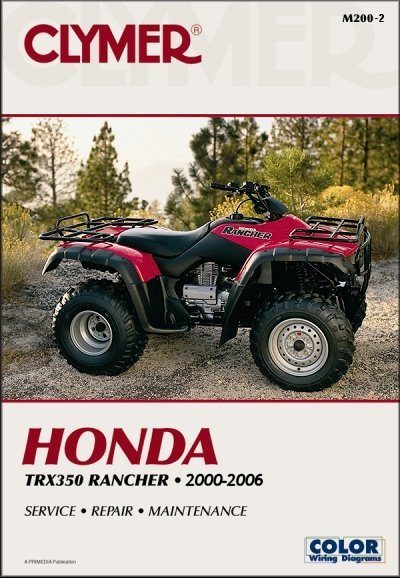 Why Buy From Us?
Free Shipping
Veteran Owned
Secure Shopping
Satisfaction Guaranteed
Item Description
This Clymer DIY repair and service manual covers 2000-2006 Honda TRX350 Rancher ATV models, including:
 Honda TRX350FE FourTrax Rancher 4x4 ES
 Honda TRX350FM FourTrax Rancher 4x4
 Honda TRX350TE FourTrax Rancher ES
 Honda TRX350TM FourTrax Rancher
All-Terrain vehicles see their share of dirt and mud every time they go out to do their thing, and your Honda Rancher 4-wheeler is no exception.
Whether you use it for work, play or even a little bit of both, you know that routine maintenance is mandatory in order to keep it running properly, and the TRX350 Rancher shop manual by Clymer provides all the info you need to insure your ATV always is ready to go.
But this is not just a scheduled maintenance manual. Like all Clymer service guides, this book covers all basic maintenance jobs and much more. If your dilemma is the 2001 Honda TRX350TE meter quit working, or you need to tackle myriad other potential issues with your Honda 350 Fourtrax, such as problems with the Honda Rancher carburetor, this manual includes a carburetor diagram of the 2006 Honda Rancher 350.
Tune-ups, troubleshooting electrical problems, brakes, transmission, even a complete engine overhaul, are all covered in detail with hundreds of photos and diagrams to help you get the job done right!
An aftermarket manual for your Honda Rancher ATV is a smart investment, and one that will pay for itself with just a few simple jobs.

Book Excerpt: 2000-2006 Honda TRX350 Rancher Repair Manual
SPARK PLUG READING
Reading the spark plug can provide information about engine performance. Reading a plug that has been in use indicates spark plug operation, air/fuel mixture composition and engine conditions (such as oil consumption and pistons).

Before checking the spark plug, operate the ATV under a medium load for approximately 6 miles.

Avoid prolonged idling before shutting off the engine. Remove the spark plug as described in this section. Examine the plug, and compare it to those shown in Figure 71, typical. Refer to the following sections to determine the operating conditions.

When reading the plugs to evaluate carburetor jetting, start with a new plug and operate the ATV at the load that corresponds to the jetting information desired. For example, if the main jet is in question, operate the ATV at full throttle: shut the engine off and coast to a stop.
ENGINE BREAK-IN
If the piston rings or a new piston were installed, the cylinder was honed or rebored, or major lower end work performed, break in the engine as if it were new.

The performance and service life of the engine depends greatly on a careful and sensible break-in.

For the first 5-10 hours of operation, use no more than one-third throttle and vary the speed as much as possible within the one-third throttle limit.

Avoid prolonged or steady running at one speed as well as hard acceleration.
Subject: 2000, 2001, 2002, 2003, 2004, 2005, 2006 Honda TRX350 Rancher, TRX350FE, TRX350FM , TRX350TE , TRX350TM service, maintenance, repair. ISBN-10: 0892879971 | ISBN-13: 9780892879977 | Clymer M200-2
Specifications
Publisher: Clymer Series / Haynes Manuals
Pages: 386 - Hundreds of b&w photos and illustrations
Binding: Paperback - 7 x 10 inches
ISBN: 978-0-89287-997-7
Years: 2000 - 2006
Table of Contents
TABLE of CONTENTS:
General Information
Troubleshooting
Lubrication, Maintenance and Tune-up
Engine Top End
Clutch and Primary Drive Gear
Transmission and Internal Shift Mechanism
Fuel System
Electrical System
Front Suspension and Steering
Front Drive Mechanism (Four-Wheel Drive)
Rear Axle, Suspension and Final Drive
Brakes
Oil Cooler and Cooling Fan
Body
Color Wiring Diagrams
Questions & Answers about Honda TRX350 Rancher Repair Manual 2000-2006
Questions & Answers about Honda TRX350 Rancher Repair Manual 2000-2006
Ask a question about Honda TRX350 Rancher Repair Manual 2000-2006.
Honda TRX350 Rancher Repair Manual 2000-2006
Description

Specifications

Table of Contents

Questions & Answers

Customer Reviews