Honda CBR1000RR Fireblade Repair Manual 2004-2007 - Haynes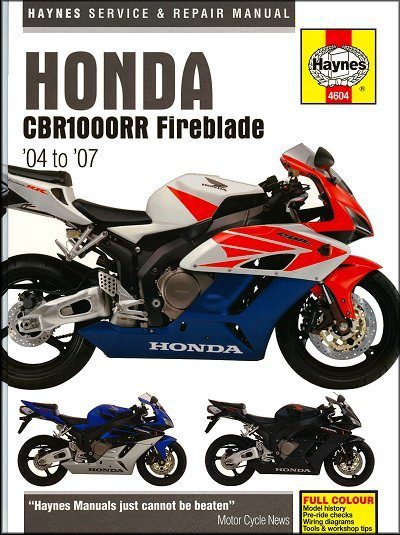 Why Buy From Us?
Free Shipping
Veteran Owned
Secure Shopping
Satisfaction Guaranteed
Item Description
This Haynes 4604 DIY repair and service manual covers Honda CBR1000RR sportbike models, including:
Honda CBR1000RR-4, 2004
Honda CBR1000RR-5, 2005
Honda CBR1000RR-6, 2006
Honda CBR1000RR-7, 2007
Book Excerpt: 2004-2007 Honda CBR1000RR Fireblade Repair Manual
BRAKES, WHEELS AND FINAL DRIVE
GENERAL INFORMATION

All models covered in this manual have hydraulically operated disc brakes, with twin discs at the front and a single disc at the rear.

On all models the front calipers have four opposed pistons, and the rear has a sliding caliper with a single piston.

The drive to the rear wheel is by chain and sprockets. The rear wheel incorporates a rubber 'cush-drive'.

All models are fitted with cast alloy wheels designed for tubeless tires only.

Caution: Disc brake components rarely require disassembly. Do not disassemble components unless absolutely necessary.

If a hydraulic brake hose is loosened or disconnected, the banjo union sealing washers must be replaced with new ones and the system must be bled upon reassembly.

Do not use solvents on internal brake components. Solvents will cause the seals to swell and distort. Use only clean DOT 4 brake fluid for cleaning.

Use care when working with brake fluid as it can injure your eyes and it will damage painted surfaces and plastic parts.
ELECTRICAL SYSTEM
SIDESTAND SWITCH: CHECK

The sidestand switch is mounted on the stand pivot. The switch is part of the starter interlock safety circuit which prevents or stops the engine running if the transmission is in gear while the sidestand is down, and prevents the engine from starting if the transmission is in gear unless the sidestand is up and the clutch is pulled in.

Before checking the electrical circuit, check the fuse (see Section 5).

On RR-4 and RR-5 models remove the left-hand lower fairing left-hand side panel (see Chapter 7), then trace the wiring from the switch and disconnect at the green 2-pin wiring connector inside the rubber boot - release the cable tie from the boot (see illustration).

On RR-6 and RR-7 models trace the wiring from the switch and disconnect at the black 2-pin wiring connector (see illustration).
Subject: Transportation: DIY Motorcycle Repair: 2004, 2005, 2006, 2007 Honda CBR1000RR Fireblade service, maintenance, repair. ISBN-10: 1785212974 | ISBN-13: 9781785212970 | Haynes 4604
Specifications
Publisher: Haynes Manuals
Pages: 302 - Hundreds of b&w photos and illustrations, some color
Binding: Softcover - 8.5 x 11 inches
ISBN: 978-1-78521-297-0
Years: 2004 - 2007
Table of Contents
TABLE of CONTENTS:
LIVING WITH YOUR HONDA CBR1000RR FIREBLADE
Identification numbers
Buying spare parts
Pre-ride checks
Engine oil level
Brake fluid levels
Tires
Bike specs
MAINTENANCE
Routine maintenance and servicing
Specifications
Lubricants and fluids
Maintenance schedule
Component locations
Maintenance procedures
REPAIRS and OVERHAUL
Engine, clutch and transmission
Fuel and exhaust systems
Ignition system
Frame and suspension
Brakes, wheels and final drive
Fairing and bodywork
Electrical system
Wiring diagrams
REFERENCE
Tools and workshop tips
Security
Storage
Troubleshooting
Questions & Answers about Honda CBR1000RR Fireblade Repair Manual 2004-2007
Questions & Answers about Honda CBR1000RR Fireblade Repair Manual 2004-2007
Is it any picture showing the labels of each part amd connectors on the main wiring harness?

This service and repair manual has thoroughly detailed full-color wiring diagrams which show the routing to each switch, bulb, etc. Thanks.
Ask a question about Honda CBR1000RR Fireblade Repair Manual 2004-2007.
Customer Reviews
REVIEWS
Keith Boyer
verified customer
April 10, 2020
Honda CBR1000RR Fireblade Repair Manual 2004-2007 - Haynes
Description

Specifications

Table of Contents

Questions & Answers

Customer Reviews