GM-4L60E Automatic Transmission Rebuild DVD by Rick Metzing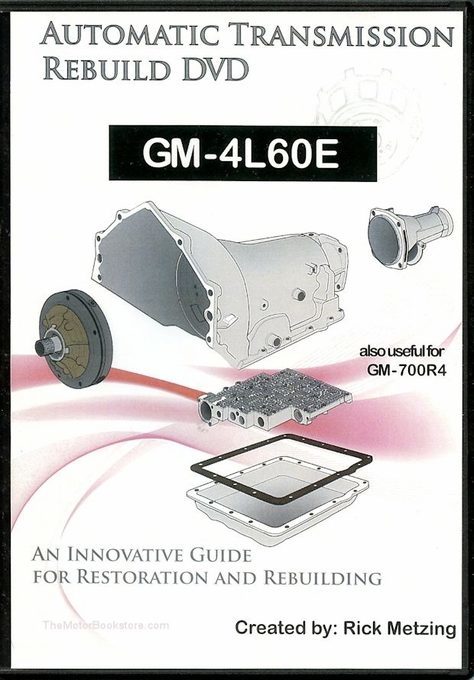 Why Buy From Us?
Free Shipping
Veteran Owned
Secure Shopping
Satisfaction Guaranteed
Item Description
This GM-4L60E Automatic Transmission Rebuild DVD provides outstanding, simple and detailed teardown and rebuild instructions. It was created by Rick Metzing who is a certified transmission mechanic with over 25 years experience.
NOTE: The demonstrations and instructions presented in this video are also very useful for the GM-700R4 tranny as well.
This video isn't an amateur video. It is very professionally done. You will definitely appreciate the comprehensive coverage and simple instructions with outstanding camera coverage so you can feel confident that you will be able to rebuild your GM 4L60E automatic transmission too.
The video is broken down into six sections that you can select from the top level main DVD menu:
About This Video - 3:41 Minutes
Preparation - 6:03 Minutes
Tear Down Process - 50:18 Minutes
Inspection Process - 23:28 Minutes
Cleaning Process - 4:51 Minutes
Rebuilding Process - 1:01:06 Hour/Minutes
Fluid Fill & Drivability - 3:39 Minutes
NOTE: This video does NOT include procedures or instructions about how to remove or install the transmission on the vehicle. It is strictly a a very thorough how-to rebuild the GM-4L60E automatic transmission video.
Subject:
GM 4L60E Automatic Transmission Rebuild Instructional Video
Specifications
Publisher: Elite Productions
Author: Rick Metzing | Classification: Documentary (E - Exempt)
Pages: N/A | Running time: 148 minutes | Region code: 0 (All Regions)
Binding: Picture format: Color | Sound format: Stereo
Table of Contents
DVD / VIDEO CONTENTS:
PREPARATION

Special Tools Needed
Assembly Lubes
Organization
Cleaning Chemicals Needed

TEAR DOWN PROCESS

Parts are disassembled and Named

INSPECTION PROCESS

Judge difference between good and bad Parts
Scored drums / Bad Pumps
Worn out Planetary Gears
Properly Test and Inspect Transmission Electrical Components

CLEANING PROCESS

Clean Electrical Parts
Clean Hard Parts
Procedures to Prepare Tranny Case for Reassemble

REBUILDING PROCESS

Assemble subsections
Reload them into Case
Check total end play
Assemble and Install Valve Body
Torquing Bolts to Specs

PROPER FILLING AND DRIVEABILITY

Fluid Levels and Types
Shift and Calibrate the tranny after Install
Break In
Questions & Answers about GM-4L60E Automatic Transmission Rebuild DVD
Questions & Answers about GM-4L60E Automatic Transmission Rebuild DVD
does this video cover 1995 to 1998 chevy4by x pu?

This video pertains to the 4L60E transmission in general. It is not specific to any particular model. Thanks.
Ask a question about GM-4L60E Automatic Transmission Rebuild DVD.
GM-4L60E Automatic Transmission Rebuild DVD by Rick Metzing
Description

Specifications

Table of Contents

Questions & Answers

Customer Reviews