Ducati 600, 620, 750, 900 Repair Manual 1991-2005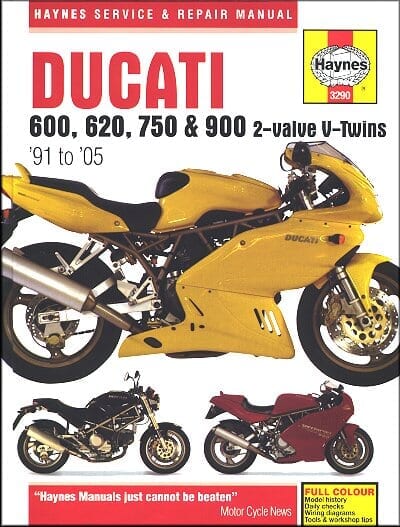 Why Buy From Us?
Free Shipping
Veteran Owned
Secure Shopping
Satisfaction Guaranteed
Item Description
Don't let your bike languish in the garage due to some repair or maintenance issues that you can't afford to have a pro fix. Instead, take on a DIY project with confidence with the help of this Ducati service manual by Haynes. Troubleshooting Ducati 600/620/750/900 bikes just got so much easier thanks to this helpful and informative guide. It will walk you through everything you need to know about your Ducati motorcycle and offer insider technician tips to get you started on any project. From removing the fuel tank to installing new body panels, it's all covered in this Ducati repair manual.

The 1991-2005 Ducati 2-Valve V-Twins Repair Manual by Haynes features step-by-step tutorials and tips for the following models:
Ducati 600SS Supersport (583cc), 1994-1997
Ducati 620S (618cc), 2003
Ducati M600 Monster (583cc), 1994-2001
Ducati M620 (618cc), 2002-2005
Ducati 750SS Supersport (748cc), 1991-2002
Ducati M750 Monster (748cc), 1995-2002
Ducati 900SS Supersport (904cc), 1991-2002
Ducati 900SL Superlight (904cc), 1992-1997
Ducati M900 Monster (904cc), 1993-2002
Note:
All Dark, Sport and Special Editions included in this Haynes 3290 Service Manual.

Book Excerpt: 1991-2005 Ducati 600, 620, 750, 900 2-Valve V-Twins Repair Manual
FUEL AND EXHAUST SYSTEMS | CARBURETOR MODELS
FUEL TANK: REMOVAL

Make sure the fuel cap is secure. On SS and SL models, detach the breather hose from its union on the top of the tank (see illustration).
Remove the seat (see Chapter 7).
Release the catch securing the front of the tank to the frame, noting how it fits, then raise the tank at the front (the back of the tank is hinged on the frame) and support it on its prop (see illustrations). The prop on Monster models engages the fuel tank seam.
Disconnect the battery negative (-ve) terminal.
On SS and SL models, closes the fuel tap, then release the fuel delivery hose, the fuel return hose, and the drain hose clamps and detach the hoses from their unions, noting their positions and routing (see illustration). Also disconnect the low fuel level sensor / fuel pump wiring. On Monsters, close the fuel tap (or turn if OFF) and disconnect the fuel hose from the carburetor side of the tap. On models with a lever type tap, unscrew the bolts securing the tap to the frame (see illustration). Disconnect the low fuel level sensor wiring.
Remove the split pin and washer from the end of the hinge pin at the rear of the tank (see illustration). Withdraw the hinge pin, then carefully lift the tank away from the machine (see illustration).
Inspect the tank mounting rubbers, catch and hinge pin for signs of damage or deterioration and replace them if necessary. The rubbers are secured to the tank by screws.

INSTALLATION

Installation is the reverse of removal. Make sure the fuel pipes are correctly fitted (see Step 5) and routed and secured by their clamps.
FAIRING AND BODYWORK
FAIRING PANELS |- REMOVAL AND INSTALLATION
(Early style SS/SL models, 1991-1997)

MAIN FAIRING

Remove the rear view mirrors (refer to Section 6).
Unscrew the fasteners securing the main fairing to each lower panel (see illustration).
Carefully draw the main fairing forward until it is clear of the headlight. Note how the lower fairing panels engage with the main fairing (see illustration).
Installation is the reverse of removal. Make sure the fairing fits correctly over the headlight and its foam surround, and that the fasteners are correctly and securely fitted.

LOWER FAIRING PANELS

Disconnect the turn signal wiring connectors from the back of the turn signal assembly in the panel being removed.
Subject:
1991, 1992, 1993, 1994, 1995, 1996, 1997, 1998, 1999, 2000, 2001, 2002, 2003, 2004, 2005 Ducati 600SS, 620S, M600, M620, 750SS, M750, 900SS, 900SL, M900 2-valve V-twins service, maintenance, and repair procedures.
ISBN-10: 0857339869 | ISBN-13: 9780857339867 | Haynes M3290
Specifications
Publisher: Haynes Manuals
Pages: 272 - Hundreds of b&w photos and illustrations, plus some color
Binding: Softcover - 8.5 x 11 inches
ISBN: 978-0-85733-986-7
Years: 1991 - 2005
Table of Contents
TABLE of CONTENTS:
LIVING WITH YOUR DUCATI 600, 620, 750, 900 V-TWIN MOTORCYCLE
Identification numbers
Buying spare parts
Pre-ride checks
Engine oil level
Brake fluid levels
Tires
Bike specs
MAINTENANCE
Routine maintenance and servicing
Specifications
Lubricants and fluids
Maintenance schedule
Component locations
Maintenance procedures
REPAIRS and OVERHAUL
Engine, clutch and transmission
Fuel and exhaust systems
Ignition system
Frame and suspension
Brakes, wheels and final drive
Fairing and bodywork
Electrical system
Wiring diagrams
REFERENCE
Tools and workshop tips
Security
Storage
Troubleshooting
Questions & Answers about Ducati 600, 620, 750, 900 Repair Manual 1991-2005
Questions & Answers about Ducati 600, 620, 750, 900 Repair Manual 1991-2005
Ask a question about Ducati 600, 620, 750, 900 Repair Manual 1991-2005.
Customer Reviews
REVIEWS
Travis
verified customer
August 26, 2017
Haynes Manual has gotten even better!
I recently 'inherited' a beautifully customized 1996 Ducati 900SS. In addition to being something I've always drooled over, it has some sentimental value, so I gotta treat it right. In short, this book is the starting point for doing that!
For everything from my classic Mustang to my POS '92 wagon, I've always said that a Haynes manual is the first tool to get for any vehicle. And now, I have corroboration right on the cover of the Duc Haynes manual. This book is even better than any of the other Haynes manuals I've used for cars in the past. The pictures are crisper, the instructions are clearer, and the complete tear-down & rebuild?right down to the pistons?is just as thorough as ever. On top of that, there's are multiple pages of full color wiring diagrams! Other color pages include model history and a Tools & Workshop Tips section. I'm not sure I understand the need for those (except maybe looking at shiny bikes in model history intro section), but whatever.

stephen a franz
verified customer
April 7, 2016
Ducati 600, 620, 750, 900 Repair Manual 1991-2005
Description

Specifications

Table of Contents

Questions & Answers

Customer Reviews