General Motors Full-Size Pick-up Trucks Repair Manual 1988-1998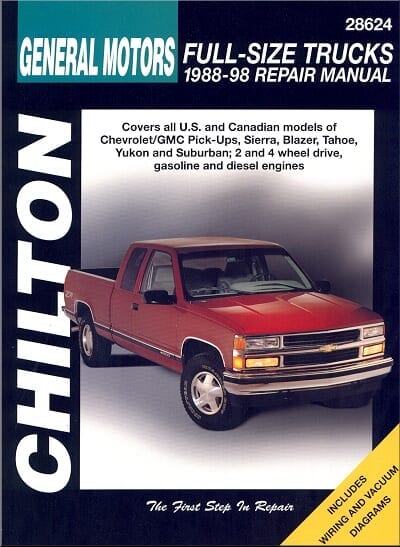 Why Buy From Us?
Free Shipping
Veteran Owned
Secure Shopping
Satisfaction Guaranteed
Item Description
This Chilton repair manual covers all 1988-1998 Chevrolet and GMC pick-ups, US and Canadian models, including:
Chevy Silverado pickup trucks
GMC Sierra pickup trucks
Chevy Blazer
Chevy Tahoe
GMC Yukon
Chevy Suburban
All equipped with either 2-wheel drive or 4x4 drivetrains, with gasoline and diesel engines, including 1/2-, 3/4- and 1-ton pickup trucks.
The 1988-1998 Chevy Truck motor manual published by Chilton and available at The Motor Bookstore gives the owners of full-size General Motors trucks including the Sierra, Blazer, Tahoe, Suburban and Yukon an invaluable resource that will help them undertake maintenance and repair of their vehicles themselves. Everything from a wiring diagram for 1994 GMC Sierra truck to general battery maintenance is covered in this detailed 328-page manual filled with diagrams and photos to make DIY repairs a snap. Also covered in the manual are tips on the cooling, heating and air-conditioning systems, manual and automatic transmissions, rear axle, brakes, the driveline, the clutch, the transfer case and more. Place an order with The Motor Bookstore and your book will come with free shipping to the 48 contiguous United States.
A sample of what you will find inside:
1988-1998 General Motors Full-Size Pick-up Trucks Repair Manual
BATTERY: GENERAL MAINTENANCE
Always keep the battery cables and terminals free of corrosion. Check and clean these components about once a year.

Keep the top of the battery clean, as film of dirt can help discharge a battery that is not used for long periods. A solution of baking soda and water may be used for cleaning, but be careful to flush this off with clear water. DO NOT let any of the solution into the filler holes. Baking soda neutralizes battery acid and will de-activate a battery cell.

Batteries in vehicles which are not operated on a regular basis can fall victim to parasitic loads (small current drains which are constantly drawing current from the battery). Normal parasitic loads may drain a battery on a vehicle that is in storage and not used for 6-8 weeks. Vehicles that have additional accessories such as a phone or an alarm system may discharge a battery sooner. If the vehicle is to be stored for longer periods in a secure area and the alarm system is not necessary, the negative battery cable should be disconnected to protect the battery.

Remember that constantly deep cycling a battery (completely discharging and recharging it) will shorten battery life.
A great and comprehensive repair shop manual for the do-it-yourselfer who wants to maintain or service his own vehicle.
Proper maintenance and tune-ups are the keys to the vehicle's long and trouble-free life. Studies have shown that a properly tuned and maintained vehicle can achieve better gas mileage when compared to an out-of-tune vehicle.
The Motor Bookstore offers a 30-day money-back guarantee on all Chilton manuals, so you can make your purchase with confidence.
Subject:
1988, 1989, 1990, 1991, 1992, 1993, 1994, 1995, 1996, 1997, 1998 Chevrolet, GMC pick-ups, Sierra, Blazer, Tahoe, Yukon and Suburban service, maintenance, and repair manual.
ISBN-10: 0801991021 | ISBN-13: 9780801991028
Specifications
Publisher: Chilton Manuals
Pages: 328 - Hundreds of b&w photos and illustrations
Binding: Paperback - 8.25 x 11 inches
ISBN: 978-0-8019-9102-8
Years: 1988 - 1998
Table of Contents
TABLE of CONTENTS:
Introduction: About this manual | Introduction | Vehicle identification numbers | Maintenance techniques, tools and working facilities | Buying parts | Jacking and towing | Booster battery (jump) starting | Conversion factors | Automotive chemicals and lubricants | Safety first! | Troubleshooting
Tune-up and routine maintenance
Engine and overhaul procedures
4.3L V6 engine
4.8L in-line 6 engine
5.0L V8 engine
5.7L V8 engine
6.2L Diesel V8 engine
6.5L Diesel V8 engine
7.4L V8 engine
Cooling, heating and air-conditioning systems
Fuel and exhaust systems
Engine electrical systems
Emissions control systems
Manual transmission
Clutch
Automatic transmission
Transfer case
Driveline
Solid front drive axle
Independent front drive axle
Rear axle
Brakes
Suspension and steering systems
Body
Chassis electrical system
Wiring diagrams
Questions & Answers about Chevy, GMC Pick-ups Repair Manual 1988-1998
Questions & Answers about Chevy, GMC Pick-ups Repair Manual 1988-1998
Ask a question about Chevy, GMC Pick-ups Repair Manual 1988-1998.
General Motors Full-Size Pick-up Trucks Repair Manual 1988-1998
Description

Specifications

Table of Contents

Questions & Answers

Customer Reviews