1989 Chevrolet Camaro Service Manual (Chassis & Body) & Electrical Update Supplement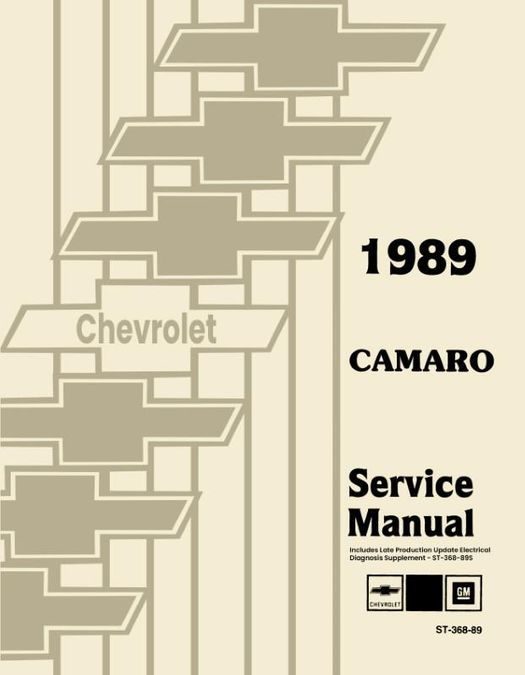 Why Buy From Us?
Free Shipping
Veteran Owned
Secure Shopping
Satisfaction Guaranteed
Item Description
This 1989 Chevy Camaro Service Manual is a high-quality, licensed PRINT reproduction of the shop manual written and first published by the experts at the original equipment manufacturer (OEM), Chevrolet Motor Division, for use by their dealership mechanics. Donít settle for anything less than the best. Thatís exactly what youíll find in this comprehensive shop manual. It covers the chassis and the BODY too! It even includes the Electrical Diagnosis Supplement. Talk about the Swiss army knife of service manuals.
MODELS COVERED:

1989 Chevrolet Camaro Iroc-Z
1989 Chevrolet Camaro RS
Exactly how much information has been included? A staggering amount. In fact, just shy of 2,000 pages of diagnostic procedures, service procedures and adjustments for your vintage F-body have been integrated into this fine repair handbook! The publisher, Detroit Iron, has upgraded the paper quality from the factoryís choice of super-thin, so this reprinted manual is considerably thicker. Have no fear. It retains all of the content from the original, but itís been conveniently divided into two volumes. Itís clean and new and ready for you.
Itís not all about page count either. You must consider content. No problem. There isnít better service material about these great cars than this professional resource. Cover to cover, youíll discover easy-to-follow, step-by-step text instructions. Whatís more, those directions have been thoughtfully paired with a huge number and variety of visual aids. Donít just read about it. Take a look. That is, scroll down to view a couple of sample pages which demonstrate how effectively the wonderful illustrations, charts, cut-away views and diagrams complement all of the well-written text. Notice all of the helpful information and factory-correct specifications in such sections as the Test Description for the Exhaust Gas Recirculation (EGR) Circuit 5.0L (VIN F) & 537L (Vin 8) ďFĒ Carline (port).
With respect to the popular Camaro line, Chevrolet closed the wild 80s decade by not messing with a good thing. Of course, they continued to implement improvements. The Sport Coupe was dropped, which meant models were down to the RS (a legendary name with respect to the Camaro) and the ultra-sporty and popular IROC-Z. Whichever model you have, be sure to get (and keep) it looking and performing at its best with this outstanding guide.
This factory-written shop manual is perfect for service, repairs, restoration and rebuild projects. Clear illustrations and diagrams show exploded views, as well as component details, plus specifications, engine repair details, fuel systems and more.
Subject:
1989 Chevrolet Camaro Service Manual - Includes Detailed Procedures and Instructions.
| OEM Part Number: ST-368-89, ST-368-89S
Specifications
Publisher: Chevrolet Motor Division
Pages: 1948 - Hundreds of b&w illustrations
Binding: Paperback - 8.5 x 11 inches
Years: 1989
Sample Page:
Below:1989 Chevy Camaro Service Manual - Sample Page - Fuel Supply Components
Sample Page:
Below:1989 Chevy Camaro Service Manual - Sample Page - Exhaust Gas Recirculation (EGR) Circuit
Questions & Answers about 1989 Chevy Camaro Service Manual
Questions & Answers about 1989 Chevy Camaro Service Manual
Ask a question about 1989 Chevy Camaro Service Manual.
1989 Chevrolet Camaro Service Manual (Chassis & Body) & Electrical Update Supplement
Description

Specifications

Table of Contents

Questions & Answers

Customer Reviews