1985 Chevrolet Camaro Shop Manual (Chassis & Body) - Includes 11x26 Wiring Diagrams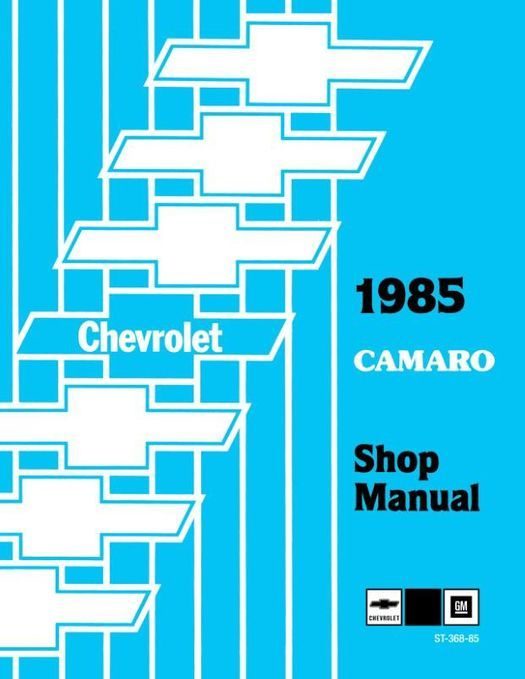 Why Buy From Us?
Free Shipping
Veteran Owned
Secure Shopping
Satisfaction Guaranteed
Item Description
This 1985 Chevy Camaro Shop Manual is a high-quality, licensed PRINT reproduction of the shop manual written and first published by the experts at the original equipment manufacturer (OEM), Pontiac Motor Division, for use by their dealership mechanics. When your classic Camaro is in need of maintenance and repair, be sure that YOU are ready to take on those tasks. With this professional guide, you will be!
NOTE: We have proudly included fold-out, 11" x 26" wiring diagrams in this manual. Not many (if any) reprinted manuals offer this type of feature. Don't short yourself out of this valuable resource by purchasing an inferior copy.
MODELS COVERED:

1985 Chevrolet Camaro Berlinetta
1985 Chevrolet Camaro Iroc-Z
1985 Chevrolet Camaro Sport
1985 Chevrolet Camaro Z28
This service manual contains a staggering 1,762 pages! It includes the BODY manual as well. The publisher, Detroit Iron, prints these great guides on a higher-quality paper than the super-thin original, so it is much thicker overall. Due to the increased size, it has been divided into two volumes, yet retains all of the material form the factory original source.
In addition to all of the step-by-step text instructions, you'll find a huge number and variety of visual aids have been paired with those directions in order to deliver unmatched clarity. To demonstrate how effective this lay-out is, we've included three sample pages. Please scroll down and take a look. You'll find excellent illustrations and exploded view diagrams along with easy-to-follow text. This high level of organization and detail are contained throughout this wonderful guide.
In 1985, Chevrolet took the already popular and awesome Camaro and kicked up the cool factor even higher. Some of the biggest news was honoring the choice of Camaro for the International Race of Champions competition with the introduction of the "IROC-Z" model. Sporting slick new front ends, grid patterned tail lamps, "xylophone" hood louvers, sweet rims, Goodyear Gatorback tires, cool graphics and much more, these were THE cars to have (they still are!). The Tuned Port Injection (TPI) engines were welcomed power options under the hoods. Whether you have an IROC, or one of the other great models in the Camaro line-up, this comprehensive guide is the one to have when it comes time to spin some wrenches. Order yours today!
This factory-written shop manual is perfect for service, repairs, restoration and rebuild projects. Clear illustrations and diagrams show exploded views, as well as component details, plus specifications, engine repair details, fuel systems and more.
Subject:
1985 Chevrolet Camaro Shop Manual - Includes Detailed Procedures and Instructions.
| OEM Part Number: ST-368-85
Specifications
Publisher: Detroit Iron Publishing
Author: Chevrolet Motor Division
Pages: 1762 - Hundreds of b&w illustrations
Binding: Paperback - 8.5 x 11 inches
ISBN: 978-1-7914-0984-5
Years: 1985
Table of Contents
1985 Chevy Camaro Shop Manual - Table of Contents 1
1985 Chevy Camaro Shop Manual - Table of Contents 2
TABLE OF CONTENTS
General Information
Heating and Air Conditioning
Bumpers and Sheet Metal
Steering, Suspension, Wheels and Tires
Propeller Shaft and Axle
Brakes
Engine
Transmission
Electrical -- Body and Chassis
Accessories
Body Service
Electrical Wiring Diagrams
Electrical Troubleshooting
TABLE OF CONTENTS -- F - CARLINE - BODY SERVICE
General Information
Wiper Systems
Underbody
Front end
Doors
Rear Quarters
Rear End
Roof
Seats
Electrical
Stationary Glass
Index
Sample Page:
Below:1985 Chevy Camaro Shop Manual - Sample Page - Rear Suspension
Sample Page:
Below:1985 Chevy Camaro Shop Manual - Sample Page - Throttle Position Sensor Replacement
Sample Page:
Below:1985 Chevy Camaro Shop Manual - Sample Page - Fuel Injection (Port)
Questions & Answers about 1985 Chevy Camaro Shop Manual
Questions & Answers about 1985 Chevy Camaro Shop Manual
Ask a question about 1985 Chevy Camaro Shop Manual.
1985 Chevrolet Camaro Shop Manual (Chassis & Body) - Includes 11x26 Wiring Diagrams
Description

Specifications

Table of Contents

Questions & Answers

Customer Reviews