1984 Corvette Electrical Troubleshooting Shop Manual Supplement (COLOR) - Licensed OEM Reproduction
SKU:
DPRGM-191-84COEL-SUP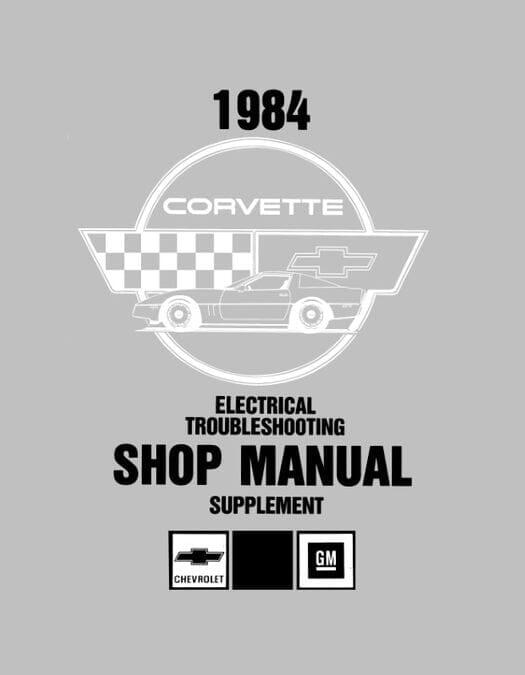 Why Buy From Us?
Free Shipping
Veteran Owned
Secure Shopping
Satisfaction Guaranteed
Item Description
This 1984 Corvette Electrical Troubleshooting Supplement is a high-quality, PRINT reproduction of the shop manual which was written and first published by the experts at the original equipment manufacturer (OEM), Chevrolet Motor Division, for use by their dealership mechanics. Trusted for decades by the automotive industry professionals, now this handy guide can be yours!
This supplemental manual contains the electrical system diagnostic and troubleshooting procedures, as well as the electrical system circuit diagrams for the 1984 Chevrolet Corvette. It's the ultimate source and a welcome addition to your automotive library.
NOTE: THIS MANUAL IS PRESENTED IN COLOR! That's right. Not many (if any) of these type of reproduction manuals are available in color. We're proud to offer you this beautifully reprinted manual, which retains all of the material from the original source. You'll love the excellent clarity of the color diagrams and illustrations which have been included throughout this guide. Compared to using most service manuals, it's like opening the door to the land of Oz (but without all of that tiresome walking down the yellow brick road, battling witches and such). This book provides you with the electrical troubleshooting information to get your classic wired up and fired up.
MODELS COVERED:

NOTE: This is a SUPPLEMENT manual. It specifically addresses electrical troubleshooting. For the main chassis manual, please see our: 1984 Chevrolet Corvette Shop Manual, which can be found by clicking here…1984 Chevrolet Corvette Shop Manual.
The much anticipated, and exciting '84 'Vette was a bold, all-new model and a technological marvel. That's already two great reasons that you should purchase this helpful manual. It takes you behind all of the video-game wizardry and walks you through the systems in a highly-organized fashion. Please take a moment to scroll down to the sample page in order to see just how well the visual aids work with the comprehensive text directions.
Did you know that the liquid crystal display (LCD) cluster is a multi-function information system which uses a microprocessor to convert vehicle sensor inputs to visual displays on the cluster? Not only would you know that if you owned this handy guide, but you'd also know that the LCD cluster has three separate displays: speedometer, tachometer and driver information. It explains the details of all of them, provides color circuit diagrams and explains such things as sensor inputs, voltage inputs, frequency inputs, troubleshooting and step-by-step instructions. It also provides detailed descriptions of component locations and factory specifications for resistance checks (signal, connector pin, value and comments). To elaborate on a point made earlier, the well-written text has been conveniently accompanied by excellent visual aids, such as illustrations, diagrams, charts, tables and more to assist you all along the way.
This factory-written shop manual is perfect for service, repairs, restoration and rebuild projects. Clear illustrations show exploded views, as well as component details, plus specifications on engine data, engine torque and more
Subject:
1984 Corvette Electrical Troubleshooting Supplement - Includes Detailed Procedures and Instructions.
| OEM Part Number: ST 364 -84 ETM
Specifications
Publisher: Chevrolet Motor Division
Pages: 152 - Hundreds of b&w illustrations
Binding: Paperback - 8.5 x 11 inches
Years: 1984
Sample Page:
Below:1984 Corvette Electrical Troubleshooting Supplement Sample Page - Forward Lamp Harness Wiring
Questions & Answers about 1984 Corvette Electrical Troubleshooting Supplement
Questions & Answers about 1984 Corvette Electrical Troubleshooting Supplement
Ask a question about 1984 Corvette Electrical Troubleshooting Supplement.
Customer Reviews
REVIEWS
Adam Commella
verified customer
June 23, 2021
1984 Corvette Electrical Troubleshooting Shop Manual Supplement (COLOR) - Licensed OEM Reproduction
Description

Specifications

Table of Contents

Questions & Answers

Customer Reviews