1984 Chevrolet Camaro Shop Manual (Includes 11x26 inch Wiring Diagrams) - Licensed OEM Reproduction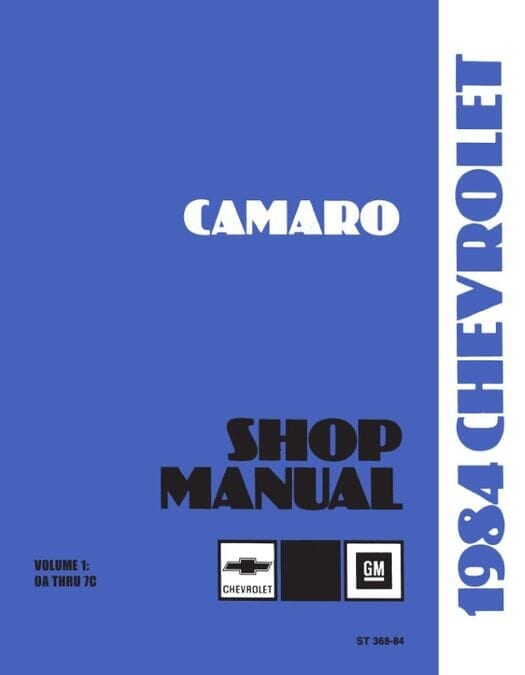 Why Buy From Us?
Free Shipping
Veteran Owned
Secure Shopping
Satisfaction Guaranteed
Item Description
This 1984 Chevrolet Camaro Shop Manual is a high-quality, PRINT reproduction of the shop manual which was written and first published by the experts at the original equipment manufacturer (OEM), Chevrolet Motor Division, for use by their dealership mechanics. It served them well when these cars were new, and now you can have a copy too! The information included provides you with the procedures to diagnose, maintain, adjust and perform minor service operations. It also addresses replacement of components as well as disassembly and assembly of the major components. Whether you're tuning or overhauling, this service manual has you covered.
NOTE: This manual also contains multiple pages of handy, excellent, fold-out 11" x 26" wiring diagrams. It's rare for reproduction manuals to provide such a wonderful resource, but we are proud to include them.
Conveniently divided into two manuals, these books contain over 1,500 pages. Accompanying all of the fine text instructions, you'll discover that these service manuals are filled with tremendous visual aids. The tables, charts illustrations, cut-away views, exploded views and others provide additional clarity for the tasks at hand.
MODELS COVERED:

1984 Chevrolet Camaro Berlinetta
1984 Chevrolet Camaro Sport
1984 Chevrolet Camaro Z28
Please scroll down and open the Table of Contents tab to appreciate just how thoroughly these popular, sporty models have been covered. While you're scrolling, be sure to check-out the sample pages below to experience how well the various visual aids compliment the written procedures.
Did you know that on the 5.0-liter V8, the rear main bearing oil seal can be replaced (both halves) without removing the crankshaft? You would if you owned this book and turned to the section V-8 ENGINE 6A3-21. This helpful guide will walk you through the procedures with numbered steps and illustrations. This hefty guide is full of great information like that.
You'll have to admit that 1984 is a year to remember (if you don't think so, just consider George Orwell…or Van Halen!). With regards to the Camaro, by 1984, the new third-generation had been in place for a couple of years. Sporting good-looking lines and sleek rear glass (the first hatchback offered in a Camaro, by the way), these Chevrolet F-body cars were definitely a hit. In fact, in 1982, when the body style debuted, it was Motor Trend magazine's "Car of the Year". Power may have been a bit down, but styling and handling were unmistakable highlights. In 1984, Road & Track and Car & Driver magazines both had supreme accolades for the Camaro. When it comes time for you to get after the maintenance and repair projects for your classic Chevy, these reproduction manuals are the definitive source to make sure you do the jobs right. They are freshly-printed, but retain all of the content from the original.
This factory written shop manual is perfect for service, repairs, restoration, and rebuild projects. Clear illustrations and photos show exploded views, as well as component details, plus specifications one engine, data, engine torque, carburetion and more.
Subject:
1984 Chevrolet Camaro Shop Manual - Includes Detailed Procedures and Instructions.
| OEM Part Number: ST 368-84
Specifications
Publisher: Chevrolet Motor Division
Pages: 1540 - Hundreds of b&w illustrations
Binding: Paperback - 8.5 x 11 inches
Years: 1984
Sample Page:
Below:1984 Chevrolet Camaro Shop Manual Sample Page - Engine Mount Check
Sample Page:
Below:1984 Chevrolet Camaro Shop Manual Sample Page - Door Front Up Stop
Questions & Answers about 1984 Chevrolet Camaro Shop Manual
Questions & Answers about 1984 Chevrolet Camaro Shop Manual
Ask a question about 1984 Chevrolet Camaro Shop Manual.
1984 Chevrolet Camaro Shop Manual (Includes 11x26 inch Wiring Diagrams) - Licensed OEM Reproduction
Description

Specifications

Table of Contents

Questions & Answers

Customer Reviews