1982 Chevrolet Camaro Shop Manual - Licensed OEM Reproduction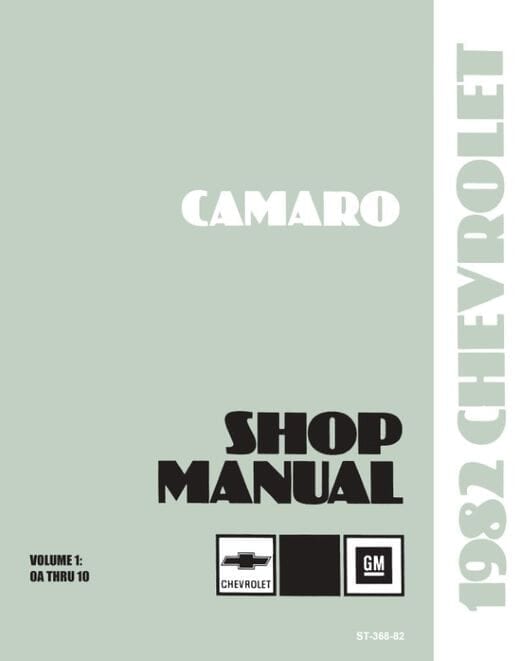 Why Buy From Us?
Free Shipping
Veteran Owned
Secure Shopping
Satisfaction Guaranteed
Item Description
This 1982 Chevrolet Camaro Shop Manual is a high-quality, PRINT reproduction of the shop manual which was written and first published by the experts at the original equipment manufacturer (OEM), Chevrolet Motor Division, for use by their dealership mechanics. This is the ultimate guide for service and repair for your classic!
MODELS COVERED:

1982 Chevrolet Camaro Berlinetta
1982 Chevrolet Camaro Sport
1982 Chevrolet Camaro Z28
1982 Chevrolet Camaro Z28 Indianapolis 500 Pace
Coming in with over 1,000 pages of detailed factory instructions and specifications, this handy book has been conveniently packaged into two volumes. This comprehensive service manual contains the procedures for diagnosing, adjusting, minor service operations and replacement of components. It ALSO contains information for disassembly and assembly of major components (or overhaul procedures). Both the chassis service and body service information have been included. How's that for bang for your buck?
Please take a moment and scroll to the Table of Contents tab below and open it. There, you will see just how thoroughly these great cars have been covered. While you're scrolling, keep going down and check out the sample pages in order to see how well the illustrations complement the well-written text. You'll find a huge number and variety of visual tools have been employed throughout this helpful guide.
Did you know that the Computer Command Control System is an electronically controlled emission system that can monitor up to fifteen various engine/vehicle operating conditions, and using this information can control as many as nine engine related systems? Well, you would if you owned this book and flipped to 6E1-2. You'd learn that the system is constantly making adjustments to maintain good vehicle performance under all normal driving conditions while allowing the catalytic converter to effectively control exhaust emissions. Yes, you'd know all of that and a whole lot more, including the fact that the built-in diagnostic system recognizes problems and alerts the driver through a "CHECK ENGINE" light. This is merely a small sample of the type of detailed information you'll find throughout this huge 1982 Camaro shop manual.
The 1982 model is of great historical significance to the beloved Camaro. It marked the first year of the third-generation Camaro. The popular second-generation had been soldiering on since 1970. After that astoundingly long run, the new Camaro featured a bold, fresh look, which helped to set the tone for car design in the 80's. It was also the first hatchback Camaro. The severely laid-back angle of the front glass similarly drew attention to this beautiful wedge-shaped wonder. It was definitely a car which was right for the times. Want proof? The Z28 model was Motor Trend magazine's "Car of the Year". Loaded with style and great handling, the '82 Camaro was also chosen to be the Indianapolis 500 pace car. As with the previous two generations, these "third-gens" were a hit right from the start. When your classic Camaro is ready for maintenance or repair, be sure to turn to the guide which will provide you with the information to get the jobs done right…this guide!
This factory-written shop manual is perfect for service, repairs, restoration and rebuild projects. Clear illustrations show exploded views, as well as component details, plus specifications on engine data, engine torque, carburetion and more.
Subject:
1982 Chevrolet Camaro Shop Manual - Includes Detailed Procedures and Instructions.
| OEM Part Number: ST 368-82
Specifications
Publisher: Chevrolet Motor Division
Pages: 1086 - Hundreds of b&w illustrations
Binding: Paperback - 8.5 x 11 inches
Years: 1982
Table of Contents
1982 Chevrolet Camaro Shop Manual - Table of Contents Chassis
1982 Chevrolet Camaro Shop Manual - Table of Contents Body
TABLE OF CONTENTS
General Information
Heating and Air Conditioning
Bumpers and Sheet Metal
Steering, Suspension, Wheels and Tires
Axle
Brakes
Engine
Transmission
Electrical -- Body and Chassis
Accessories
Metric and Fastener Information
BODY SERVICE SECTION
General Information
Windshield Wiper System
Underbody
Front End
Doors
Rear Quarters
Rear End
Roof
Seats
Electrical
Stationary Glass
Index
Sample Page:
Below:1982 Chevrolet Camaro Shop Manual Sample Page - Rear Axle
Sample Page:
Below:1982 Chevrolet Camaro Shop Manual Sample Page - Oil Seal Rear Main Replacement
Questions & Answers about 1982 Chevrolet Camaro Shop Manual
Questions & Answers about 1982 Chevrolet Camaro Shop Manual
Ask a question about 1982 Chevrolet Camaro Shop Manual.
1982 Chevrolet Camaro Shop Manual - Licensed OEM Reproduction
Description

Specifications

Table of Contents

Questions & Answers

Customer Reviews